In the dynamic realm of social media, TikTok has quickly become one of the most popular platforms for short-form video content. Users, influencers, and marketers alike rely on TikTok to showcase talent, spread information, and create engagement. But what if you find a memorable TikTok video and want to save it offline or share it with others outside the app? This is where a TikTok video downloader comes in. These software solutions allow users to easily download their favorite TikTok videos to their devices without the watermark, ensuring they have access to the content they love, even offline. We are going to review the 10 best TikTok Video Downloader you can choose from in 2023.
Can You Directly Download Video from TikTok?
TikTok comes an in-built download option, though its availability depends on the privacy settings chosen by the video creator. This means only a few videos are available for download from TikTok app. What is more, videos downloaded directly from TikTok will have a watermark in the lower right corner. This watermark displays the TikTok logo and the creator's username.
If the direct download option is disabled, users often resort to third-party apps or websites to download videos. However, always exercise caution and ensure you respect copyright and content ownership rights when using third-party services.
What's a TikTok Video Downloader?
A TikTok Video Downloader is a tool or service designed to allow users to save TikTok videos to their devices, bypassing certain restrictions that might be present on the platform itself. While TikTok does provide an in-app download feature, videos downloaded this way usually have a watermark. TikTok video downloaders typically allow for watermark-free downloads, giving a cleaner viewing experience. These downloaders can be web-based tools, standalone apps, or even browser extensions.
How to Choose the Best TikTok Video Downloader
It can be a daunting task to choose the top TikTok video downloader given the myriad of options available. With multiple software and services vying for your attention, it's crucial to identify your needs and priorities to make an informed decision. Below are some essential factors you should consider in order to find the top TikTok video downloader from the candidates:
Purpose: Define your primary use-case. Are you downloading videos for personal use, professional work, or content creation? Your purpose will shape your choice, as some software might have features tailored to specific needs, like bulk downloads for professionals or high-resolution formats for content creators.
Ease-of-Use: An intuitive interface can make the difference between a seamless experience and constant frustration. Look for software that has a straightforward interface, is easy to navigate, and doesn't require a steep learning curve.
Quality Options: The ability to choose between different video qualities is crucial, especially if you need high-resolution content. The downloader should retain the original quality, if not improve it.
Speed: Time is of the essence. If you are a content creator or professional, a fast downloading speed will be crucial. Consider tools that have speed acceleration features or the capability to download multiple videos simultaneously.
Safety: With the rise of malicious software, ensure the downloader doesn't come with bundled malware or adware. Checking reviews and ratings can provide insights into any potential security issues.
Compatibility: The software should be compatible with various devices and operating systems. Whether you're using Windows, macOS, Android, or iOS, the downloader should function seamlessly across platforms.
Cost: While there are free downloaders available, they might come with limitations or ads. Determine your budget and weigh the features against the cost. Sometimes, investing in a premium tool can offer a more feature-rich and ad-free experience.
Additional Features: Some tools might offer additional functionalities like batch downloads, built-in video editing tools, or the ability to convert videos to various formats. These can be beneficial depending on your needs.
While many downloaders might look similar on the surface, diving deep into their features and capabilities will help you make the best choice. Always opt for reliable and reputable software, and remember that sometimes, you might have to experiment with a few options before settling on the one that's perfect for you.
10 Best TikTok Video Downloader Recommended in 2023
While many downloaders might look similar on the surface, diving deep into their features and capabilities will help you make the best choice. Here are the top 10 TikTok Video Downloader we tested out in 2023!
1. SnapSave TikTok Video Downloader (Online)

SnapSave stands out in the crowded market with its unique feature set. Not only does it allow users to download TikTok videos with ease, but it also offers options for capturing snapshots of the videos. Its minimalist design ensures that users don't get overwhelmed, and the tool delivers on its promise of providing crisp video downloads. For those who often find themselves wanting to capture a particular moment from a video, SnapSave could be an ideal choice.
Simply put, SnapSave is not just about downloading videos; it's about enhancing the entire experience of content consumption from TikTok. The application is particularly praised for its ability to swiftly capture videos without the added fuss of watermarks, ensuring that users get clean, viewable content that remains true to its original form. What makes SnapSave stand out further is its adaptability across various platforms, making it a versatile choice for users on the go. Moreover, the software's commitment to security ensures that while you're snagging your favorite TikTok snippets, your device remains free from intrusive ads and potential malware. With SnapSave, you're not only preserving moments but also ensuring they're of the highest quality.
Pros:
Snapshot capture feature.
Minimalist design for ease of use.
Efficient watermark removal feature ensures clean video downloads.
High compatibility across multiple platforms.
User-friendly interface makes it suitable for beginners.
High download speeds even for HD videos.
Cons:
No batch download option.
Snapshot quality varies based on the video.
Download TikTok video free with SnapSave: https://snapsave.app/download-video-tiktok
2. TopClipper (Windows & Mac)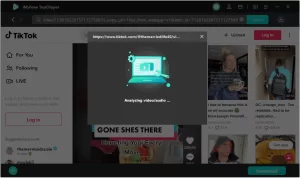 TopClipper is more than just a basic downloader. It's a comprehensive solution that caters to the needs of every TikTok enthusiast. With its cutting-edge technology, it promises quick downloads without compromising the quality of the videos. The tool also boasts an interactive user interface which even beginners will find easy to navigate. The cherry on the cake? It supports batch downloading, ensuring that you can save multiple videos at once, making the whole process efficient and hassle-free.
Now, TopClipper has swiftly carved a niche for itself in the realm of TikTok video downloaders. Designed meticulously by the acclaimed developers at iMyFone, this software combines both sophistication and simplicity in its approach to grabbing your favorite TikTok videos. Whether it's a trending dance routine or a viral DIY tutorial, TopClipper ensures that users can have their chosen content saved in no time, all while retaining the original video quality. With added features such as batch downloads and an in-built video manager, iMyFone TopClipper is more than just a downloader; it's an essential companion for every TikTok enthusiast.
Pros:
Quick download speeds.
Supports batch downloading.
Interactive user interface.
Cons:
Limited video editing capabilities.
Free version might have watermarks.
3. TikSave.io TikTok Downloader (Online)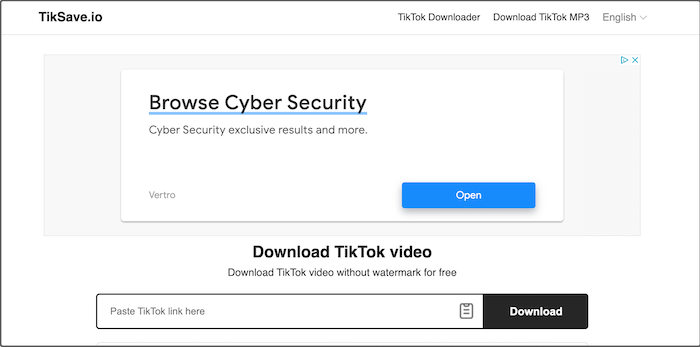 TikSave Deluxe steps into this digital landscape as a beacon of convenience for TikTok aficionados. Designed with a blend of cutting-edge technology and user-centric aesthetics, this tool allows you to bring the TikTok universe right into the palm of your hands, anytime, anywhere.
TikSave Deluxe offers both a web version and a mobile app, catering to a wider audience. With its cloud-based saving option, users can save videos directly to their preferred cloud storage, bypassing the need for local storage.
In fact, TikSave Deluxe is not just any regular downloader. It symbolizes innovation in the realm of content accessibility. With features that extend beyond simple downloads, such as cloud-based saving options and multi-resolution support, it's no wonder TikSave Deluxe is touted as the deluxe experience for every TikTok lover. Whether you're a casual browser or a content creator, this tool is poised to redefine how you interact with TikTok content offline.
Pros:
Cloud storage integration
Supports multiple resolutions
Cons:
Occasional ads in the free version
Limited daily downloads for free users
Download TikTok video free with TikSave: https://tiksave.io/en
4. SaveTik TikTok Video Downloader (Online)

SaveTik is celebrated for its lightning-fast download speeds. With its built-in search feature, users don't need to paste links; they can search and download directly from the software.
SaveTik Downloader emerges as a champion in this realm, offering users the promise of lightning-fast downloads without skimping on quality. Its name is a reflection of its core principle: to deliver TikTok videos to users in a snap, ensuring they never miss out on saving their favorite clips.
Beyond its remarkable speed, what sets SaveTik Downloader apart is its intuitive design. With a built-in search feature, it eliminates the tedious step of copy-pasting URLs. Instead, users can locate and download their desired videos directly from the platform, streamlining the entire process. In a world where immediacy is treasured, SaveTik Downloader stands out, delivering a seamless TikTok video downloading experience like no other.
Pros:
Ultra-fast downloads
Built-in search function
Cons:
No batch download option
Require regular updates
Download TikTok video free with SaveTik: https://savetik.net/
5. SSSTik TikTok Video Downloader (Online)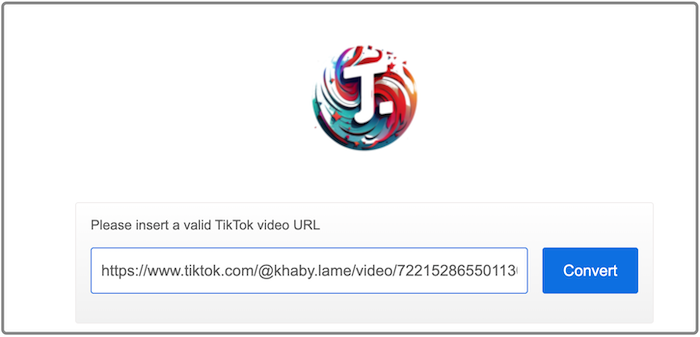 SSSTik TikTok Video Downloader focuses on helping users discover trending videos and download them. It curates a list of trending videos daily, which users can then selectively download. Enter TokTrend Video Grabber, a tool meticulously crafted for those who wish to keep their fingers on the pulse of what's trending on TikTok. With its unique algorithms and user-centric design, this tool makes capturing the zeitgeist of TikTok both effortless and efficient.
What's more, SSSTik TikTok Video Downloader offers more than just downloading capabilities. It's an experience. The software comes integrated with features that highlight trending videos, allowing users to discover and download the latest viral content with just a few clicks. The interface is clean and intuitive, ensuring that both seasoned TikTok veterans and newcomers can navigate with ease. In the ever-evolving landscape of TikTok, where trends ebb and flow with rapidity, SSSTik TikTok Video Downloader positions itself as the ultimate tool for those who wish to stay ahead of the curve.
Pros:
Curated list of trending videos
High-quality video downloads
Cons:
Doesn't support older versions of Windows
No mobile app available
Download TikTok video free with SSSTik: https://ssstik.tv/
6. Downtik.to TikTok Video Downloader (Online)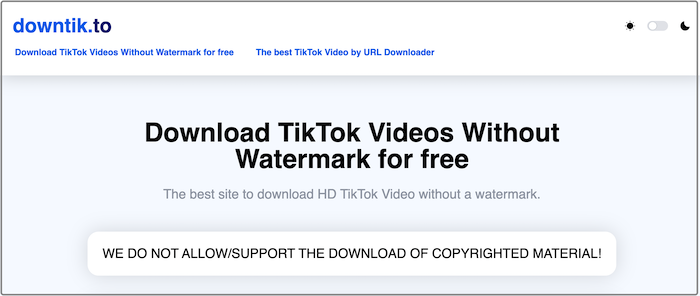 Amongst the vast array of online TikTok video download solutions, downtik.to is a name that's frequently mentioned. Without the need to download any additional software, downtik.to provides a web-based platform that effortlessly bridges the gap between TikTok's fleeting video experiences and permanent content consumption. What sets this platform apart is its simplicity.
By just pasting a TikTok video link, users can immediately initiate a download, making the process refreshingly straightforward. Additionally, downtik.to prioritizes quality, ensuring that videos retain their original resolution and clarity, much to the delight of content enthusiasts. However, it's not just about the videos. The platform also allows users to extract and download audio from TikTok videos, expanding its utility manifold for those who are equally audio inclined.
Pros:
Web-based platform eliminates the need for software downloads.
Retains the original video quality during the download process.
Ability to extract and download audio from TikTok videos.
Simple and clean interface aids in quick and hassle-free downloads.
Cons:
Dependent on a stable internet connection for optimal performance.
Lacks advanced features like batch downloads.
Occasionally faces downtimes due to heavy traffic.
Ad-driven model might be intrusive for some users.
Download TikTok video free with DownTik: https://downtik.to/en/
7. Qload TikTok Video and Music Downloader

For those who are deep into the world of TikTok and often find themselves needing a reliable video downloading solution, Qload often comes up as a top recommendation. As a dedicated TikTok video downloader, Qload focuses on efficiency, simplicity, and performance. Unlike many other tools that require users to navigate through a maze of options, Qload presents a straightforward process: input your video link, and get your download ready in seconds.
The tool is particularly commendable for its commitment to preserving video quality. Whether you're downloading a standard video or one in high definition, Qload ensures it remains as vivid and crisp as its online counterpart. The platform's added bonus? A nifty feature that allows users to strip away TikTok watermarks, ensuring the content is clear and distraction-free.
Pros:
Download video and music from TikTok.
Quick and straightforward downloading process.
Retains the top-notch video quality during downloads.
Effective watermark removal feature.
Web-based solution, negating the need for app or software installations.
Cons:
Dependent on internet speed for smooth functionality.
No options for batch downloads.
Some users might find the website interface to be minimalistic.
Ad-driven platform can sometimes lead to obtrusive browsing experience.
Download TikTok video free with QLoad: https://qload.info/
8. iTubeGo TikTok Video Downloader (Windows & Mac)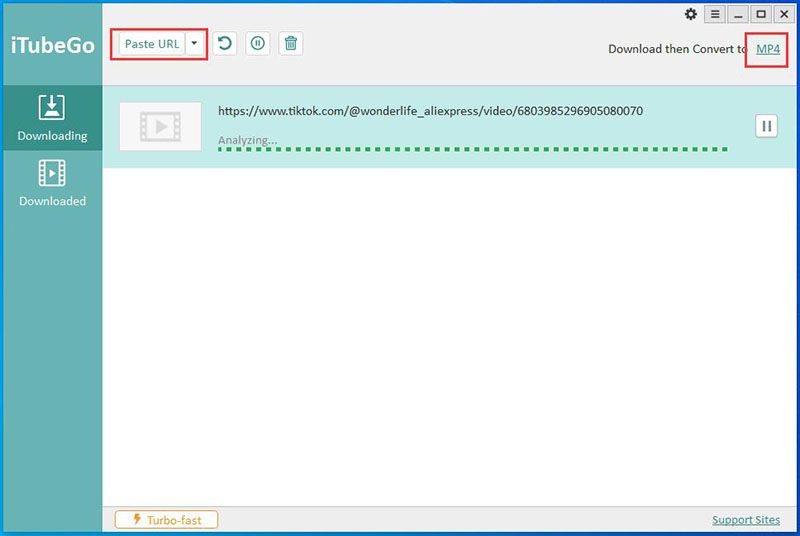 iTubeGo stands tall in the constellation of video downloaders, not just for TikTok, but for multiple platforms. Touted as a comprehensive video downloading solution, it caters to those who don't want to be bound to a single platform's content.
This software offers a blend of high performance and versatility. Its user interface is meticulously designed to ensure even novices can easily navigate through the options. Whether it's TikTok, YouTube, or any other popular platform, iTubeGo ensures you get your desired content without any hitches. With its built-in converter, users can also transition their videos into various formats, tailoring them for different devices and purposes. This ensures that not only can you download your favorite content, but you can also make it fit for any use-case scenario.
Pros:
Supports multiple platforms beyond TikTok, expanding its utility.
Features a built-in converter for various formats.
Intuitive user interface simplifies the downloading process.
Allows for batch downloads, enhancing efficiency.
Cons:
Require software installation, unlike web-based counterparts.
The free version has some limitations on features.
Occasionally update are required to adapt to platform changes.
The plethora of features might be overwhelming for users only interested in simple downloads.
9. 4K Video Downloader+ (Windows & Mac)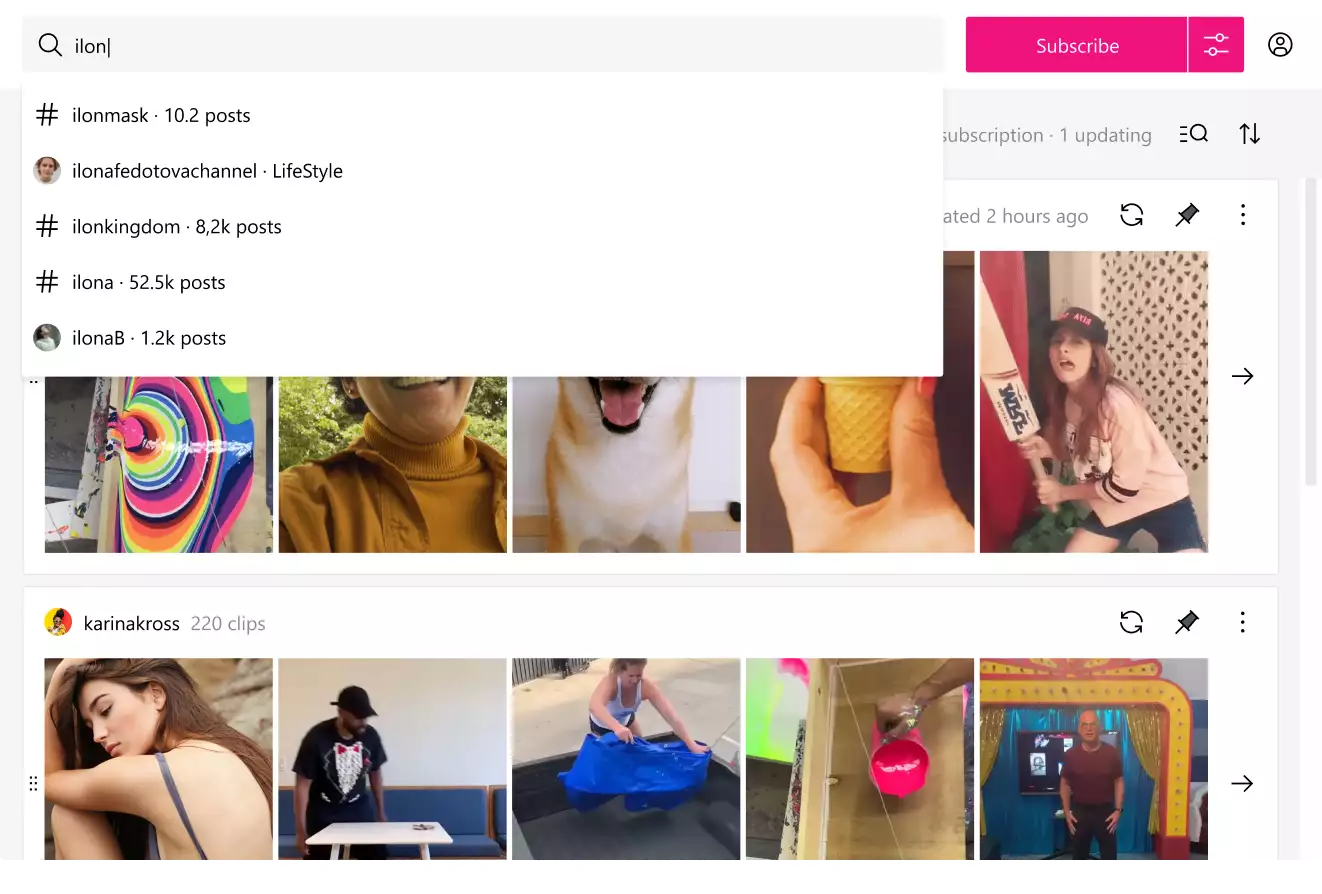 When the conversation turns to high-quality video downloaders, 4K Video Downloader+ often features prominently. As the name suggests, this powerhouse tool is engineered to deliver videos in crystal clear 4K resolution, ensuring that users never have to compromise on quality.
Beyond its dedication to high-definition content, the software presents a comprehensive suite of features that cater to a broad spectrum of downloading needs. From the seamless ability to extract subtitles to the option to download entire playlists, 4K Video Downloader+ truly goes beyond the basics. A notable perk of this tool is its support for 3D and 360-degree videos, a rarity among downloaders. This feature makes it a go-to option for enthusiasts keen on immersive video experiences.
Pros:
Guarantees downloads in stunning 4K resolution.
Support for 3D and 360-degree video downloads.
Ability to extract subtitles and annotations with videos.
Supports batch downloads and full playlist downloads from various platforms.
Cons:
Requires software installation, which might be cumbersome for some.
Advanced features may come at an additional cost.
Occasionally faces issues with certain platforms due to regular updates.
While the interface is user-friendly, it may take time for beginners to fully grasp all the functionalities.
10. DownloaderMaster (Chrome Extension)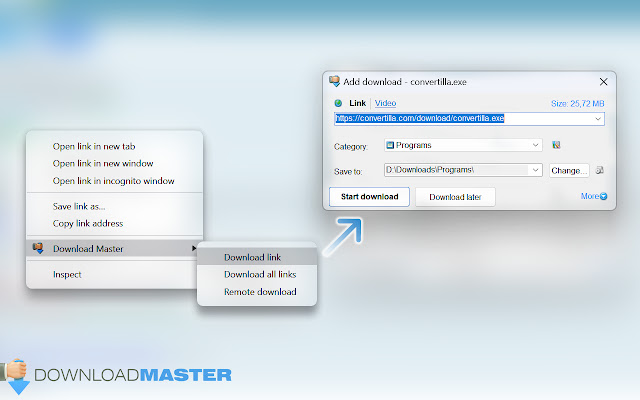 DownloaderMaster is a popular chrome extension that is well-known for its efficiency in downloading TikTok videos. Its user-friendly interface ensures that even those new to downloading videos can easily get their desired content. Moreover, it provides an option for batch downloads, enabling users to download multiple videos at once.
More than just a mere downloader, DownloaderMaster is a testament to what modern browser extension should be: powerful, user-friendly, and reliable. Crafted meticulously, it promises high-speed downloads without compromising on video quality. For those who are serious about preserving their TikTok experiences, DownloaderMaster emerges as an indispensable companion.
Pros:
Batch download feature
High-speed downloads
No quality loss in downloaded videos
Cons:
Premium version needed for advanced features
Not available on macOS
Comprehensive Comparison of Each Software
| Name | Pricing | Watermark | Video Qulity | Bulk Download | Speed |
| --- | --- | --- | --- | --- | --- |
| SnapSave | Free | No | Medium | No | Fast |
| TopClipper | Free Trial | No | High | Yes | Fast |
| TikSave | Free | No | Low | No | Medium |
| SaveTik | Free | No | Medium | No | Low |
| SSSTik | Free | Yes | Medium | No | Medium |
| Downtik.to | Free | No | Low | No | Low |
| Qload | Free | Yes | Medium | No | Low |
| iTubeGo | Free Trial | No | Medium | Yes | Medium |
| 4K Downloader+ | Free Trial | No | High | Yes | Fast |
| DownloaderMaster | Free | Yes | Low | No | Medium |
Our Thoughts on TikTok Video Downloader
The digital age has seen an explosion in the creation and consumption of content, and platforms like TikTok have firmly established themselves at the forefront of this revolution. The short-form, captivating videos of TikTok have won over the hearts of millions, making it a hotspot for creativity and entertainment. Within this context, the demand for downloading and saving these ephemeral moments has surged, leading to the advent of TikTok Video Downloaders.
From our vantage point, these tools serve as an essential bridge, connecting the transient nature of online content with the permanence desired by users. They offer a practical solution for offline viewing, allowing fans to relish their favorite videos without the confines of internet connectivity. Moreover, for content creators branching out into platforms like YouTube or Instagram, these downloaders are invaluable. They facilitate the repurposing of TikTok content, helping creators reach broader audiences and weave intricate narratives using past clips.
Choosing the best TikTok video downloader largely depends on your unique needs. If you're someone who values speed and quality, TopClipper may be the way to go. For those looking for curated content, SSSTik offers a unique value proposition. SaveTik and iTubeGo cater to different audiences but both offer robust features. It's essential to identify your primary requirements, be it batch downloads, cloud storage, or quality, and choose accordingly.
FAQs about TikTok Video Downloader
Q1: Is it legal to use a TikTok Video Downloader?
A: The legality of using a TikTok Video Downloader largely depends on the purpose. Downloading videos for personal offline viewing is typically considered acceptable. However, downloading videos to republish, redistribute, or use for commercial purposes without the creator's consent can infringe copyright laws. Always ensure you have the necessary permissions and give due credit to original content creators when sharing their work.
Q2: Do all TikTok Video Downloaders retain the video quality?
A: Most reputable TikTok Video Downloaders aim to retain the original video quality. However, the output quality can vary depending on the tool or service. It's essential to choose a downloader known for preserving video resolution and clarity to ensure the best results.
Q3: Can I download TikTok videos with watermarks removed?
A: Some TikTok Video Downloaders offer an option to remove the TikTok watermark from videos. However, it's essential to remember that the watermark serves as a form of credit to both TikTok and the content creator. Removing it can be viewed as unethical, especially if the video is being repurposed or shared elsewhere without proper attribution.
Q4: Are TikTok Video Downloaders safe to use?
A: While many TikTok Video Downloaders are safe, some might come with risks like malware, intrusive ads, or phishing threats. Always choose a well-reviewed and reputable service, and avoid downloading from suspicious or unknown sources. Regularly updating your device's security software can also help in protecting against potential threats.
Q5: Do I need to install software to download TikTok videos?
A: Not necessarily. While there are standalone software options available for downloading TikTok videos, many online services allow you to download videos directly from your browser without any software installation. Depending on your preferences and needs, you can choose the method most convenient for you.
Our Final Words
TikTok, with its massive user base and countless entertaining videos, has become an integral part of our digital lives. Whether it's for offline viewing, content creation, or educational purposes, there are moments when downloading a TikTok video becomes essential.
With numerous TikTok Video Downloaders available in 2023, choosing the right one can be overwhelming. However, by considering factors such as ease of use, video quality, and safety, users can make an informed decision that aligns with their needs. It's also imperative to respect copyright laws and ethical considerations, ensuring content creators get the credit they deserve. As technology continues to evolve, so will these tools, offering even more features and capabilities in the future. But for now, armed with the right knowledge and tools, everyone can enjoy their favorite TikTok videos anytime, anywhere.