In the era of digital consumption, Facebook stands as one of the leading platforms where billions of videos are shared, liked, and commented on daily. These videos range from cute pet antics to insightful tutorials, captivating millions worldwide. But there often comes a time when viewers wish to keep these videos offline, either for personal viewing or for other purposes. Herein lies the significance of Facebook video downloader software. These tools allow users to download their favorite clips seamlessly. In this guide, we will delve into the top 7 Facebook video downloader software available today.
Does Facebook Allow Users Downloading Video?
No. Facebook doesn't provide a direct method to download videos for offline use. The platform's primary focus is to keep users on their site and app. Therefore, if you want to save a video to watch later on Facebook, you can "save" it, but this just bookmarks the video to watch later online and doesn't allow for offline viewing. Fortunately, you can use desktop or online Facebook video downloader to save Facebook private videos, stories, reels for offline watching.
The Difficult of Downloading Videos from Facebook
Downloading videos from Facebook without video downloader service or software presents several challenges. These difficulties arise from both technical and ethical perspectives. Let's delve deeper into the various challenges one might encounter:
Platform Restrictions: Facebook, like many social media platforms, does not have a direct "download" option for videos. This restriction is in place to protect copyrighted content, control how content is distributed, and ensure users keep returning to the platform.
Quality Concerns: Many third-party tools or software that claim to download Facebook videos may compromise the video quality. Not all tools offer downloads in HD or the original quality in which the video was uploaded.
Legal and Ethical Issues: Not all videos on Facebook can be legally or ethically downloaded. Some content might be copyrighted. Downloading and distributing such content without permission could lead to legal consequences. Moreover, personal videos might infringe on privacy if shared without consent.
Ad Intrusion: Many online Facebook video downloaders are ad-supported. These platforms might have intrusive pop-up ads, misleading download buttons, or redirect users to other websites, making the experience cumbersome.
Dependency on External Software: To download videos, users often need to depend on third-party software or browser extensions. This dependency can be restrictive, especially if a particular software isn't available for the user's device or operating system.
Geographical Restrictions: Some videos on Facebook might be geographically restricted, meaning they can only be viewed from certain locations. Downloading such videos might pose an extra layer of difficulty.
7 Best Facebook Video Downloaders Recommended in 2023
When diving into the vast world of Facebook video content, it's not uncommon for users to stumble upon videos they'd love to save for later viewing or sharing. This is where prvitate Facebook video downloaders come into play. These tools, ranging from online platforms to software applications, are designed to help users effortlessly download their favorite Facebook videos directly to their devices. However, with a plethora of options available, how does one decide which downloader is the best fit? Let's delve into the criteria to consider and the hallmarks of a top-notch Facebook video downloaders.
#1 FBvideodown.com (Online & Download Private)

Fbvideodown.com, as its name implies, initially started as a tool designed for downloading private Facebook videos. However, over time, many of these platforms expanded their services to accommodate the rising popularity of other social media platforms, including TikTok. With this FaceBook video downloader, users can effortlessly download their favorite Facebook videos without having to install any software. The straightforward design of the site allows users to simply copy the Facebook video URL, paste it into the provided search box, and within moments, the platform generates download links in various resolutions. This ensures that users have a choice in the quality of videos they wish to download. The platform's versatility also extends to other social media platforms, giving users a one-stop-shop for most of their video downloading needs.
Fbvideodown.com is particularly helpful for users who don't want to download an app or software on their devices. This web-based service operates directly from the browser, eliminating the need for any additional downloads or installations. Moreover, it offers a quick solution for those who want to save videos offline for later viewing, editing, or sharing via other platforms.
Pros:
User-friendly and straightforward interface.
Download private Facebook videos.
Download individual Facebook story.
Download Facebook Reels.
No need to install additional software or apps.
Provides multiple resolutions for downloads.
Supports a variety of social media platforms beyond Facebook.
Cons:
No bulk download option.
Quality of download may vary based on the source video.
Start downloading Facebook video now using FBvideodown: https://www.fbvideodown.com/
#2 Savefrom.net (Online Facebook Video Downloader)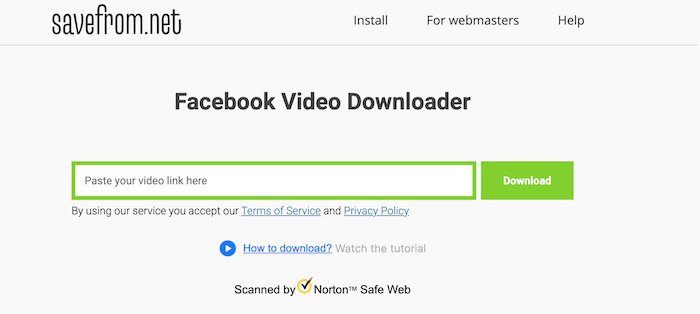 Savefrom.net is another powerful web-based tool that has gained recognition over the years for its ability to download videos from a wide range of platforms, including Facebook. While its primary function was centered around popular platforms like YouTube, the service adapted quickly to the evolving digital landscape by integrating support for emerging platforms like Facebook. With a no-nonsense interface, users can quickly paste the URL of their desired Facebook video, and within moments, Saveform.net processes the request, offering download links in various resolutions and formats. This quick turnaround time ensures users have immediate access to their favorite content.
One of the standout features of Savefrom online Facebook Video Downloader is its universal compatibility. Whether you're on a desktop, tablet, or mobile device, the site adapts seamlessly, ensuring an optimal user experience. Furthermore, it doesn't limit users in terms of the number of downloads, making it an ideal tool for those who frequently save videos. The platform also offers a browser extension for those who prefer a more integrated downloading experience.
Pros:
Supports multiple social media platforms, not just Facebook.
Offers a browser extension for easy access and downloading.
Mobile-responsive design caters to users on any device.
Multiple download options based on resolution and format.
Cons:
The website might redirect to ads or pop-ups occasionally.
Video download speed might vary based on website traffic.
Lacks advanced features like batch downloading or built-in video editing.
Start downloading Facebook video now using Saveform: https://en.savefrom.net/
#3 TopClipper FB Video Downloader(Windows & Mac)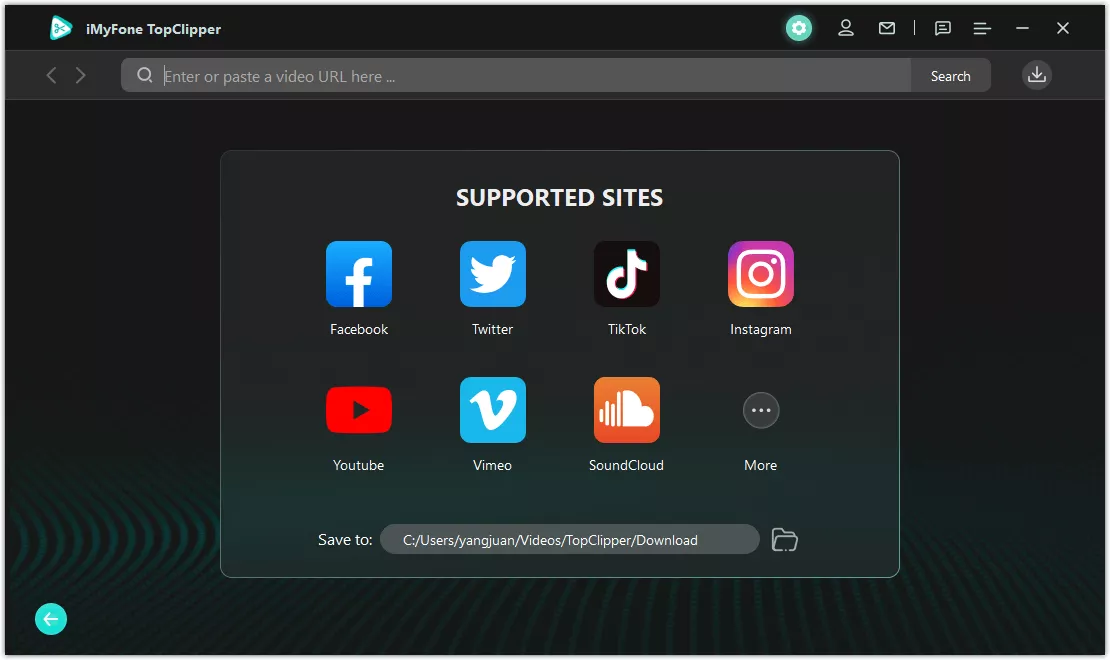 iMyFone TopClipper has made its mark in the world of video downloading tools, offering a sophisticated solution for Facebook enthusiasts. Recognized for its sleek interface and robust performance, this software simplifies the video downloading process, making it a go-to for many users. Unlike some web-based downloaders, iMyFone TopClipper offers a dedicated software experience, providing a higher level of reliability and security. Beyond just downloading, the software comes with additional features, such as video editing and format conversion, catering to those who need a comprehensive media tool.
In the vast sea of Facebook video downloaders, iMyFone TopClipper stands out because of its commitment to maintaining video quality. It allows users to save Facebook videos in high definition, ensuring that the clarity and vibrancy of the original video is retained. Additionally, the tool's security features ensure that users don't have to worry about malicious threats, which can sometimes be a concern with online-based downloaders. Besides Facebook, it can also download videos from TikTok, Instagram, Twitter, YouTube and many more.
Pros:
Dedicated software provides a reliable and secure downloading experience.
Preserves the original video quality during the download process.
Comes with additional features like video editing and format conversion.
User-friendly interface makes it accessible for users of all tech levels.
Cons:
Being a software, it requires installation which might not be preferred by all users.
May come with a price tag for premium features.
Software updates might be needed periodically to ensure compatibility with newer Facebook updates.
#4 YT Saver FB Video Downloader (Windows & Mac)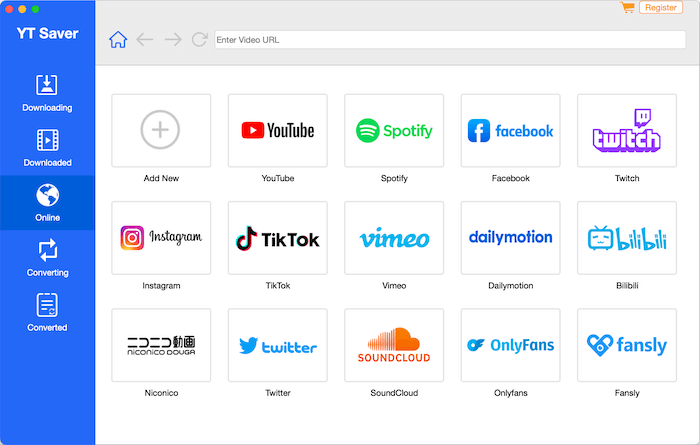 In the realm of video downloading platforms, YT Saver emerges as a reliable and versatile tool designed primarily for downloading content from major video streaming platforms like YouTube. What sets this tool apart is its adaptability, which also allows users to download Facebook videos seamlessly. The web-based nature of this downloader ensures that users can access it from any device without the need to download or install any software, offering on-the-go video saving capabilities.
One of the key features of YT Saver desktop Facebook video downloader is its ability to capture videos in various resolutions, ranging from low-quality mobile options to high-definition for those keen on preserving video quality. The intuitive user interface ensures a hassle-free process, where users simply have to paste the desired video link and select their preferred resolution. Moreover, for those wary of downloading tools with intrusive ads, YT Saver boasts a relatively ad-minimalistic experience, further enhancing its user appeal.
Pros:
Web-based tool ensuring universal accessibility across devices.
Supports a wide range of video resolutions to cater to diverse user needs.
Simple and user-friendly interface for straightforward video downloads.
Minimal ad interference for a cleaner user experience.
Cons:
Being primarily focused on Facebook, some Tiktok-specific features might be missing.
Dependence on the website means it could be down or unavailable at times.
Some users may prefer dedicated software for consistent performance.
Quality of video download might vary depending on source quality.
Start downloading Facebook video now using YT Saver: https://ytsaver.net/
#5 FBdownloader.app (Download Private and Reels Online)

FBdownloader.app, despite its name hinting at a primary focus on Facebook video downloads, has expanded its capabilities to cater to the ever-growing Facebook audience. This online platform offers a streamlined solution to grab videos from various sources, Facebook included. The design of the website is minimalist, allowing even the least tech-savvy individuals to navigate with ease. There's no sign-up required, and the process is as straightforward as pasting a link and hitting download.
Diving into its functionalities of private Facebook video downloader, fbdownloader.app supports multiple video resolutions. This ensures that users can select a quality that matches their device or data considerations. A standout feature is the platform's commitment to user privacy. Unlike some other downloaders that might store copies of videos or track user behavior, fbdownloader.app emphasizes that no videos are kept on their servers and that downloading logs are deleted every few hours.
Pros:
No need for account creation or software installation.
Offers multiple resolution options to suit varying needs.
High emphasis on user privacy and data protection.
Minimalist interface guarantees a user-friendly experience.
Cons:
The name might be misleading for those specifically searching for a Facebook downloader.
As a web tool, it's dependent on the uptime of the website.
Limited to video downloads without more advanced features.
Occasional pop-ups or ads might detract from the user experience.
Start downloading Facebook video now using FBdownloader: https://fbdownloader.app/
#6 Video downloader for Facebook (Android App)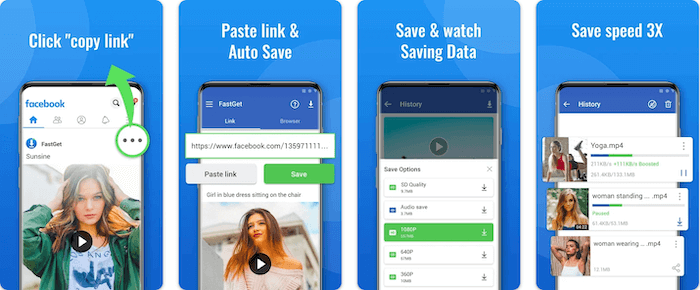 Video downloader for Facebook is an Android application primarily designed for Facebook media downloads but has since included features to cater to Facebook users. This app is a handy tool for social media enthusiasts, allowing them to save their favorite videos straight to their mobile devices. The interface is pretty straightforward, making it easy for users to copy and paste links for rapid downloading.
The Facebook Video Downloader for Android app shines in its integration. Being a native Android app, it offers a smoother and more streamlined experience compared to web-based downloaders. It allows users to directly share the downloaded videos within other applications, or even re-upload them, all without needing to exit the app. Moreover, this tool also offers a built-in video player, so users can preview the videos before downloading or even use it as their primary media player.
Pros:
Seamless integration with Android devices.
Built-in video player for immediate playback.
Allows direct sharing of downloaded videos to other apps.
Regular updates and improvements from the developers.
Cons:
Despite its capabilities, the primary focus remains on Facebook downloads.
Ad-supported, which might interrupt the user experience.
Dependent on device compatibility and might not work on older Android versions.
As it's a third-party app, there's always a slight risk with privacy concerns.
Start downloading Facebook video now on Android: https://play.google.com/store/apps
#7 FileMaster Facebook Video Downloader (iPhone)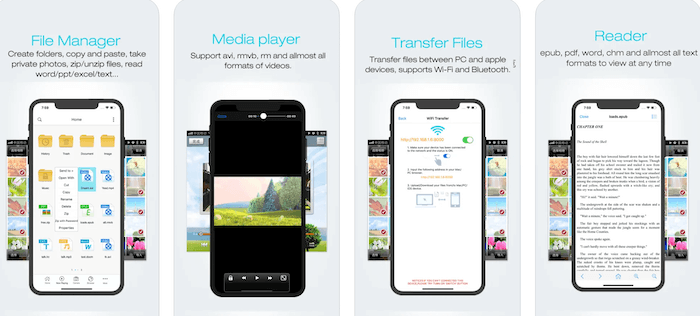 FileMaster-Privacy Protection is more than just a Facebook video downloader for iPhone users; it's a holistic tool aimed at providing top-notch privacy for your files. Serving dual purposes, FileMaster not only assists in managing your files but also acts as a medium to save Facebook videos and other media from various platforms directly to your iPhone. Its emphasis on privacy makes it stand out, with features like file encryption and private web browsing.
For Facebook enthusiasts, thisFacebook Video Downloader for iPhone offers a simple and direct way to save videos to their device. With an in-built browser, users can visit Facebook's website, browse through content, and download directly without leaving the app. Beyond this, the app is fantastic for organizing your downloaded content, offering features like folder management, sorting, and even a media player to enjoy those videos immediately.
Pros:
High emphasis on privacy with encrypted storage options.
In-built browser facilitates direct downloads without app-switching.
Extensive file management capabilities.
Smooth and user-friendly interface tailored for iOS users.
Cons:
While versatile, it might be an overkill for users just looking for a simple downloader.
Occasional ads can disrupt the experience unless the premium version is purchased.
File encryption, though a pro, can become a con if users forget their passwords.
Some features might seem complex to users unfamiliar with file management systems.
Start downloading facebook video now on iPhone:  https://apps.apple.com/app/savefrom.fb
Comparison Table of Facebook Video Downloaders
This table provides a general overview based on the descriptions provided earlier. The actual user experience of each Facebook video downloader may vary based on individual preferences, the specific device used, internet connection, and other variables. Always consider checking the software's official website or app store listing for the most up-to-date information.
| Name | Pricing | Download Speed | Bulk Download | Ads |
| --- | --- | --- | --- | --- |
| FBvideodown.com | Free | Fast | No | No |
| Savefrom.net | Free | Medium | No | Yes |
| TopClipper | Free Trial | Fast | Yes | No |
| YT Saver | Free Trial | Medium | Yes | No |
| FBdownloader.app | Free | Slow | No | Yes |
| FB Video Downloader  (Android) | Free | Fast | No | Yes |
| FileMaster (iPhone) | Free | Slow | No | Yes |
How to Choose the Best Facebook Video Downloader
When it comes to downloading videos from Facebook, not all tools are created equal. While some offer seamless experiences, others may be fraught with issues like watermarks, slow download speeds, or excessive ads. So, how can one discern the best from the rest? Here are some key factors to consider when selecting the best free Facebook video downloader:
1. Compatibility with Platforms
You'll want a downloader that works seamlessly across various platforms – whether you use Windows, macOS, Android, or iOS. Some downloaders are platform-specific, while others operate online and are therefore platform-agnostic.
2. User Interface
A clean, intuitive user interface is always an advantage. You don't want to waste time navigating complicated menus or trying to understand confusing options.
3. Download Speed
Time is of the essence for many users. Hence, a tool that allows for fast video downloads will always stand out from those that make users wait.
4. Bulk Download
If you're someone who often downloads multiple videos at once, a downloader that supports batch downloads can be invaluable.
5. Quality Preservation
The best video downloaders will allow you to download videos without any loss in quality, ensuring you get the same crisp visuals and clear audio as the source.
6. Absence of Watermarks
Free versions of some tools might embed watermarks into the downloaded videos. If you want your videos clean, look for tools that don't add watermarks or offer premium versions that come without this limitation.
7. Ads and Pop-ups
Excessive ads can disrupt user experience. It's best to choose a tool that either minimizes ads or, better yet, has none at all.
8. Safety and Privacy
Always ensure that the downloader you choose doesn't store copies of the downloaded videos. It should also be free from malware or other malicious elements.
9. Price
While many downloaders are free, they might come with limitations. Premium versions, on the other hand, often offer more features. It's essential to find a balance between cost and functionality.
10. Reviews and Recommendations
Finally, always check reviews and get recommendations. Feedback from other users can provide valuable insights into the tool's reliability, performance, and overall effectiveness.
FAQs about Facebook Video Downloader:
Why would someone need to download a Facebook video?
While Facebook offers a 'save video' option, it only bookmarks the video for later viewing on the platform. Downloading it ensures you can view it anytime, anywhere, without needing internet access.
Is it legal to download videos from Facebook?
It depends on the content. If the video is copyrighted or owned by someone else, downloading without permission may infringe on copyright laws. Always ensure you have the right to download and redistribute content.
Can these software solutions download videos in HD?
Most top-tier Facebook video download software allows users to choose the resolution of the downloaded video, including HD.
Are there any risks associated with using these downloaders?
While many software solutions are safe, it's essential to download them from reputable sources. Some might contain malware or unwanted software, so it's crucial to stay cautious and use trusted platforms.
Do I need to pay for Facebook video downloader software?
While there are many free solutions available, some premium software may offer added features such as batch downloading, higher download speeds, or better file format options.
Can I use these tools to download live Facebook videos?
Most tools allow downloading of videos after they've been posted. However, only some software solutions offer the capability to download live videos as they're being streamed.
Our Final Words
In short, Facebook video downloader software bridges the gap between online streaming and offline viewing, giving users the freedom to enjoy content at their convenience. While there are many Facebook video downloader available, the key is to choose a safe, efficient, and reliable tool that aligns with your needs. Always be respectful of copyright laws and ensure that any content you download is for personal use, unless you have explicit permission for redistribution. With the right tool in hand, a treasure trove of Facebook videos awaits your offline viewing pleasure.