In the modern world, information is everything. A USB allows you to copy and share information on other digital devices. However, a corrupted USB can damage your data files. Important personal and professional data can be lost in no time. To cope with this situation, you should know about USB recovery tools.
There are plenty of USB recovery tools available on the web. But most tools struggle to reproduce all the information. That means selecting any random software can be disappointing. To avoid this situation, we have picked the top 5 USB data Recovery Tool Free Download for PC for you.
1. EaseUS Data Recovery
EaseUS Data Recovery provides a complete data recovery solution. It can restore deleted files from USBs, SD cards, recycle bins, HDDs, and other devices. It can also retrieve lost data from formatting, updates, Window installation, etc. With the latest file repair feature, EaseUS Data Recovery can repair any damaged photos, documents, and videos from your external USB or internal drives.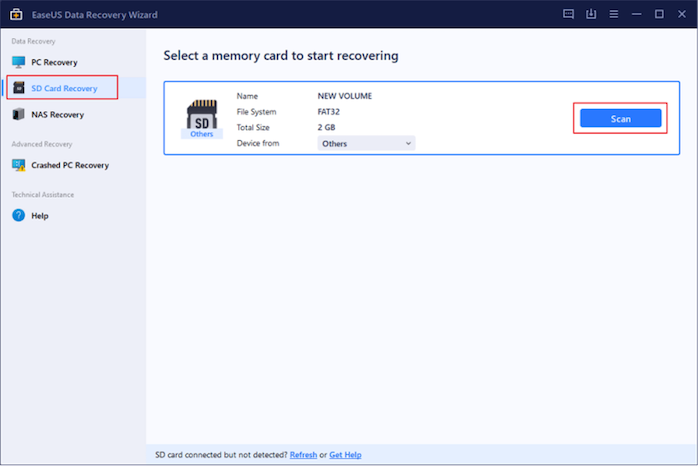 The software uses a quick and deep scan with advanced algorithms to gather lost file information. You can watch the preview of the data before finalizing the recovery procedure. With the File Filter option, you can decide about the specific files you want to restore.
The software supports 1000+ types of media files. It is also capable of recovering data from 2000+ storage devices. Meaning, you can virtually recover any type of data from any storage device with EaseUS Data recovery software. This versatility makes it among the most elite data recovery softwares available today.
The EaseUS USB recovery tool is renowned for its user-friendly interface, fast scanning speed, and high-quality recovery results. With just three simple steps, you can recover data from your USB device. Begin by connecting your USB to your computer and following the step-by-step guide for USB data recovery.
Pros
Can recover the data from empty recycle bin and all other storage devices
Lifetime technical support
Ideal for professional data recovery
Cons
The free version is limited
2. Do Your Data
Do Your Data is a simple yet powerful data recovery software. The tool is known for its professional and quick data recovery. It can recover deleted, formatted, or inaccessible data files from your USB, PC, Laptop, or any other storage device. The files can be photos, documents, videos, music, emails, and any other document.
The experiences people can use to recover files from deleted or lost partitions. It is capable of retrieving data from Windows servers, RAID, and other large-capacity devices. You can also recover the deleted information from an empty recycle bin.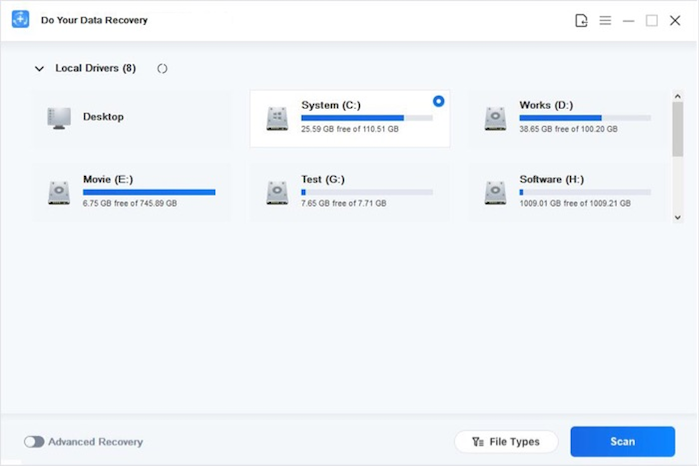 The interface is pretty simple. The data recovery can be done by following a straightforward procedure. At the start, you need to select the data and files you want to recover. After that, scan the selected files to see their availability. In the end, watch the preview of the files and choose the recover option.
Do Your Data has a Recovery Rate of 98%, which makes it a highly efficient software. The tool is compatible with Windows and Mac operating systems. It can collaborate with the latest Windows 11 and macOS 13.
Pros
Simple interface facilitating ease of usage
Able to recover data from all types of files
The premium version is cost-effective
Cons
The recovery program takes additional time while scanning large-capacity devices.
3. PhotoRec
PhotoRec specializes in recovering deleted or lost images from all types of storage devices including USBs, computers, Laptops, hard drives, tablets, memory cards, etc. The software is also capable of recovering all types of corrupted photos, making it ideal to retrieve photos damaged by malware or viruses.
PhotoRec has an online checker to confirm if the selected image is repairable. The interface is very basic, making it ideal for quick photo recovery. It uses a text-based recovery mechanism to restore files from a device. It collects fragments of lost files and locates the base file by piercing those fragments together.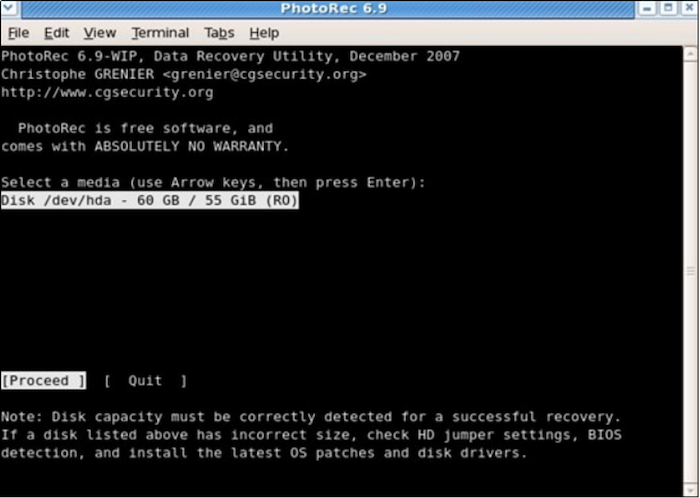 The process of recovering is quite easy. In the first step, you need to download and launch the Photo Rec. After that, select disk_cpLocation. Now, choose the file formats which you want to recover. In the end, select the export folder where you want to store recovered photos and press "Search."
The PhotoRec is completely free to use. It can recover files from FAT, NTFS, exFAT, HFS+, and ext2/ext3/ext4 file systems. The PhotoRec is compatible with the Windows operating system. The Mac version isn't available at the moment. The software is a must-have for those involved in the professional photography business.
Pros
Intuitive interface including an option to recover large files
Can recover and repair all types of photos
No premium subscription required
Cons
Can't restore document or video files
4. Pandora Recovery
Pandora Recovery is a powerful and diverse data recovery software. It offers advanced recovery options like Quick Scan, Lost Partition Recovery, Deep Scan, and many more. The software offers a recovery success rate of 96%. It has a well-defined data safety policy, which stops recovered data from any malicious attacks. The installation is smooth with no risk of virus or malware in program files.
The app offers a preview option to confirm the availability of all files before starting the actual process. It supports all popular image and text formats like XML, TXT, LOG, CSS, BAT, etc. When it comes to file systems, it supports popular systems like FAT32, FAT16, NTFS, exFAT, etc.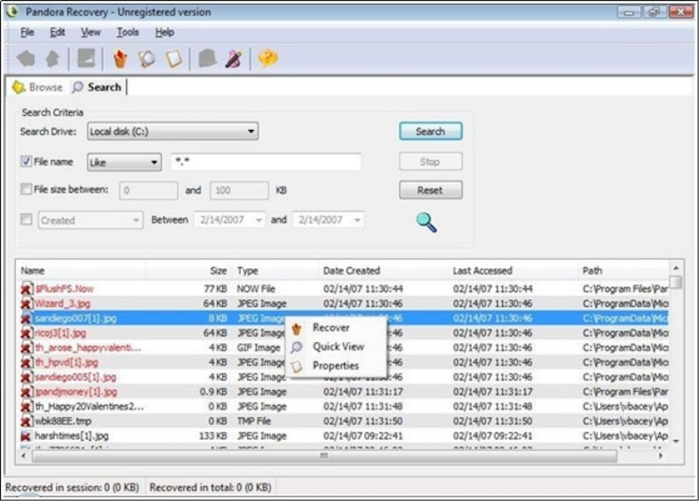 The recovery method is quite simple. At the start, select the location where files have been lost and click "search for lost data". After that, Pandora will start scanning and locating lost files. In the end, it will show a preview of the recoverable files. Select the files you want to restore and click "Recover" to get them back.
The interface is user-oriented. The software has a free and premium version. The pro version costs $89 for full features access.
Pros
Can recover data quickly and conveniently
User-friendly interface with easy navigation
Available in portable version
Cons
Supports a limited number of languages
5. Recuva
Recuva is our fifth and final choice for the day. It utilizes superior data recovery algorithms enabling recovery of media, documents, music, email, and all other types of files. The tool can recover these files from USBs, PCs, hard drives, memory cards, laptops, etc. The software is compatible with the Windows operating system.
Recuva offers a deep scan option to find all the deleted files. The scan is capable of finding traces of all buried files with ease. After the scan, you can recover these files with ease. It also offers a secure file deletion feature, removing the selected files while using military standard techniques.
Recuva is also capable of restoring files from damaged or upgraded disks. The interface is basic with no difficult options. It is available in three modes; Free, Professional, and Professional Plus. The Professional version charges $24.95 and the professional plus costs $39.95.
Pros
Quick and efficient data recovery
24/7 technical support available in the pro version
Automatic upgrades available
Cons
The program can crash while scanning big storage devices
Comprehensive Comparison of Each Software
| Software | Free Trial | Price | Ease-of-Use | Value for Money |
| --- | --- | --- | --- | --- |
| EaseUS Data Recovery | Yes | Starting from $69.95 | Easy to use with a user-friendly interface | Offers a good balance between features and price |
| Do Your Data | Yes | Starting from $69 | Straightforward and intuitive | Reasonably priced with good recovery capabilities |
| PhotoRec | Yes | Free (Open-source) | Command-line interface, not as user-friendly | Excellent value as it's free, but may require technical expertise |
| Pandora Recovery | Yes | Free (Premium version available for $49) | Simple and easy to navigate | Free version provides decent recovery capabilities, but premium version offers additional features |
| Recuva | Yes | Free (Professional version available for $24.95) | Intuitive and user-friendly | Free version is limited, but professional version offers advanced options at an affordable price |
Please note that the prices mentioned are approximate and may vary based on different editions or discounts. It's always a good idea to check the official websites for the most up-to-date pricing information.
Our Thoughts on USB Data Recovery Tool
SB data recovery is a crucial aspect of modern data management. USB drives are widely used for storing and transferring data, but they are also prone to data loss due to various reasons such as accidental deletion, formatting, virus attacks, or hardware failures. Here are some thoughts on USB data recovery software:
Importance: USB data recovery is essential because it allows individuals and businesses to retrieve lost or inaccessible data from USB drives. This could include important documents, photos, videos, or other valuable files that need to be recovered for personal or professional reasons.
Software Solutions: There are several software options available for USB data recovery, such as EaseUS Data Recovery, Do Your Data, PhotoRec, Pandora Recovery, and Recuva. These software tools offer different features, ease-of-use, and pricing options, allowing users to choose the one that best suits their needs and budget.
Free vs. Paid Software: Some USB data recovery software comes with a free trial or a free version with limited functionality. While these options can be useful for basic data recovery needs, paid versions usually offer more advanced features and better support. It's important to assess the value for money and consider the specific requirements before investing in a paid software solution.
Backup Practices: While USB data recovery software can help recover lost data, it's always recommended to maintain regular backups of important files. Creating backups on separate storage devices or utilizing cloud storage services minimizes the risk of permanent data loss and reduces the reliance on data recovery tools.
Remember, prevention is better than cure. To minimize the need for USB data recovery, it's important to handle USB drives with care, practice safe data management habits, and regularly backup important files.
What Are the Main Causes of USB Drive Data Loss?
A USB behaves like a rechargeable battery. Just like a battery starts losing its power after multiple recharges, similarly, a USB can lose its ability to retain data after being erased and re-write thousands of times. The phenomenon is defined as endurance. The endurance of each USB type is prescribed by its vendor. As a standard, we generally say the endurance of an SLC USB is ten times greater than an MLC Flash.
Another factor is retention, it means how long the cell can store the data. The time is affected by many internal and external factors. A high-temperature environment reduces the retention time. Similarly, a short circuit or any damage to USB can considerably affect its retention period.
The third reason is the incorrect detachment of the USB from the media device. It damages the logical file system. And once that happens, your data is gone. However, there isn't any damage to the main USB drive.
FAQs about USB Data Recovery Tools
Are USB data recovery tools safe to use?
Yes, USB data recovery tools are generally safe to use. They do not make any modifications to the original drive during the recovery process. However, it's important to choose reputable and trusted software from reliable sources to minimize the risk of downloading malware or potentially harmful programs.
Can USB data recovery software recover data from physically damaged USB drives?
USB data recovery software is primarily designed to handle logical data loss scenarios such as accidental deletion or formatting. While it may recover data from mildly damaged drives, physically damaged drives require professional expertise. In such cases, it's advisable to seek assistance from data recovery specialists who can handle physical repairs and recovery.
How effective is USB data recovery software?
The effectiveness of USB data recovery software can vary depending on factors like the specific software used, the type of data loss, and the condition of the USB drive. In general, USB data recovery software is successful in recovering a significant portion of lost data, but it's not guaranteed to recover all files in every situation. The success rate also depends on how soon the recovery process is initiated after data loss occurs.
Can USB data recovery tools recover data from encrypted USB drives?
USB data recovery tools may be able to recover data from encrypted USB drives in certain cases. However, the success of recovery depends on factors such as the encryption algorithm used and whether the encryption keys are available. If the encryption keys are lost or inaccessible, data recovery becomes extremely difficult or impossible.
Conclusion
In today's world, USBs are among the most popular means of copying and sharing data files between storage devices. However, these devices are susceptible to being damaged, which can result in loss of data.
This article lists the top five USB recovery tools free to download for PC. The introduction, main interface, and Pros& Cons of each tool have been highlighted. Due to its highest recovery success rate, we recommend using EaseUS Data Recovery software. Download it now and start recovering all your lost data.