RAR files are often protected with password, especially when they contain sensitive files and are shared via email or over the Internet. If you don't know the password for a locked RAR file, there are a few things you can do to crack RAR password and access the files inside. Two such methods are outlined below. Check out both and see which one suits your specific needs.
Part 1: Best RAR Password Recovery Tool for Windows
If you regularly work with password-protected RAR files, this is the preferred method. It doesn't require any technical expertise on your part, and the software is very user-friendly even when you're using it for the very first time. Androidphonesoft RAR Password Recovery is part of a comprehensive family of password recovery utilities that target specific file types. It is the one we're going to be showcasing in this section.
This RAR Password Recovery can be used to unlock any archive file, including RAR and ZIP. It boasts a 90% recovery rate and offers hardware acceleration so you can take advantage of your Nvidia or ATI graphics cards, as well as multiple CPU cores, to open a file quickly and efficiently. Here's how to use it to recover open password from RAR archive.

Step 1

Download RAR Password Recovery

Install Androidphonesoft RAR Password Recovery after downloading it from the official website. This is to make sure you don't get spurious copies that may present malware hazards.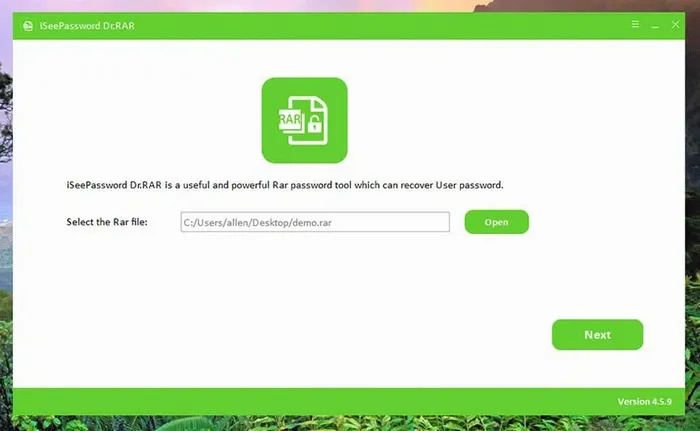 Step 2

Import Protected RAR Archive

Launch the program and import your locked RAR file by clicking "Open" icon; then choose the rar file and click on "Open" from pop-up dialog.
Step 3

Password Recovery Settings

Choose the appropriate attack type based on whether or not you know any of the attributes of the password. For example, you can choose Mask Attack as your attack type if you know the length of the password, what characters it contains and so on. Brute Force is best when you have no clue about the password. If applicable, input any parameters about the password that you're aware of.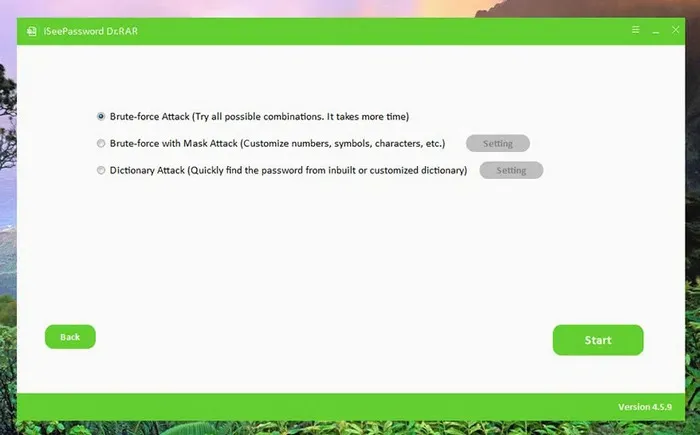 Step 4

Start Recovering RAR Password

Click the Recover button at the top to begin the cracking process. The password will be displayed once it has been recovered. Click on Copy Password and then use the recovered password to open locked RAR file. You will see that the files inside haver been decrypted.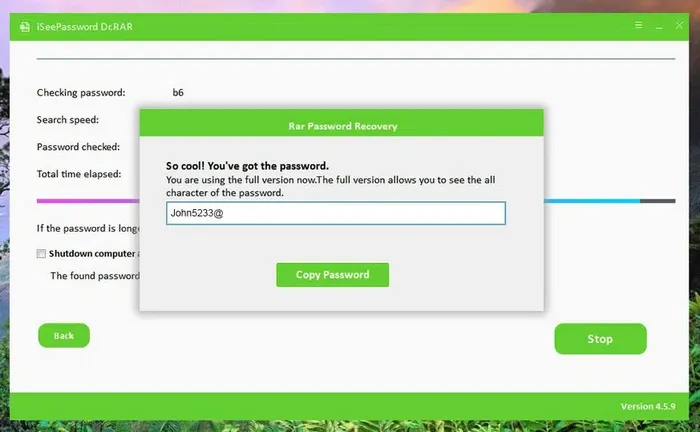 There's also another method to crack RAR files, and this uses an open-source application called cRARk. The software and the process are showcased in the next section.

Part 2: RAR Password Recovery Tool for Mac & Linux
cRARk is a popular command line utility that allows you to crack RAR passwords in Linux and Mac OS X. This example shows you how to use it in Mac to crack the password, but it works in a very similar manner in other operating systems as well.
Here are the steps to use cRARk in Mac OS X. You can download the software from here. It will be downloaded as a RAR file, which you will need to extract. Once that is done, follow the steps described below:
Step 1: Open a Terminal window on your Mac and type the following command, then Enter:

CRARK -c -l4 -g4 your_file.rar
Step 2: The software will figure out the best attack method and use that to crack the password. It depends on several factors. For example, if the password is longer than 6-7 characters, you will need to provide additional information in the form of a password definition file. If you're unfamiliar with any of this, please use the other method.
Step 3: When recovered successfully, the password will be displayed in the following format:

password - CRC OK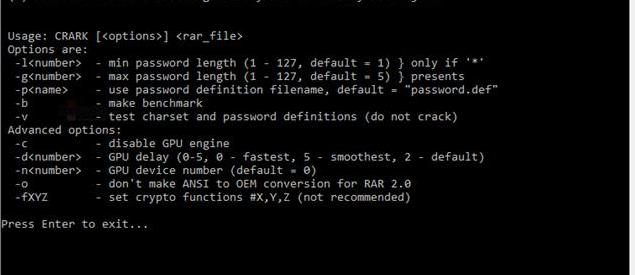 This is not a tool that newbies can easily use. You need to know quite a bit about password hashing and the recovery process in general in order to be able to use the correct command. In addition, cRARk may not work with macOS or if the RAR file is encrypted with anything other than AES. Even some experts have trouble using RAR because of various issues like GPU incompatibility, the software not able to recognize the encrpted files inside the RAR, and many other factors that prevent them from accessing the encrypted files in the RAR.
At the End:
If you have any problems, we recommend that you use Androidphonesoft RAR Password Recovery and save yourself a lot of time and effort. The 90% recovery rate means there's no wondering whether the software can actually do the job. Besides, if you have little experience with password recovery processes, then you don't have a lot of other options. RAR uses some of the most powerful encryption algorithms and techniques available, and only powerful recovery software like the one from Daossoft will allow you to do this in a reliable, safe and quick manner.