If you ever forgot Windows 10 user or admin password in the past, you knew very well how frustrating it could be. You sit down at your desktop, boot it up, and then at the login screen you suddenly realise that you have no clue what the password is. If you've ever found yourself in this type of situation, you may have even panicked and wondered whether you have to go through the painful experience of reinstalling Windows 10 OS. Thankfully, that is not required at all in nowadays. With the several useful suggestions listed below, you can easily bypass protection from a locked PC and it is no longer a problem.
In this article, we will briefly discuss five different methods to reset Windows password. Each method has it own advantages and limitations so make your own decision based on the situation you are already in. According to our test, Method 2 is the fastest solution (less than 5 minutes) to successfully reset Windows 10 password for local account. Please be noted! The most complicated and time consuming solution is Hast Suite.
No.1: Reset Windows 10 Administrator Password with Reset Disk
There are a few users with good luck by making a password reset disk in advance. They might expect such an awful thing happening in future. It is a wise move. So basicially, you need to create this reset disk while you still have access to your Windows 10 user account:
Step 1: On the Windows 10 login screen, click 'Reset Password'.
Step 2: Now insert the pre-created password reset disk into that computer. From that drop-down menu, select the drive name of password reset disk and click 'Next'.
Step 3 : Once the computer recognize and scan the disk successfully, you will be prompted with the following screen to set a new password for login.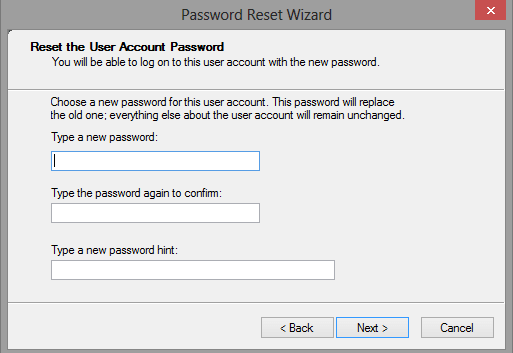 You can now get access to the computer with the new password. However, if you forgot making a reset disk as we mentioned above, then no worries. Please read the suggestions below.
No.2: How to Reset Windows 10 Password in Minutes
If you neither create a password reset disk, nor sign in with Microsoft account, then the only way left is by using password recovery software. Androidphonesoft Windows Password Recovery is a powerful software utility that can reset any Windows password from Windows XP and Vista all the way up to Windows 10. The software is very simple to use, and all you will need is a second PC and either a USB flash drive or a blank writable DVD or CD.
Step 1

Download and Install Windows Password Recovery Tool

On the second PC, make sure you have admin rights. You can now download and install the program. You can see the main UI as this: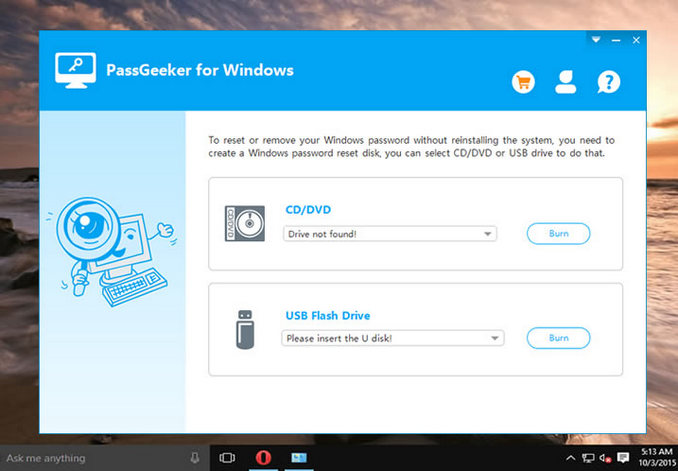 Step 2

Make a Windows 10 Password Reset Disk

Launch the software application and insert the removable drive into that PC. On the software interface, you will see two options for burning the ISO file. One is for creating the bootable media on a USB drive, and the other one is for creating it on a DVD or CD. Select the appropriate option and click the 'Burn' button against that.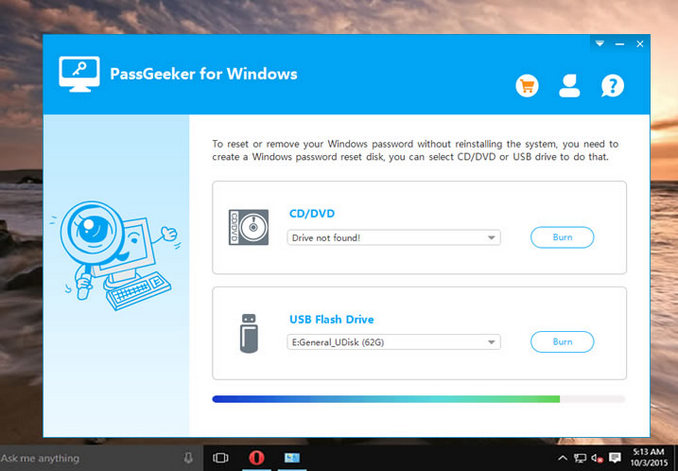 Step 3

Boot Locked Windows 10 PC

Now that your password reset disk is ready, remove it from second PC and insert it into the locked one. Boot up the locked PC as you normally would, but during the boot process press the special key that will take you to the boot menu. This is usually F2 or Esc or Del key, but the key to be pressed will be displayed during boot-up. Once you are inside the boot menu, change the boot order to boot from the disk, and continue the boot process.
Step 4

Display Windows 10 User Account

Once you see the software interface on your locked PC, You will see the system information and user accounts on that locked computer.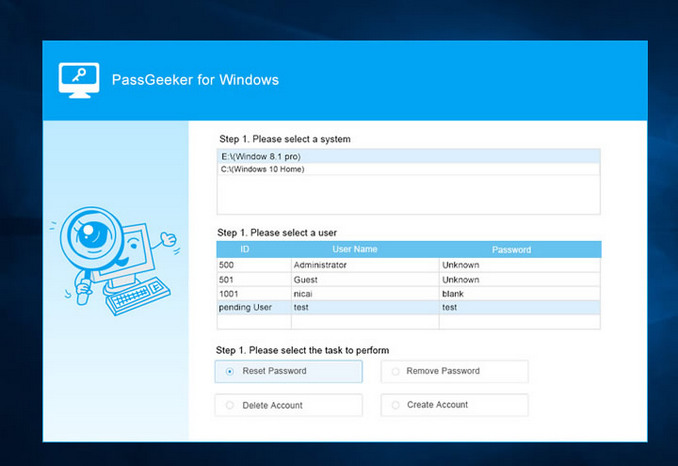 Step 5

Reset Windows 10 Password

Simply select your Windows version, the user account for which the password has been forgotten or lost, and click on the button that says "Reset Password". Next, enter a new password and click "Reset" button to take it into effect.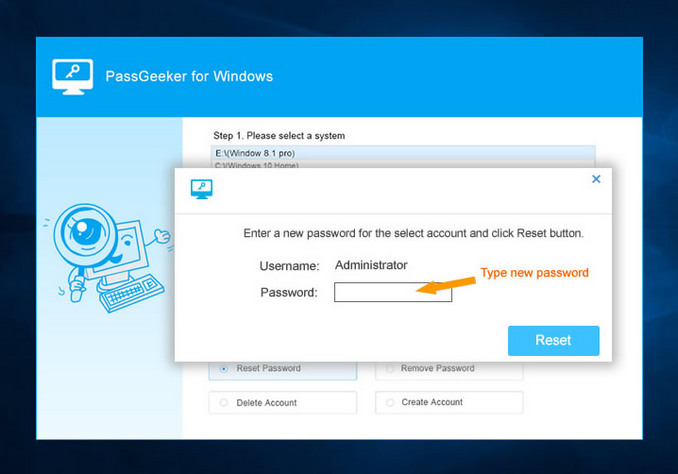 When the password has been reset, click on the "Reboot" button and allow the computer to boot up normally. You should now be able to access your Windows 10 PC without any password.
No.3: Reset Forgotten Windows 10 Password without Any Software
Most of software and services owned by Microsoft can use Microsoft account for login so you don't need to create separate account for each service. With no expection, you can sign in the Windows 10 machine with your Microsoft account. If you did this and forgot the login password, then you can set a new password for login by resetting Microsoft account password.
Step 1: Since your primary PC is locked, you should borrow or use a different device to do this. It can be a computer or mobile device with Internet access. Now go to Windows Live password reset website. There, enter your Microsoft account username, and then click on the forgot password link.
Step 2: The next screen will be the Recover Account screen. A few characters will be shown, which you will need to type into the box provided, and then click on the 'Next' button.
Step 3: The next screen is for verification. You will need to choose how you want to receive your security code, whether by email or as a text message. If you chose the text option, you will be asked to type in the last four digits of your phone number. This will be the number that you provided when registering your Microsoft account.
Step 4: You can check your text message on your mobile phone, or use a different device to access your email to retrieve the security code. On your locked computer, enter this code and click on 'Next'. You will now be asked to reset the password. Enter a new password and then keep confirming until the password has been reset. You may now sign into your Windows PC using Microsoft account.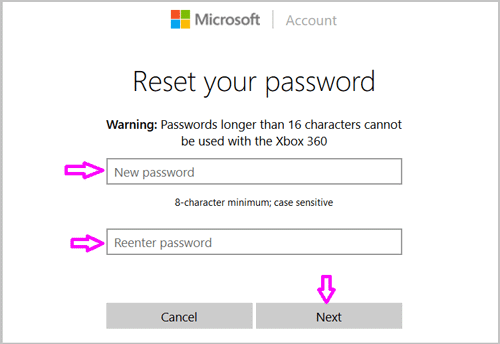 No.4: Cain & Abel (Reset Local Windows 10 Password for Free)
Cain & Able is another password recovery program that may not be your first choice for resetting a Windows 10 password. It works great with older versions of Windows, but with Windows 10 it's more of a fifty-fifty chance that your password can be unlocked. However, since this is an extremely popular utility, we have included it in this list. Here's how to use Cain & Abel to reset your Windows 10 password.
Step 1:On a different PC, download and install Cain & Abel. Next, you will need to burn the ISO file onto a DVD or a USB flash drive.
Step 2: Now, remove the disk or drive and insert it into the locked PC. Boot it up as normal, but wait for the Cain & Abel interface to appear on your screen.
Step 3: Open the option called Boot Key and locate the drive which has the Windows installation. Next, select the account name for which you have forgotten the password, and right click on it.
Step 4: Select the option called Brute Force Attack, and then NTLM hashes.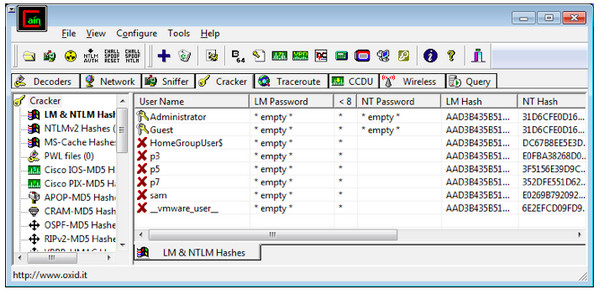 Depending on the complexity of the password, the process may take several hours, after which you will be able to see the passwords displayed on the screen if they have been recovered. If you find the one you're looking for, use that and you will be able to access the locked account.
No.5: Hash Suite (Recover Windows Password without CD or USB)
Hash Suite is fairly popular password cracking program because of its functionality. It can not only crack Windows password but aslo for other types of files, like ZIP, RAR, Word, Excel. However, it is not that easy as the ones we mentioned above.
Step 1: Extracts the hashes from the SAM file or the Security Account Manager file. Once the extraction is done, Hash Suite will allow you to crack these hashes and recover the forgotten passwords.
Step 2: To import the hashes into Hash Suite, launch the software and click on 'Local Accounts' in the Import menu. What this does is to load all of the hashes for all of the accounts on that PC.
Step 3: Once the hashes have been loaded, Hash Suite offers the dictionary and the brute force attack methods of password recovery. Simply select the appropriate parameters on the interface, and follow the onscreen instructions to recover your passwords.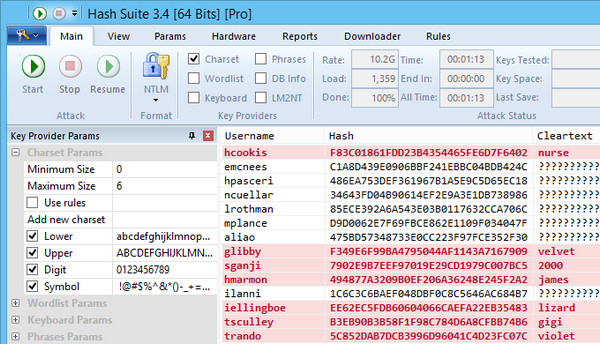 Conclusion
As you have just seen, there is more than one way to reset a Windows 10 password that has been forgotten or lost for some reason. If you have a considerable amount of technical knowledge, then you will be comfortable using applications like Cain & Able or Hash Suite. On the other hand, the average user may not be proficient in using such software.
For those of us who want to keep it simple, one of the first three methods is recommended. But if you want the easiest, quickest and most reliable way, then the second option is the one you're looking for.
Related Articles