It can be embarrassing when you forgot a PDF password for an important document. Asking your colleagues is like admitting that you are irresponsible, so how can you avoid that type of situation? There are a couple of ways to recover forgotten password from PDF password. And both methods are explained in this article. Remember, security is a primary consideration, especially if the document contains sensitive information about the company or some other private data that must not be shared with unauthorized users.
Part 1: Online PDF Password Recovery (Insecure)
The first method actually looks more convenient, but there are a lot of associated risks. The easy part is finding a service to unlock your PDF because there are many such websites. The only problem is that you don't know how secure they are. Even if they guarantee absolute privacy and security, the document will still be accessible by unauthorized persons.
The process is relatively easy. Just find an online service, upload your PDF and wait for them to return the unlocked document. Some sites only ask you to pay once you can verify that they have unlocked it or recovered the password. They will send you a screenshot of partial contents for you to check. That should actually set off alarm bells in your head because someone has opened what could be a confidential document.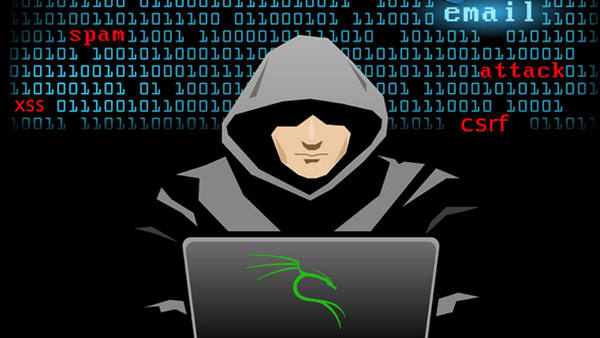 The point is not whether they actually use any of that data to their advantage, but it's a question of security. Even the act of uploading a confidential file could get you into trouble at work. Moreover, since the information is being sent over the internet, there's a chance that it can be hacked during transit - either during upload or download. The biggest fear is that the service will grab personal information from the file, which is dangerous for you. There are also a number of fake services that are only there to steal your data. Even if it's a legitimate service, it will often take several days for you to get a response.
To avoid this type of situation, it's better to choose a downloadable software that can execute the password recovery process locally, without sending any information online. The best tool for this is described in Method 2.
Part 2: How to Recover Forgotten PDF Password Safely
Androidphonesoft PDF Password Recovery is a comprehensive PDF unlocking utility that will keep your data local and secure. That means no prying eyes and no unauthorized access by anyone except you. It is part of a whole family of password recovery utilities for various file types.
This powerful PDF recovery software works with all the latest encryption methods, including RC4 and AES. All you need to do is import the PDF file into the program, select the type of password recovery attack, define hardware acceleration parameters if applicable and hit Start. That's it. In a relatively short time, your password will be recovered and displayed, from where you can directly open the file or copy the password and open the password protected PDF file.
Step 1

Install and Run PDF Password Recovery

Install the program on your Windows PC after downloading the official installation file from this website. Launch the program click "Recover Open Password from PDF.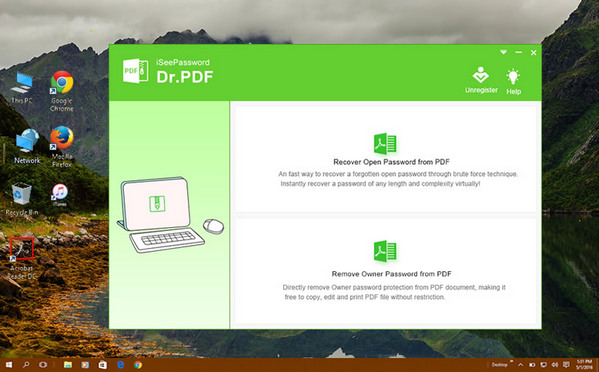 Step 2

Add Protected PDF

Import your PDF document by clicking the "Add Files" button. The software will automatically detect and display the type of encryption and the complexity of the password used.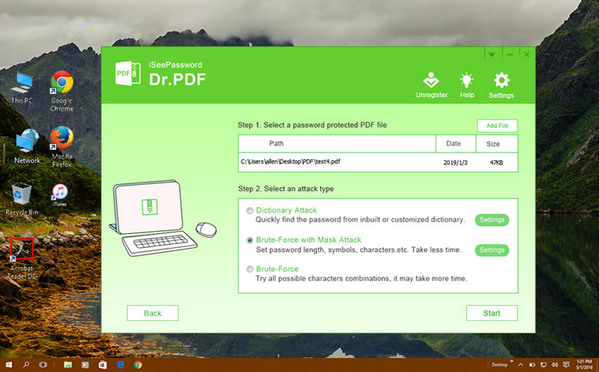 Step 3

Password Recovery Settings

There are 3 types of password recovery algorithms (Attack Type) within the programs.

Dictionary Attack: Run faster because it works with a pre-set list of possible keywords. It's called a dictionary, hence the name of the attack type, and it consists of a .txt document that you can prepare yourself. Just type in all your commonly used passwords and save them as a text file. Then, select Dictionary on the software interface and click on "Settings" next to that option. This will cause a new window to popup, where you can click on "Add Dictionary" to add the file you created.

Brute Force with Mask Attack: Use the parameters you specify. When you select this and click on the gear icon next to it, a new window will give you options to choose these parameters, which includes password length, presence of numbers and characters, and special suffix or prefix for the password.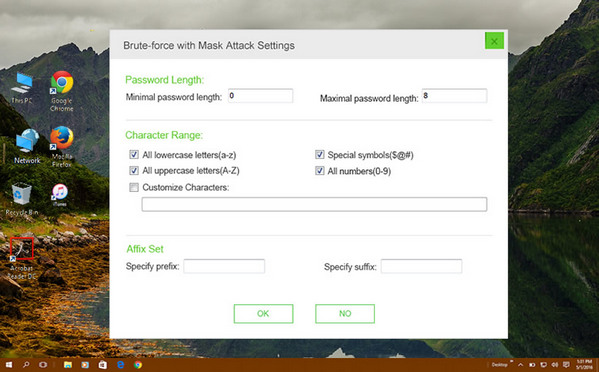 Brute Force Attack (Less Efficient) : This attack type takes longer because all possible character combinations are used to find the correct one. However, it is guaranteed to work for any password no matter how complex it is.
Step 4

Start Recovering Password from PDF File

After you have chosen the attack type, you can tweak the hardware acceleration parameters. The software supports GPU and multi-core CPU prioritization in order to speed up the PDF password recovery process. Finally, click on "Start".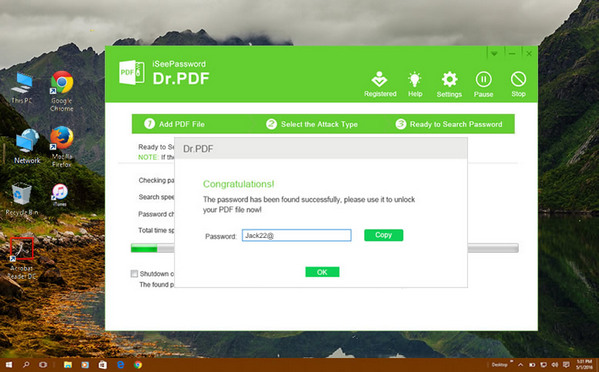 As the process proceeds towards completion, you will be able to see how many were checked and how long it took. Depending on the password complexity and other parameters, you will soon see a window with the recovered password. You can now click on "Copy". Locate the protected PDF and paste the password and you now have access to the PDF file.
Additional Mark: Recover Restrictions Password from PDF
Besides the open password we talked above, there is another password protection on PDF: Restrictions Password. It prevents the PDF from editing unless you type the correct password to unlock it. So if this was the case, you can also use Androidphonesoft PDF Password Recovery to remove the restriction password from any PDF.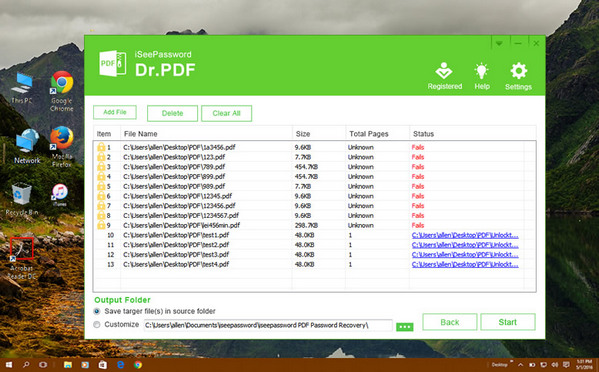 Once the program is installed, click "Recover Owner Password from PDF". Next, import the PDF document to the program. The file with a lock icon associated means it is password protected. Click on the file and click "Start". The password will be removed instantly from the document.
Wrap Up:
Androidphonesoft PDF Password Recovery offers a secure and quick way to recovery PDF password when you forget it. The interface is clean and intuitive, and all it takes is a few steps to recover a forgotten password and gain access to the previously locked file.