Losing data can be a harrowing experience, and if you are a frequent computer user who saves all their data on PC, it could be a nightmare. For that reason, computer experts always recommend taking regular backups on PC and storing the backup in a different location like the cloud or on an external hard drive. That's why Windows data backup software get involved. The final solution is different, depending on how much data your PC currently has.
To make a backup of Windows 10 PC, you need a reliable piece of software that will make a true copy of all your precious information. This is not something you can leave to chance, so we've curated three of the best free and affordable Windows backup software solutions available on the market today.
NO.1

EaseUS Todo Backup Free - Best Windows Backup Software

EaseUS Todo Backup Free Version is good enough for home users. It doesn't offer cloud backups, but you can always upgrade to the Home or Pro version if you really need it. For backing up essential private files and folders, this will do nicely. It offers various levels of backups such as files and folders, partitions and drives, and full system.

Users will love the smart backup option for folders that are frequently used, and if you don't want event-based backups you can just schedule them for periodic intervals. As a basic backup tool, this is one of the best you'll find. It also offers full drive cloning capabilities in case you want your operating system and all your applications to be backed up as well. The flexibility, options, and ease-of-use make this a must-try software for all your data backup and recovery needs.
Pros:
* Simple and intuitive interface.
* Backup options for individual files, folder, partions and full disk up.
* Clone HDD to new HDD or SSD.
* Copy Windows OS to another HDD or SSD.
* Copy Windows OS to another HDD or SSD.
* Include other useful tools like system clone, create emergency disk, etc.
* Compatible with Windows 10, Windows 8 and Windows 7.
Cons:
* Limited storage volume up to 16TB.
* Outlook backup option not available.
* Not support shedule backup.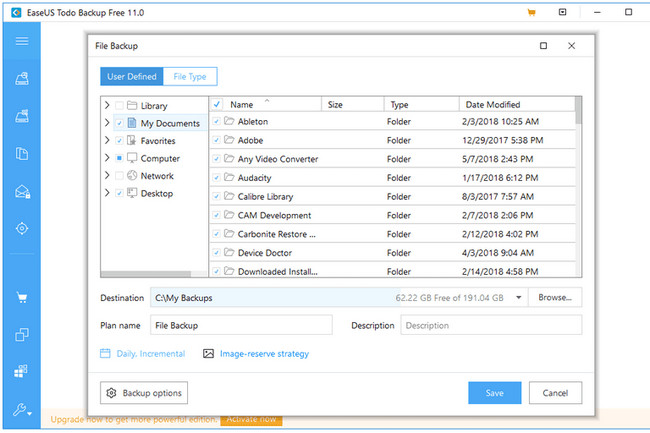 NO.2

Paragon Backup & Recovery Free - Standalone Backup Tool

Backup and restore is very easy to do with Paragon Backup & Recovery Free, and it's great for new users who are unfamiliar with the whole data redundancy process. Paragon uses file compression methods to save the amount of space required to store your backups. You can schedule backups to run automatically at set times, and you can even protect them with a password so they remain secure in case someone else happens to come across them.

One of the stand-out features of this software is the ability to rescue data from a computer that won't boot into Windows, which is useful in case your PC crashes or there are other system issues that prevent it from starting up properly. In short, this is a set-and-forget type of software where you specify the parameters once and ensure that backups are taken regularly and promptly.
Pros:
* Fully backup hard drive, inlcuding hidden files.
* Less backup time by only saving the changes.
* Support schedule backup (daily/weekly/monthly).
* WinPE based restore and data recovery.
* Support various file systems such as FAT32, NTFS, Ext2FS, HFS+.
Cons:
* Slow installation process.
* Has to be sign up an Paragon ccount before using it.
* Latest versions are sometimes buggy.
* Can not clone Windows OS or HDD.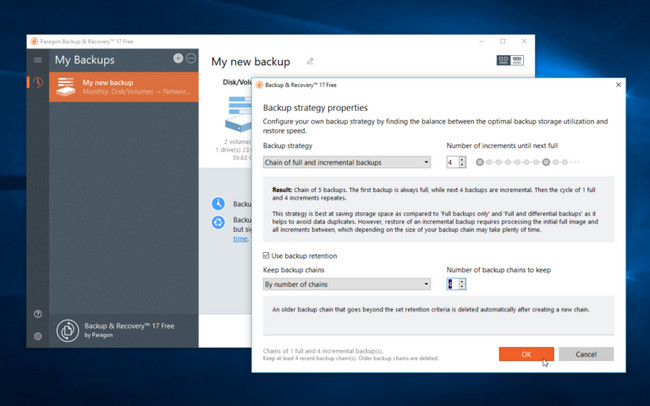 NO.3

Google Backup & Sync - Best Cloud Backup Service

Google Backup & Sync is essentially a web-based utility that stores your data on the cloud, and it's a very basic tool for data backups. However, since the majority of PC users are likely to be using Gmail, they'll have a Google account with which all data can be associated. On the bright side, the data is as secure as it can be considering that it will live on Google's cloud servers. That being said, you can't do drive or system-level backups.

This is purely for files and folders - or individual directories at the most. The big advantage is that you don't have to worry about scheduling backups because all the folders and files that you want to be monitored are almost instantly updated on the cloud. On the flip side, there's no drive or disk cloning, so you can't preserve your OS and applications. Nonetheless, it's highly accessible because all you do is download the app and start using the service.
Pros:
* Flexible and easy backup selection.
* Easy to access backup from other devices.
* Well integrated with other Google services like Photos, Gmail.
* High level of security for all your backed-up data
Cons:
* Less backup storage (Less than 15G).
* No system or disk backup.
* Take more time to download the full backup.

Summary
These three Windows backup software are everything that an average Windows user will need to keep their data safe from being lost or destroyed. Of course, you can spend a lot of money on expensive data backup utilities, but remember that a backup is nothing more than a second copy of what you have on your computer.
There's really no need to explore the more expensive options unless you want advanced customization options and a ton of flexibility in your Windows backup software. There are far more advanced cloud-based and automated backup utilities and services available, but the average computer user won't have the need for such fancy features, nor the skills to use them in a productive way.