When you forgot Windows 8 login or administrator password, there are several ways in which you can reset or recover it. Although most Windows users assume that a reinstallation OS is the only way to unlock their computer, this is far from the truth. A reinstallation will require a full backup because you will lose all your data and settings. Moreover, it requires the original installation CD, or else you will need to create one after downloading the ISO file from Microsoft's servers. In this article, we show you how to reinstall Windows 8 or Windows 8.1 so your password will be reset. We have also shown you two other methods that can be used to unlock your computer. Choose the one you prefer and proceed by following the steps outlined in the corresponding section.
Method 1: Reset Windows 8 Administrator Password by Reinstall
Reinstall is the ideal solution if the computer was bought from others. You get nothing to lost becasue you never used it before. But in most cases, this is the least desirable method to reset your Windows 8 password because you would lost all the data on settings on the drive. However, if you would like to do a cealn reinstall, make sure you have the installation disk and the original license key ready. You will need it to validate the installation and activate Windows 8.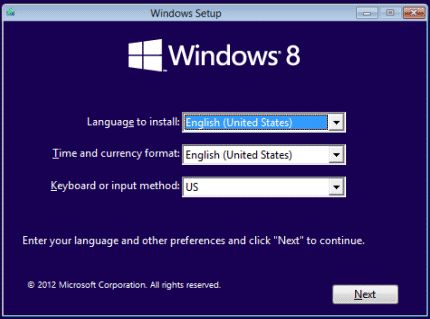 Step 1: Download Windows 8 ISO file from Microsoft website.
Step 2: Create the bootable media from the ISO file by using ISO burning software.Restart your PC after inserting the disk, and then during the boot process, access the BIOS to change the boot order. The F1 or F2 key will take you to the boot menu depending on which version of BIOS your computer is running.
Step 3 : When the PC restarts, you will see a prompt to "Press any key to boot from CD or DVD". Hit any key and then click on "Install Now" in the next window. Follow the instructions on the screen and your Windows 8 reinstallation will be complete. You may receive a prompt to re-enter the activation key (license key), which you can do.
One of the biggest disadvantages of reinstalling Windows 8 to reset your password is that since your computer is locked, you will not be able to do a full backup prior to the reinstallation. That means all of your data and settings will be gone forever. If you don't want that, then consider using a password reset tool that doesn't touch any of your data, but only resets your password so you can gain access to your locked user account.
Method 2: How to Reset Windows 8 Password via Recovery Tool
The data integrity aspect is one of the most attractive features of Androidphonesoft Windows Password Recovery. None of your data will be disturbed, and the reset process is so simple that even a novice user can use it to reset their Windows 8 password. It also works with others Windows versions from XP to Windows 10, and has been widely tested on 50+ PC brands across the world.
Androidphonesoft uses the password reset disk method to unlock your computer. This approach is made easy by the fact that the software utility contains all the components required to create the bootable disk that you will use to reset your user account password on the Windows 8 PC.
Step 1

Install Windows Password Recovery on Another PC or Mac

On another PC, download the setup file from the official website and install it. The installation wizard will guide you through the process. Now launch the program and insert a blank CD/DVD disc or a USB drive into the computer.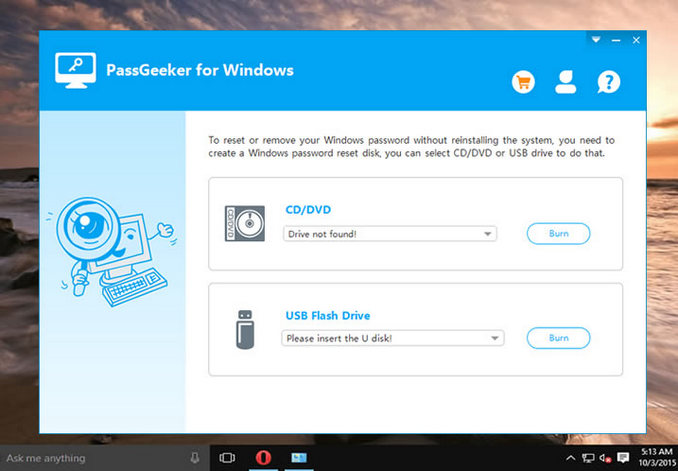 Step 2

Create Windows 8 Password Reset Disk

On the software interface, you will see two options to create the bootable media - CD/DVD and USB flash drive. Depending on which option you prefer, click the "Burn" button next to that option. Your boot disk will be ready in a few moments. Now remove it from the other PC.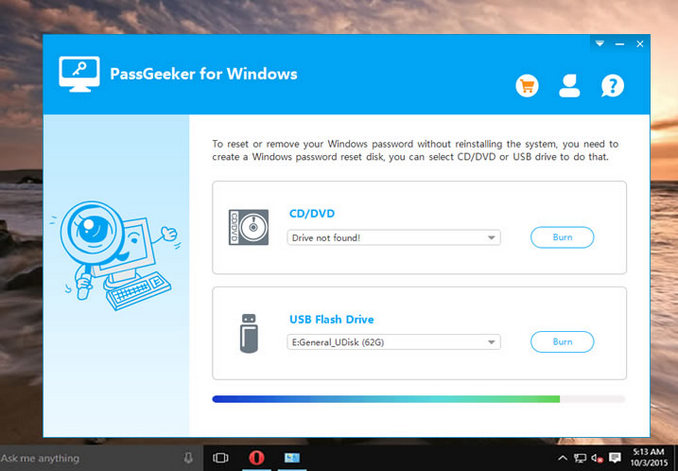 Step 3

Boot Locked Windows 8 PC from Reset Disk

Insert the disk into your locked PC and change the boot priority by pressing F2 to access the BIOS setup. Within the setup, go to the "Boot" tab and select CD-ROM or USB Drive. This will allow your PC to boot up from the ISO file on the disk rather than from the native Windows installed on your PC. This is an important step.
Step 4

Reset Windows 8/8.1 User Account Password

Once your computer restarts, you will see the interface once again. This time it will show you an option to select the appropriate Windows version and the user account that you wish to reset the password for. Make the selections and click on "Reset Password", then on "Reboot".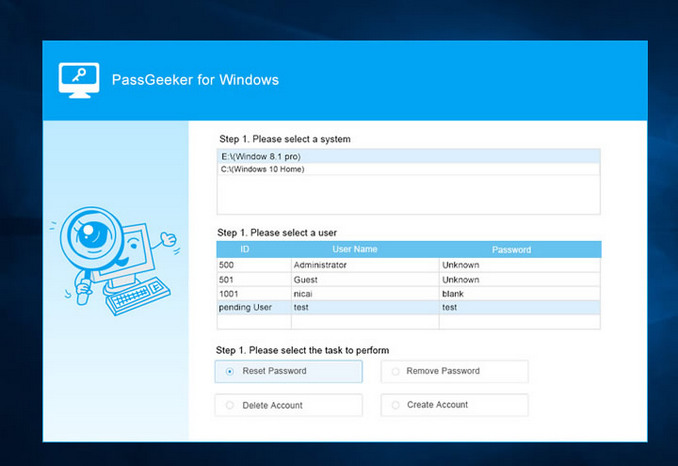 When the computer reboots, you will be able to access your user account without a password. None of your data was erased, and you can specify a new password if you wish. As you can see, the software is very intuitive and only takes a few minutes to complete.
Method 3: UBCD Windows 8 Password Reset Disk (Local Account)
You can also reset your Windows 8 password using Ultimate Boot CD, a Linux-based program. Also called UBCD for short, it is a bootable disk that has the chntpw utility built in, among other Windows repair software. For the purpose of this article, we'll only be using the chntpw function.
Step 1: Before using this tool, you need to download it to another PC and then burn it onto a disk or a USB drive. The download can be found here, and you can use a free ISO burning tool like ImgBurn to create the bootable disk or drive.
Step 2: Once you have the disk ready, insert it into the locked computer and boot it up.
Step 3: You will need to access the boot menu (F2 or other special key) and change the boot order so the computer boots from UBCD. After that, you will see the UBCD boot menu. Select the option that says "Parted Magic" and click on Enter. On the next window, select the default graphic setting by typing 1 and clicking Enter. You will now see the Parted Magic desktop.
Step 4: Look for "System Tools" on the bottom left corner of your screen. Mouse over it and select the "Change Windows Password" option from the expanded menu. Now you need to choose the Windows installation on your PC in a small popup window which displays all your disk partitions. The largest one usually contains your Windows installation. Select the right one, and this will launch the chntpw utility window.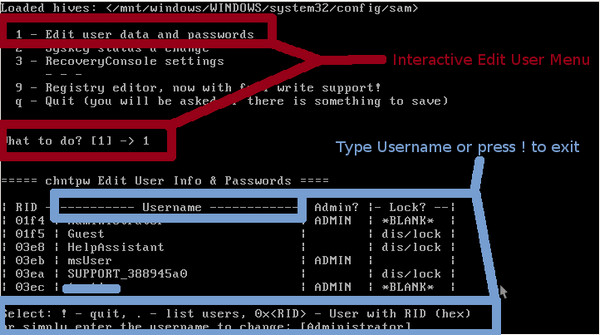 Step 5: Type in 1 and click Enter to edit user data and passwords, and you will see all the users on the computer listed. You have to type in the name of the user for which the password must be reset. Hit Enter again.
Step 6: Once again type '1' and hit Enter. This is where you choose to delete the current password. Now type '!' and hit Enter again; next, type q and click Enter to quit the edit mode, and type 'y' and hit Enter one last time to confirm writing the registry hive files.
Step 7: Remove the UBCD from the drive and reboot your system. You will now be able to enter your user account without using a password.
Closing Words
All of these methods have their advantages. For example, with the re-installation method, even though all your data and settings will be reset to factory status, your PC will be refreshed and run like new. Androidphoneosft utility lets you quickly set your password without requiring any technical knowledge and without additional tools. The UBCD method offers several other Windows repair tools that may be useful later on. However, if your only purpose is to reset your password and preserve the data in your locked system (such as after a hacker has compromised your computer), then bypassing the password with Androidphonesoft is the recommended method to follow.
Related Articles