Password security is an essential part of the workplace, and where Excel is concerned, it is imperative that sensitive financial and other data is protected with a strong password to prevent unauthorized access. But what if you are an authorized user and forgot the excel open password that not being used for a long time? Do you know how to unlock Excel password?
Although there are tools to reset the password to access the file, that will affect other users if the file is in a shared network folder. You can always download a copy, blank the password and unprotect the excel file, but if you want others to be able to access it, you have to upload it back to the original location. When you do that, others will need the new password because you can't leave it unprotected. To avoid all these problems, the best approach is to find a way to crack the password without affecting the data inside.
In this article, we'll discuss two methods to unlock an Excel password. Choose the one that suits your needs.
Part 1: How to Unlock Excel Workbook Password Online For Free
There are several reliable password unlocking services available online. Typically, the process involves uploading the document to a site, sign up an account and make a purchase. Then waiting for the password recovery process to be completed in the background and then downloading the file along with the cracked password.
Although this might look like a convenient way to unlock an Excel workbook password, that's not always the case. The primary considerations here are security, privacy and confidentiality. The fact that your password is being cracked on someone else's private server or cloud means that your data is exposed. It doesn't matter how strict their privacy policy, but when your data is put online, the risk of the file being hacked is always present. This is especially true if the file contains company-confidential information or personal data like banking information and so on.

No matter how secure the online service promises to be, that element of risk is unavoidable. If that's the situation you're in, you should consider a standalone, downloadable application to help you recover Excel workbook password.
Part 2: How to Unlock Excel Workbook Password in Windows PC
Androidphonesoft Excel Password Unlocker is one of the most powerful password recovery applications for all versions of Excel files, including Excel 2016, Excel 2013, Excel 2010, Excel 2007. It is secure because your data remains on your computer, and it is one of the fastest programs because of hardware acceleration capabilities. It also promises a 90% password recovery rate that is unmatched in the industry.
The best part about the software is that you don't need any sort of technical expertise or experience working with this Excel password recovery software. Everything is clearly laid out, and all it takes is for you to import the file and specify a few things about the password if you remember it. That's it. For your convenience, the process is explained in detail below:
Step 1

Download Excel Password Unlocking Software

Install the software after downloading the authentic file from the official Androidphonesoft website.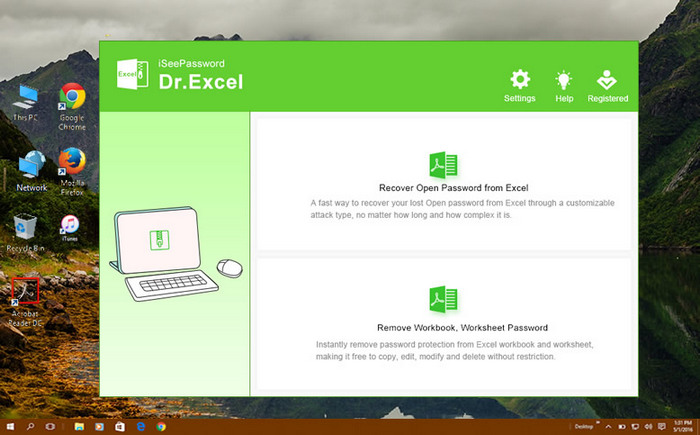 Step 2

Add Password Protected Excel File

Launch the application and select "Recover Open Password from Excel . Then import the locked Excel file using the "Add File" button.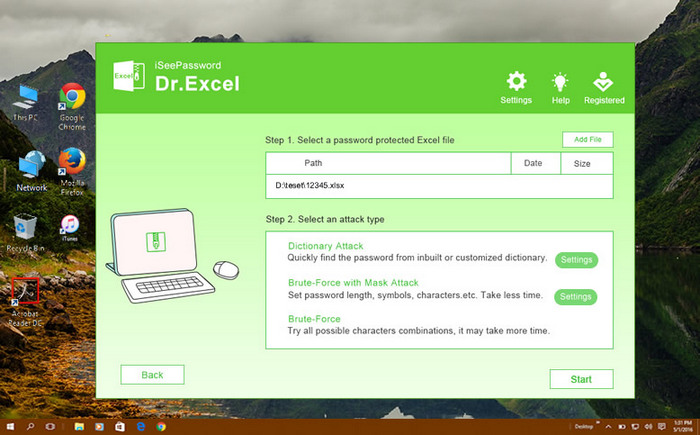 Step 3

Choose Password Unlocking Engine

Set the type of password cracking method and click "Setting" icon besides the option to make proper settings. The three types are explained below:

Brute Force Attack: This method is used when you have no idea about any of the password's attributes, like its length, the presence of numbers or special characters, etc. It takes longer than other methods, but recovery is 100% because all possible combinations are tried.

Brute Force with Mask Attack: This attack type is faster because the parts of the password that are known are "masked", or removed from the list of possible combinations. Use this type when you know part of the password and you only want the remaining portion to be cracked. (Taking as an example in this tutorial)

Dictionary Attack: This type can be used when you have preloaded dictionary files. This will be ideal for expert users who are familiar with backend security processes, so it is not recommended for first-time users.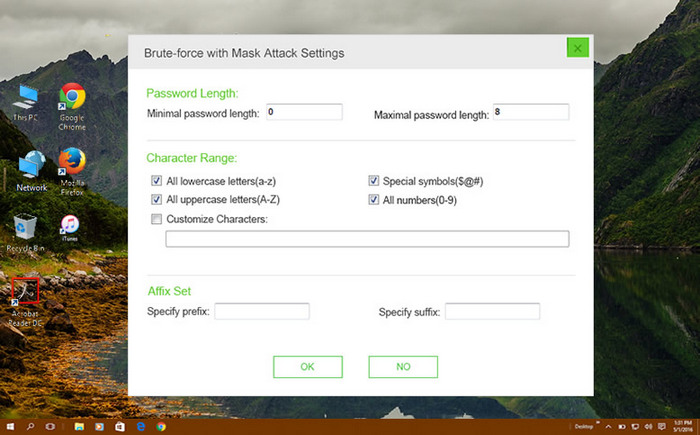 Step 4

Start Unlocking Password from Excel 2007/2010/2013/2016

There are also other settings that you can tweak, such as auto-save and so on. Once these are set, click on the Start icon at the top to begin the password recovery process. You will see a progress indicator near the bottom that shows you how long the process has been active. Once recovered, the password will be displayed in a new popup window. From here, you can either copy the password or directly open the unlocked Excel file.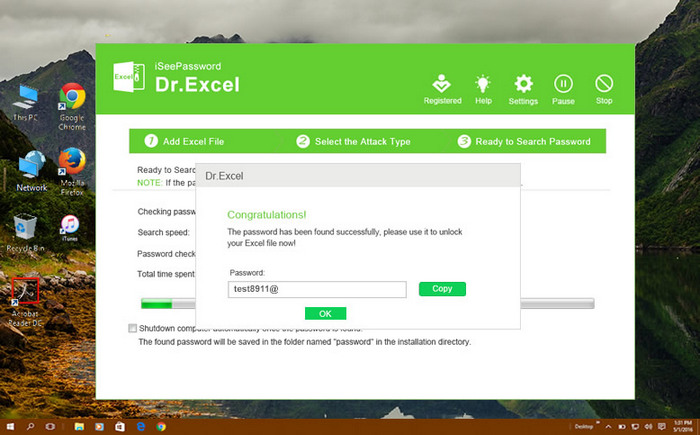 Note: During the cracking process, the program will leverage extra processing power based on your CPU cores and your graphics card. This hardware acceleration speeds up the recovery process. You can also set the program priority to High or Normal. Normal is when you want to work on your computer while the process is running, and High is best when the computer is used, like overnight.
Additional Part : Unlock Excel Workbook Restriction Password
Despite open password, there is another password protection in Excel file, the restrict editing password, which prevents unauthorized users making changes to workbook or worksheet. If this was the case, the steps are different from the above one. However, this type of password will be removed instantly.
First, download and install the program and click "Remove Workbook, Worksheet Password" displayed on the main screen. After that, import the protected Excel workbook to the program. The final step is to click "Start" button. Now, a new copy is generated on the output folder and there is no protection on that file.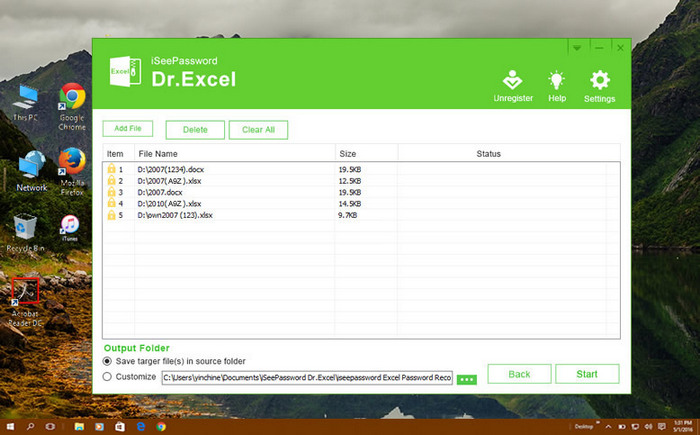 Androidphonesoft is an expert in Excel password removal, and also offers other tools for different file types like ZIP, RAR, PDF and many more. The Excel Password Unlocker is specifically designed for Microsoft's proprietary spreadsheet program, and will guarantee to recover your Excel workbook password no matter how complex or long it might be. The important part is that the data integrity is maintained at all times, and other users of the file are not affected at all.