Resetting Asus laptop password is not difficult task in the past even with free tools. But Microsoft has added security features to Windows 10, and they have improved the lock screen features as well, so it is extremely difficult to reset the password if you have not connected your Microsoft account to the Windows PC. Windows team suggest you RESET the PC to gain access to the computer again but you will lose data in the Downloads, Videos, Pictures, Music, and other folders in system partition. You may be wondering if you still have the other options?
Yes! There are many ways you can crack the password and get access to your Windows PC, but most of them might not work properly, and they consume a lot of time as well. We are going to show you how you can reset or remove your Asus laptop lock screen password without factory resetting the computer.
Part 1: Reset Asus Laptop to Factory Settings (Windows 10)
Microsoft has added a new feature to Windows 10, where the users have the feature to RESET their Windows PC to run a clean version of Windows 10. You can access it using UEFI mode, or you can enable reset option from advanced functions. The thing you should notice is that all personal data would be gone forever if you chose this method to unlock the computer.
Step 1: Now, restart your Windows PC while holding the SHIFT button on your keyboard. Or go to Settings > Update & Security > Recovery > Reset -> Get Started.
Step 2: Please select the option called "Remove everything", which will delete the password protection as well as personal files on system drive.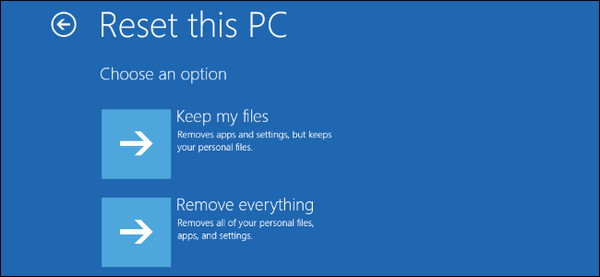 Step 3: The Windows will restart, and it cleans resets you pc to factory state slowly. For me, it took two and half hours to complete the reset process, so don't be impatient. Make sure to keep the power cord connected to your laptop.
Part 2: How to Reset Asus Laptop Password without Losing Data
I have seen many companies launching their own version of password recovery software, but none of them is effective as Androidphonesoft Windows Password Recovery that was introduced in the market a few months back.
Windows has a default means to reset the password with command prompt, but it involves a lot of commands, which isn't possible for an average Joe to accomplish it. So Androidphonesoft figured out a simple ways to skip the command part in order to remove the password in a few seconds.
This program works on Windows Vista, Windows 7, Windows 8/8.1, and Windows 10. However, you need another Windows PC to create a bootable reset disk. It could be a USB disk or blank CD. Make sure to back up the files in the USB drive because Androidphonesoft wipes the entire space to add bootable files.
Step 1

Download and Install Windows Password Recovery

Download the official version of Windows Password Recovery first. Then install this program on the normal computer you have access to. Later, open the program when the installation is completed.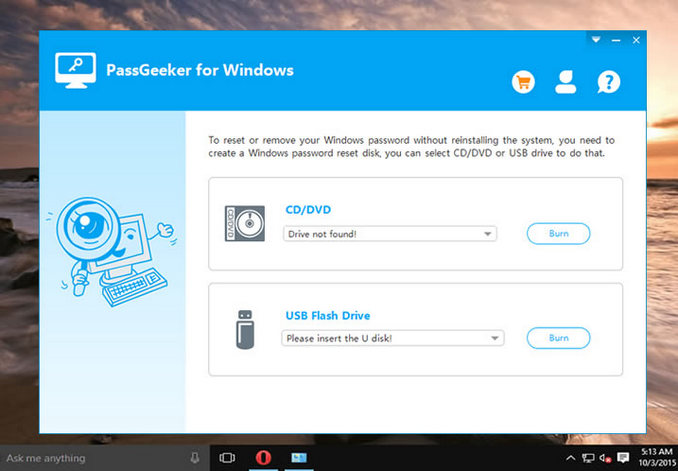 Step 2

Make Password Reset Disk for Asus Laptop

You have two options as we have mentioned and you can choose CD/DVD or a USB device to create reset disk. In my case, I would go with the CD. Now, click on "Burn CD/DVD" or "Burn USB" and the process will begin. You can monitor the status at the bottom as we have highlighted in the snapshot. If the process successfully completed, then the CD ejects automatically, and it will leave a notification on the screen "Burning Successfully."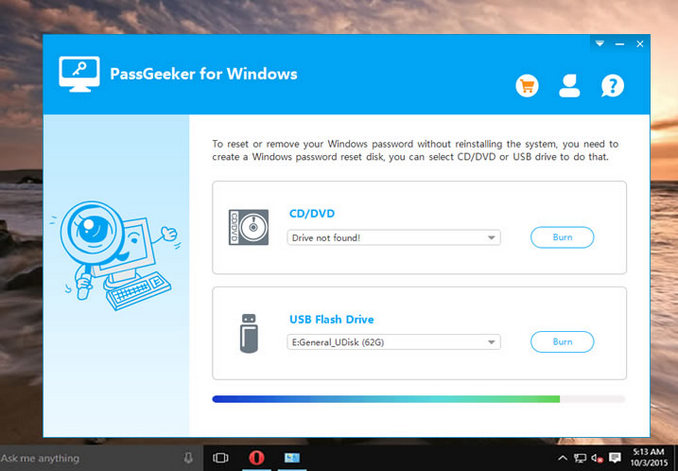 Step 3

Boot up Locked Asus Laptop

Restart your PC, and keep pressing "F2" till you see Asus BIOS screen. Then set the first boot to CD/DVD. Now, save the settings and restart your PC for the Androidphonesoft program to take into effect.
Step 4

Bypass Account Password on Asus Laptop

Allow me to explain each row for the beginners. If you have installed multiple OS, then you can select any one of them like Widows 10 or Windows 8. You have to select the user, too. In most cases, the Windows computers have only one user and the administrator. Click on Reset Password. Then the password will be removed in seconds.

Once the password reset is completed, then click on REBOOT. Make sure to be patient, while Androidphonesoft is completing the process. The next time you boot up the laptop, you will be able to login to your computer without a password.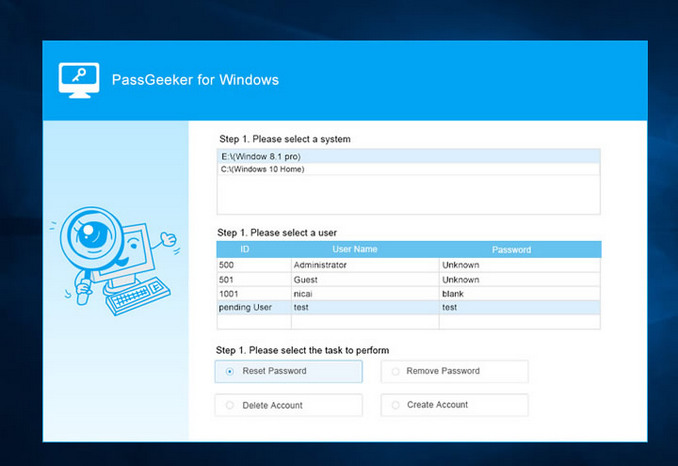 Part 3: Reset Password on Asus Laptop with Another Administrator
Windows comes with an option called "USERS" where the administrator can add multiple users on the same computer, and it enables the administrator to restrict the other users. Make sure to double check if you have secondary admin users enabled on the computer, then you can reset other users' password from that account, or you can even remove that account permanently.
Step 1: Restart your computer, and login using secondary admin account.
Step 2: Go to control panel, and select "user accounts."
Step 3: Now, click on "manage other account."
Step 4: You can change the name, account type, and password. You have full control over the accounts added to the computer.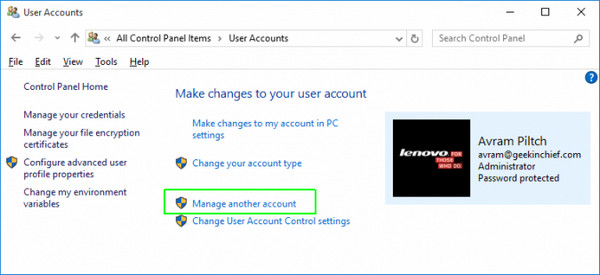 Closing Words
A professional team created Androidphonesoft for the Windows users and it comes with a price. You can use the trial version to check if the program works or not without any limitations. Let us know what challenges you have faced while using the software in the comment section below.
Related Articles