Combination of alphabets, numbers and special characters makes a password strong. That lowers the risk of security breach into the system. Stronger password means high chances of forgetting it. And if you forgot your Samsung laptop password, then, you should look for a way to reset password on Samsung laptop.
Samsung recovery solution can remove all user accounts If you perform a "complete restore" process. But, if the latest version of SRS installed on your Samsung laptop. Then, SRS will not remove the initial admin account. In addition, if you haven't created a backup, you will lose all your important data. So I suggest skipping this solution. Apart from SRS, there are some other ways to unlock the laptop without losing data .
Part 1: Reset Samsung Laptop Password Online (Windows 10/8)
This will only work if your Samsung laptop is connected to Microsoft Account. For Local Account, this solution will not work. And, also you need access to associated email/phone number with Microsoft account. Let get started if everything is already.
Step 1: Open the following link in a browser: account.live.com/password/reset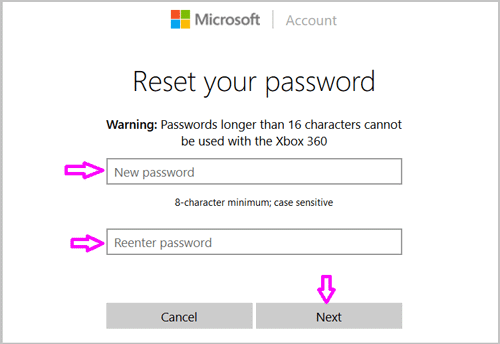 Step 2: Click on "I forgot my password" and enter Microsoft email and captcha Code. Click on "Next".
Step 3: Select a verification method (Phone or Email) to receive security code.
Step 4: Enter security Code that you have received, and click on "Next". That's it. Enter a new password. And, you can log in with that password in your Samsung laptop.
Part 2: Unlock Samsung Laptop with Another Admin (Windows 7)
This method will only work if you are using Windows 7 OS. Please make sure another admin account already added to your laptop. Admin Account comes with rights to change the password for another admin account. Though, Windows 10 comes with Microsoft account security. And, Microsoft doesn't allow to change the password without admin permission. That's why this method will not work for Windows 10 users.
Step 1: Log in by using another Admin Account.
Step 2: Open Control Panel. (If Control Panel icon is missing from the desktop; then click on Start > Control Panel)
Step 3: Click on User Accounts > User Accounts. (If not using classic view, then you will get the option to click once.)
Step 4: Click on the user account that you want to change the password for. Now, under "what do you want to change about "username". You will able to see "change the password" option.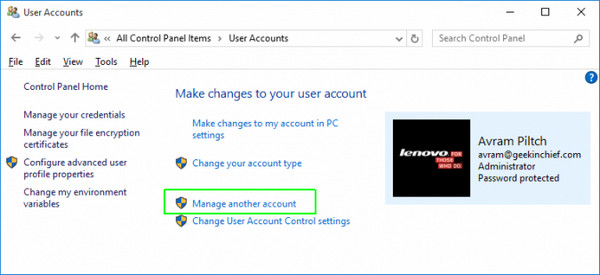 Step 5: Enter the new password now. You need to enter the new password twice, to make sure you haven't mistyped. And, you can leave the password hint field blank. Done. Simply click on "Change Password" to make changes in that user account. After this, restart the computer and you can log in using that account.
Part 3: How to Quickly Reset Password on Samsung Laptop
If the above two methods failed due to any reason or you don't have enough computer knowledge to use command prompt; Then, you can use Windows Password Recovery software from Androidphonesoft.. This software will make super easy for you to reset forgotten Windows password.
No information required for the old password while resetting the password.
Work with all version of Windows(10,8,7, XP and Vista).
Come with embedded ISO burning software. No need to download any third party software.
Already tested in Samsung and almost all other manufacturer laptops.
Step 1

Installation

Download and Install Windows Password Recovery in another computer you can use for a while. Plus, admin permission is also required.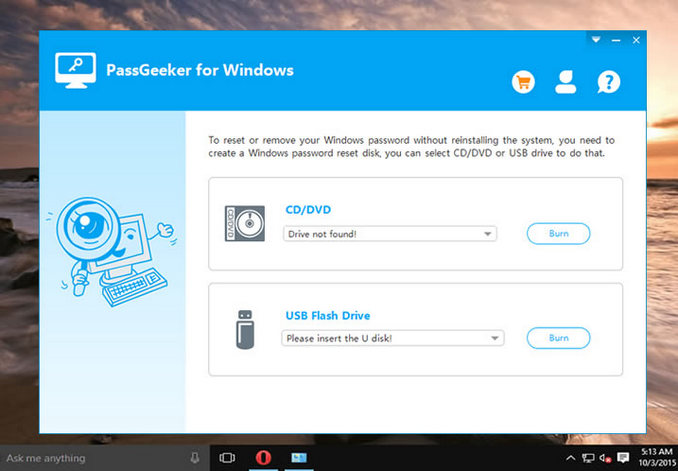 Step 2

Burn ISO to USB or DVD

Insert a blank CD/DVD disc or USB drive to the same computer and click "Burn" button to create a bootable disk, which can be used to reset Windows login password.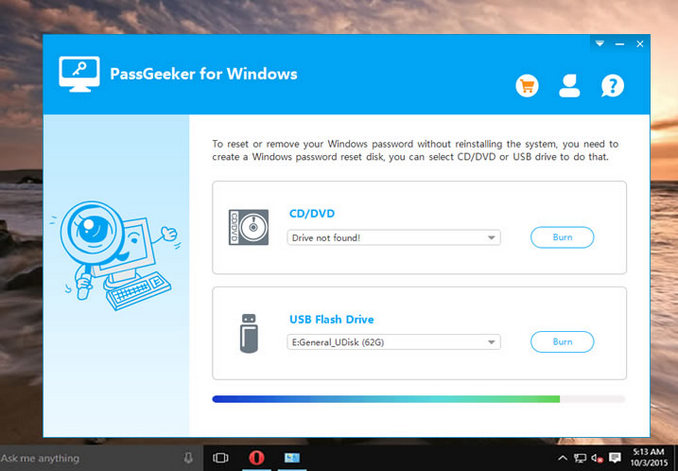 Step 3

Boot from Reset Disk

Insert the password reset disc into your Samsung laptop. Boot from it. Make sure correct boot order is selected.
Step 4

Reset Password on Samsung Laptop

Select the user account and remove the password by clicking "Reset Password" button. You will see a message saying the password is removed. Finally, take out the disk and reboot the computer.You will be able to get into computer dekstop without password.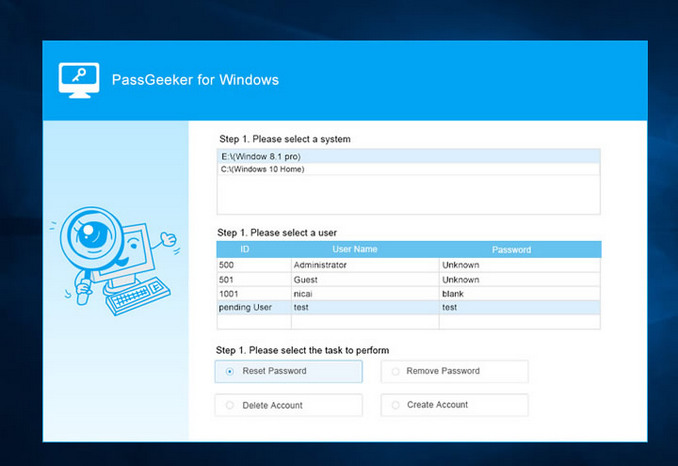 Part 4: Reset Samsung Laptop Password Using CMD
If admin account isn't added into your Samsung laptop, you can use command prompt to reset laptop password. There are certain ways to open the command prompt in locked Windows computer. You can use safe mode with command prompt or you can use a bootable windows disc.
For some users, safe mode also asking for authentication. So, I have decided to describe this method using the bootable windows disc. This method will not work if you're using online authentication.
Step 1: Insert bootable Windows CD/DVD.
Step 2: Restart computer and you will get the option to boot from the disc. Press any key to boot from CD or DVD.
Step 3: When Windows installation Window appears, click on next. Then, click on "Repair your computer".
Step 4: After that, select installed windows click on 'next'. In system recovery options, you will able to see the command prompt. To start CMD, click on it. To change "Ease of access" option with CMD, type the following command.

cd C:\Windows\System32
ren utilman.exe utilman_bak.exe
copy cmd.exe utilman.exe
exit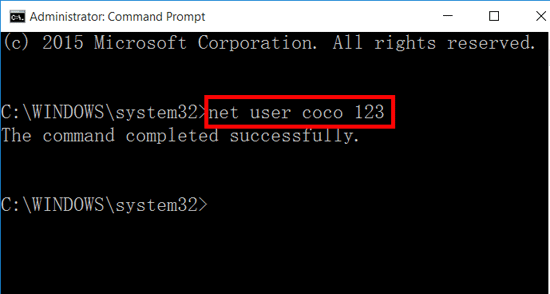 Step 5: Turn off the computer and remove the installation disc. Start Windows now and on the login screen, click on "Ease of access" option. Command Prompt window will get open now.
Step 6: Enter these two command lines to reset the password.

net user 'YourUserName" "NewPassword"

For Example - My username is Samsung. And, I want to set 369852147 as my new password. So, this is the command that I need to enter. Example Command - net user Samsung 369852147
To close the command prompt window, type exit and press enter. That's it. now you can log in with the new password.
Summing up
So, these are the four methods which you can use to reset the Samsung laptop password. If using Windows 10 with Microsoft account, then try resetting Microsoft account password. If using Windows 7 or 8 with local admin, then try the first and second method. If nothing works then, use Androidphonesoft password recovery solution instead.
Related Articles