Windows 10 is quickly becoming the most widespread desktop operating system version in the world. Much of that is because the Windows 7 user base is shrinking because extended support ends for this version in January 2020. But Windows 10 has a lot more capabilities than earlier versions, supporting new technologies like virtual reality and more.
If you missed the free Windows 10 upgrade window and want to install Windows 10 on a new PC, don't worry. There are still several ways to download Windows 10 ISO image and then create a Windows 10 USB for installation. This article shows you three ways to download the required ISO file for the version of Windows 10 that you want.
Windows 10 ISO Direct Download (Windows 10 Pro/Home/Edu)
Microsoft no longer offers direct download link to Windows to prevent distribution of Windows 10 original ISO disc image. However, there are some third-party tools available to give you the direct download link such as Microsoft Windows and Office ISO Download Tool.
As the name suggests, Microsoft Windows and Office ISO Download Tool can be used to download not just Windows 10, but also other versions of Windows as well as various versions of Microsoft Office. It's very easy to use, and they're genuine copies provided by Microsoft through their TechBench site. If you want both Windows 10 as well as the latest Office software, this is a great utility for you.
Step 1: Download and install Microsoft Windows and Office ISO Download Tool on a PC, and launch the application.
Step 2: On the top right of the software window you will see several tabs. Click Windows 10 from the Windows tab. Then select Windows 10 versions and choose the language for installation.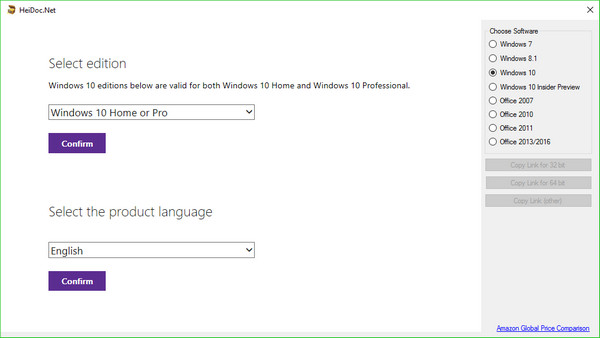 Step 3: The download link will be shown on the screen a few seconds later and click the link to start downloading Windows 10 ISO. You can also copy the link and paste it into browser or download manager if the download button failed to work.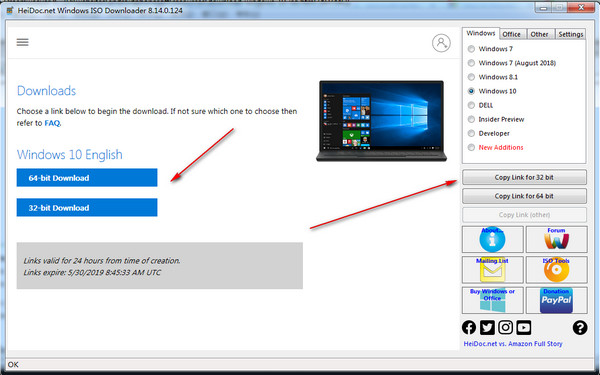 As you can see, this way of downloading a Windows 10 ISO file is really easy, and you don't need any experience with disk images to use this tool.
Cons:
Pop-up ads for 120 seconds during startup.
Download link only valid for 24 hours.
Slow response to mouse click.
Download Windows 10 ISO (Home Edition) with Media Creation Tool
The easiest way is to get the Windows 10 ISO file directly from Microsoft's servers. It's actually much easier if you're on a Mac or Linux machine, but if Windows is all you have, you can still get it by first downloading the Media Creation Tool provided by Microsoft. However, only Windows 10 Home edition is available for download via this tool.
Step 1: First, go to Windows 10 download page on Microsoft's website.
Step 2: Download and run the Media Creation Tool on your PC. You'll see the tool called Windows 10 Setup open in a new window.
Step 3: Accept the terms and conditions and, on the next page, select the option called Create Installation Media (USB flash drive, DVD, or ISO file) for Another PC. Click Next.
Step 4: Next select your language, edition, and architecture. Click Next and select ISO File as your option. Once you click on Next, the ISO file will be downloaded to your PC and a bootable Windows 10 USB will be created automatically.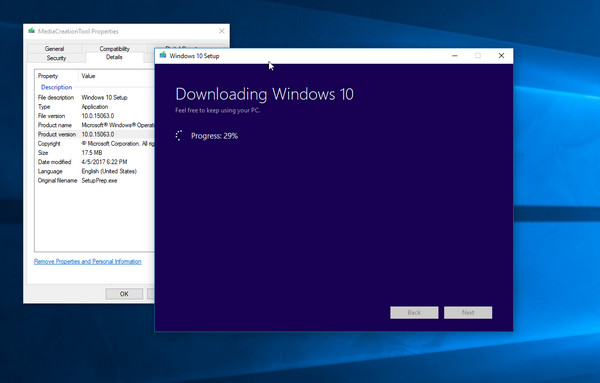 Cons:
Not download option for Windows 10 Pro or Enterprise.
Windows 10 ISO is not visible for further usage. One time usage only!
Success rate is low on old computers with USB 2.0.
Download Windows 10 Pro Full Version from Other Websites
There are a lot of third-party sites that offer Windows 10 ISO downloads, but many of them simply re-direct you to the Microsoft official site. However, Softpedia offers ISO downloads for trial versions of Windows 10, and it even gives you options for various build numbers of the operating system. You can activate your copy of Windows 10 later on, depending on what type of license you have.
Step 1: Go to Softpedia.com at this link.
Step 2: Click on the ISO file link on the left side of the window.
Step 3: You should be able to see a pop-up window with various download options. Clicking on one of them will automatically initiate a download of Windows 10.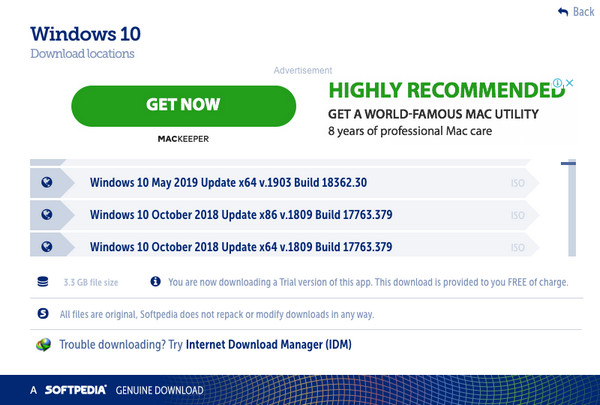 Cons:
Hard to find the actual download link.
Additional software may be installed if using Softpedia Download Manager.
Download speed is slower.
These are the 3 best ways to download Windows 10 ISO in 2019. Once you have the ISO file on your system, you can use a disk burning software to burn ISO to USB and create bootable media for Windows 10 installation. You can then boot up your target computer from this media and do an upgrade or clean install of Windows 10 and start enjoying the new features that Microsoft has introduced with this latest version of its operating system.
Related Articles