It's an exciting time when you get a new iPhone. You are probably raring to go, and you can't wait to get all your old data uploaded to your new phone so you can start showing it off to your friends. Unfortunately, this is when one of the most annoying problems can hit, and that problem is that iTunes is unable to restore your most recent backup to your new iPhone.
More reading: How to transfer content from old iPhone to New iPhone
Part 1: Errors when Restoring a Backup to New iPhone with iTunes
How does this problem occur? And what are the potential issues you could face when restoring your iTunes backup to a new iPhone? In this article, we will cover some of the problems you might come across when restoring an iTunes backup to a different iPhone, and we will also show you how to apply some fixes to this problem.
The first thing you will get is an alert from iTunes. This could be any one of the following:

Case 1 (backup is corrupted or incompatible): If your iTunes backup is, in fact, corrupted, then no amount of trying will allow you to restore that backup to your new iPhone - unless you have the right tools for it. On the other hand, if it's a question of incompatibility, you can simply update your iOS version as described in point number 1.
Case 2 (an error occurred): No further information is provided. In this case, you may need to upgrade your iOS version. The error could be because you are still on an unsigned version of iOS. Simply going to the update section in your iPhone settings and updating your software to the latest version of IOS that is available should take care of this error.
Case 3 (not enough disk space): The obvious problem here Is that there is not enough space on your PC or Mac to complete the backup successfully. In this instance, you will need to free up the required amount of space before you can proceed with the restore process.
Apple says that if none of these methods work, then you need to contact their support team for further action. However, if you are in this type of situation, there is a very powerful software application that you can use to ensure that your iTunes backup is restored to your new iPhone.
Part 2: How to Easily Restore iTunes Backup to a New iPhone
iTunes failed to work? What could be the alternatives? No worries! Androidphonesoft iPhone Data Recovery should be a great option to help you in this situation. It is an extremely versatile utility that can do a lot of things with iTunes backups as well as iCloud backups. For this particular situation however, the feature that allows it to restore any iTunes backup to any iOS device is the one that you need. As a matter of fact, even if you have deleted some of the files before you did your last backup, Androidphonesoft can recover and restore everything for you.
The software itself is extremely intuitive and very easy to use, even for first time users. The interface is clean, and all the different functionalities are clearly laid out for the user to see.
Step 1

Download and Installation

Download the software from the official website and install it on your Mac or PC. Launch the program, and select the option that says "Recover data from iTunes backup". Once you do this, all the iTunes backup files on your computer will be detected and displayed on the software's interface. Choose the right backup and then start the scan process.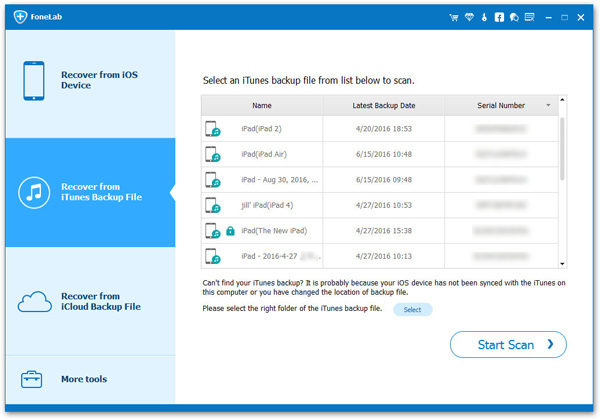 Step 2

Preview Items in iTunes Backup

Once the scan process is complete, you will be able to see all of your data on the software's interface. Select all the data that you want restored, and then click on the button that says "Recover".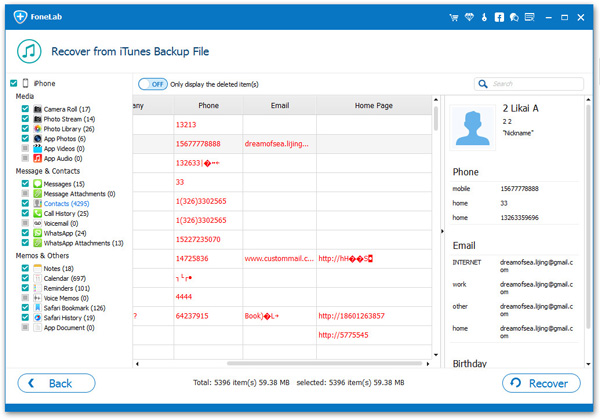 Step 3

Restore Data to Computer and Transfer Them to New iPhone

Go to the folder where recovered data being put. Then copy the data to your iPhone using iTunes or iCloud. It is quite simple to do that.
Final Words
This is one of the most comprehensive iOS toolkits for system and data recovery that you will find on the market today. Apart from dealing with iTunes backup and restore issues, the iOS toolkit from Androidphone can handle a wide array of problems related to iOS and iTunes. If you are a lifelong iOS device user, then you can not afford to be without this particular utility in your arsenal.