Music lovers can now home_ban, jog or hike, or take a stroll along the beach while listening to their favorite music using their cell phones. You can bring along with you the songs that you love and listen to wherever you are. Nowadays, mobile devices have become the most convenient and portable sources of entertainment since they are small enough to be carried anywhere. With a headset, you can place your device inside your pocket and use headphones to listen to your favorite tunes without disturbing others around you.
One of the worries that people planning to buy a new mobile phone is how to transfer all the stored items in his old device to the new one. In the past, an owner of a new mobile phone needs to build his collection and files in his new phone. Otherwise, he has to continue using his old device and the old one, which could be a nuisance. But that was in the past and before Phone Transfer, a software designed to guide new phone owners to transfer music from iPhone to Android phone without iTunes. Under other circumstances, transferring music from iPhone to Android is not possible because of some compatibility issues.
Supported iPhone Devices: iPhone 7 /7 Plus,iPhone 6S/6S Plus, iPhone 6/ 6 Plus, iPhone 5S/5C/5/4, iPad and iPod Touch.
Supported Android Devices : Samsung, HTC, LG, Sony, Moto, Huwei, etc.
Supported file types: Music, Contacts, SMS, Call history, Photos, Videos and Documents
Tutorial: How to Transfer Music from iPhone to Android Phone
Step 1

Install and Run the Program on Your Computer

It's extremely easy to install the Phone Transfer app on your computer, just double click the download button and decide which folder is to store the software, and it will automatically finish the whole installation process. Just open it and you will see the main windows as below.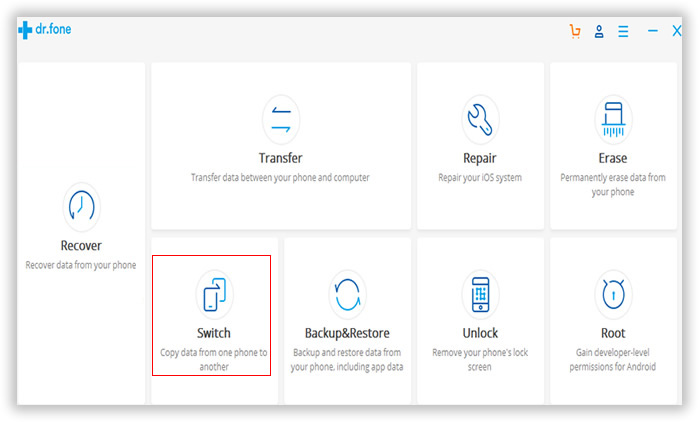 Step 2

Connect Your iPhone and Android to Respectively to Computer

It is a product that allows music and other files to be moved between iPhone and Android. All that need is a USB cable to connect the two devices. Then your iPhone and Android will be automatically detected after seconds. The result is somewhat similar to the following interface.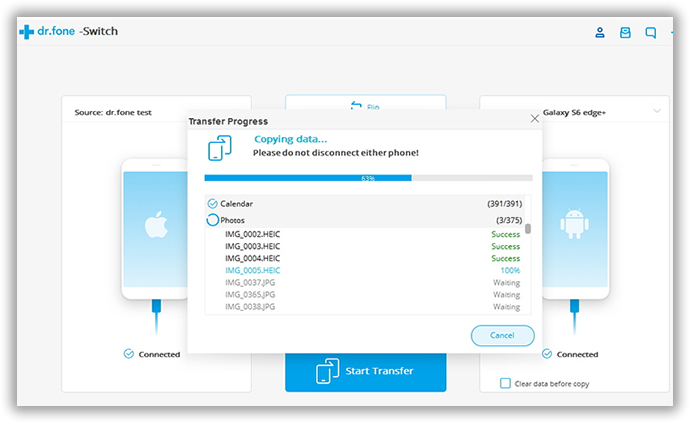 Note: In default, iPhone is a source phone showed on the left side and the Android is the destination phone showed on the right side. You're allowed to easily tap the "Flip" to switch place when you want to transfer files from Android to iPhone. It also adds additional features for you need, like "clear data before copy" when you need to  empty your destination phone.
Step 3

Analyze the Data on the iPhone and Start to Copy

In this step, the program will access to the source iPhone device and analyze all data stored on it, then it can show all found data on the right area with details. You should remove the marks before the corresponding items if you want to copy music. Then click "Start Copy" to begin.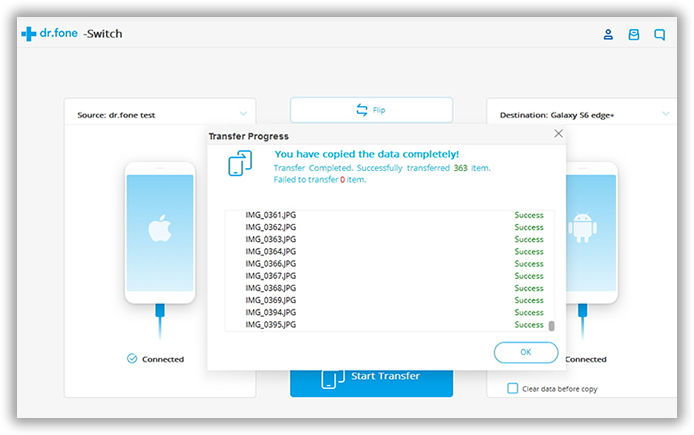 Moving data is quick and easy and you get everything in your old phone transferred to your new cell phone without any hitch. Regardless of their carrier and type of cellular phone, data can be transferred easily. You can also move music and playlists from iTunes and iCloud to any kind of phones. No data is left out and all files are as good as the original ones. No matter what kind of mobile devices you have, music files and other data will be all transferred in one single click. Because of the convenience of performing tasks, you can create backups in your personal computer and other devices quickly.
With easy and fast way to transfer your information from one phone to another, you can buy any kind of mobile devices without worrying about moving data from one phone to another. Just install Phone to Phone Transfer and move everything in just a few clicks. Or you can create a backup in your personal computer by exporting everything to it. If you have business downloading music to your clients' gadgets, the software will assure them of fast and high quality service.
Get a new mobile phone today and fill it with your previous files so that you can use it right away without referring to your old cell phone.