There is a big change to delete text messages accidently when playing with touch-based Android phone. I lost 30+ important text messages of my business partners due to the 'help' of my little baby girl. She has no clue about this and the deletion just happened quietly without any notice. The text messages are so important for my business that I have to get them back immediately.
I downloaded and tried several SMS data recovery tools which are recommended by my friends or colleagues. Unfortunately, none of the tools mentioned are able to recover Android text messages at the time I digged into. I had no choice and like usual, I turned to Google for further assistance, which does give me a great help to recover deleted messages from my Android phone.
#1: Recover Deleted Messages from Android via Cloud Backup
Cloud service is everywhere in nowadays and cloud backup is widely used on Android device to avoid data loss in future usage. Almost each smartphone maker provides a cloud backup plan for its devices, such as Samsung, Huawei, LG. Plus, the cloud backup is enabled instantly after connecting an account to Android device.
So the first data recovery method for text message come from cloud backup, which is the most convenient way to restore lost or deleted messages on Android. We tested this on Samsung Galaxy S10. So in here, we will use Samsung cloud to restore deleted messages. The procedure is almost the same for other brand's Android phone. Make sure you have backed up the device before restore starts.
Step 1: Move to Settings and tap on Accounts and backup to access.
Step 2: From the Accounts section, tap Samsung Cloud from the list.
Step 3: You will all device backups from the drop-down list. In here, taking S10 as example.
Step 4: Select Messages from the option list, and tap Restore at the bottom. Now the deleted messages will be synced to device in a few minutes.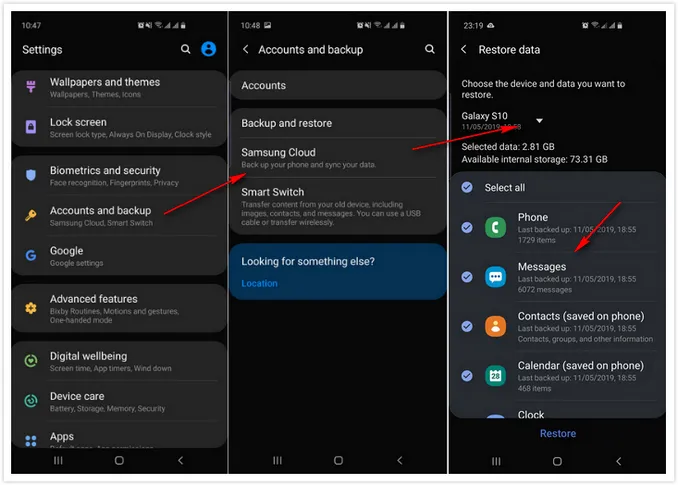 One major disavantage of cloud backup restore is that this will erase all the data that were created after the backup. It means new data will be deleted at the same. Make sure back up them first.
#2: Recover Deleted Photos from Android from Trash
Restoring from backup is the safest way to recover lost or deleted data on Android. This also applies to text message recovery. However, if you forgot to backup the device by any means, then the chance is only left to third-party data recovery software.
Androidphonesoft Android Data Recovery is an all-in-one data recovery solution designed for Android device owners. All your lost contacts, sms, media files and documents can be fully restored to your device with the help of this tool. You can get back precious data in minutes. Moreover, 100+ mobile brands and 2000+ Android devices are supported by the software.
Step 1

Install and Run Android SMS Recovery Software

Please download the installation package first via above links. Then install it on the computer by following the default wizard. The software will be open immediately after the installation is finished.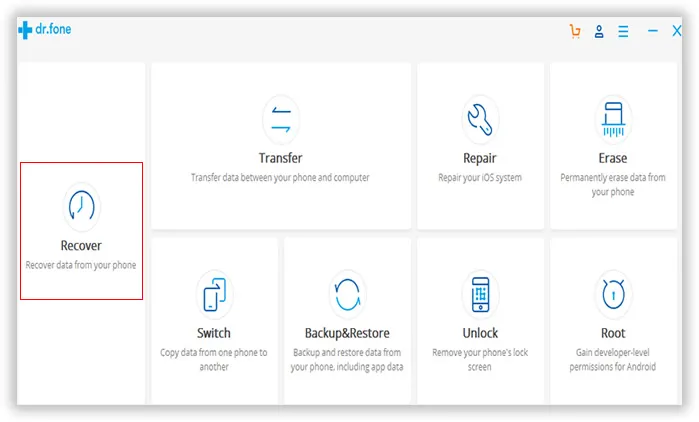 Step 2

Plug Android Phone to Computer

Click Recover button to bring up a new window. The program asks you connecting Android device to the computer. You can do this with Android USB cable.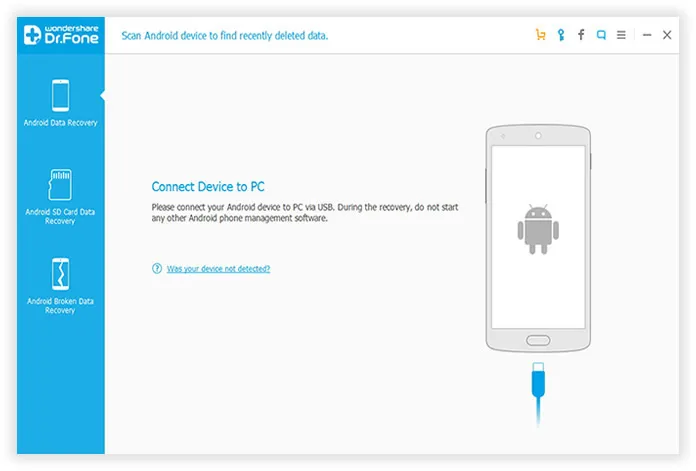 Step 3

Turn on Android USB Debugging

USB debugging allows computer software to access Android device in a more advanced manner for further operations. Tap OK on your Android phone to enable usb debugging on your device when the software asks at start up. If you don't know how to do it, please follow the instructions list below or from this guide.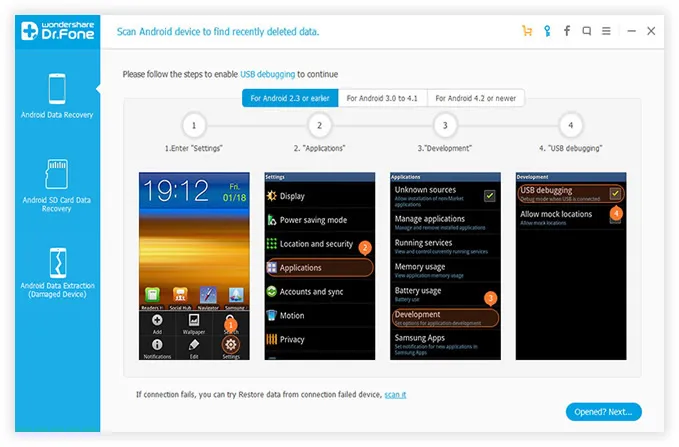 Step 4

Scan and Analyze Android Phone

Click the Start button on the main screen to let the software scan the lost messages you deleted previously. Please make sure the battery capacity is more than 30% as it takes some time to complete the scanning. In addition, the software needs you to grant super user permission to proceed to the next step.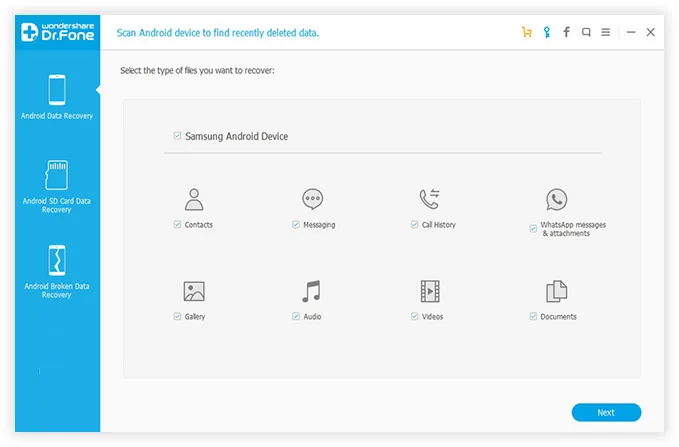 Step 5

Preview and Start Recovering Lost Messages on Android

A list of items will be displayed on different categories after the scan ended. Click Messaging option on the left menu bar, and then it unfolds all of the text messages stored on your device, including the current list and deleted ones. The ones marked in red color are lost messages which is recoverable with the help of Android Data Recovery. Click Recover button at the bottom of the screen to start the recovering process.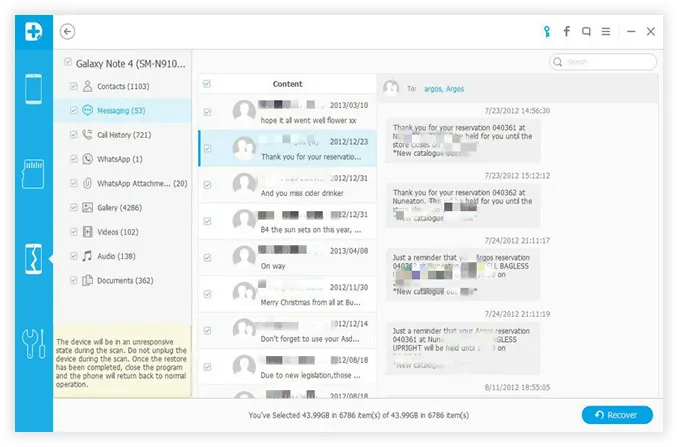 Besides message recovery, it is also capable of recovering deleted or lost contacts, photos, music, videos and documents, even WhatsApp messages are in the scope of support. With this powerful data recovery software, you are no longer in the worry of lost items on your Android phone.
#3: Recover Deleted Android Messages from App Backup
Many users prefer backing up their data to a local microSD card on their device using a mobile backup application. In such cases, the missing sms text message will be on your card, so it's easy to recover it using the same app. As an example, let's use SMS Backup & Restore. Here's how to recover lost text message using the above mentioned app.
Step 1: Launch the app on your Android phone and tap on Restore.
Step 2: Look for SMS message backups and tap on the arrow right next to it. This will help you select the right file. Alternatively, you can just have everything restored.
Step 3: When you tap on Restore, you'll be asked if you want to change the default SMS app to be SMS Backup & Restore. Confirm the change, since it's only temporary.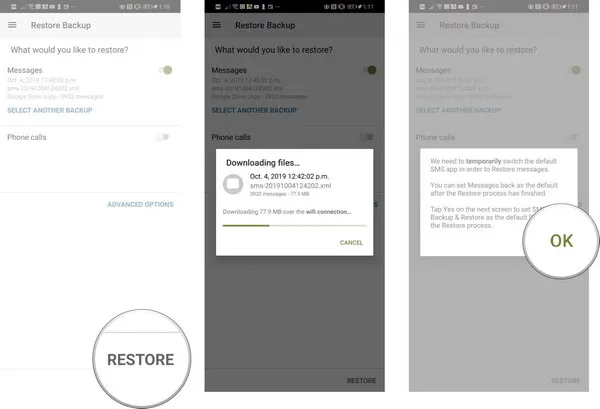 When the restoration is complete, you should be able to see messages back in the messaging app, which you can now change back to the default app for SMS.
#4: Recover Deleted Messages from Android via PC Backup
If you have a backup on your PC, it's easy to recover the lost SMS. However, you will need to use the same backup software to do the data restore and get back the text message. Usually, when doing a backup, every data type gets added to a backup file. The problem is, the backup file will typically be incompatible with other tools. For that reason, you'll need to use the same tool to restore the data so the SMS goes back to the text inbox.
As an example, let's assume you backed up Android phone data using a desktop application like Android Backup & Restore.
Step 1: You have to download and install the tool on your PC, so all you need to do is hook up Android smartphone to the PC with a data cable and launch the application.
Step 2: Once inside, look for the Backup & Restore option in the software interface on PC monitor and click on it.
Step 3: You'll see all recoverable backup image files displayed on the screen. Click on the one you want to restore.
Step 4: Now click Restore tab and you will see the previous backup files on this PC. Select one backup to proceed.
Step 5: The program starts to extract content inside the backup file. Once it is completed, the data are groupped in differenr categories. Click Messages tab and choose the deleted messages. After that, select a location to save the messages.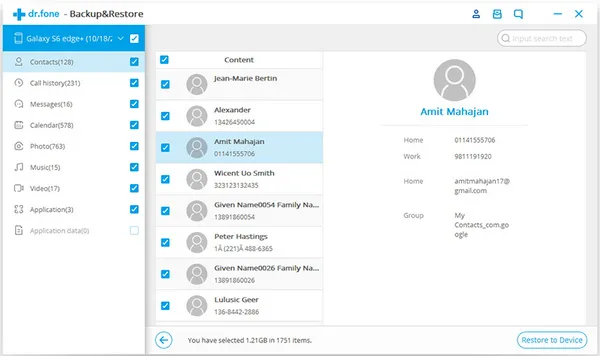 Once recovered, you'll see the SMS back in your phone's messaging app the way it was before.
Conclusion
Well, it is easy to recover deleted messages from Android once you have a backup. There is no big deal even without backup because Androidphonesoft Android Data Recovery software is quite smart to help you retrieve the deleted data. Hopefully with the above solutions, you would no longer panic if you ever lost items from your Android mobile.