Android and iOS are the most popular mobile operating systems on the planet for the past 4 years. I can still remember my first smartphone was Samsung I9505 built on Android 2.1. The device has a lot of new features that Nokia's device can't offer, which was the dominator at that time. I first get stared with Samsung Galaxy, since then changed my phone at a yearly basis from HTC Wildfire to Motorola Droid to Sony Xperia Z3. As you can see from the list, I am a loyal fan of Android based smartphones. However, I figured out recently that it's the time for a change now when I had a chance to touch an iPhone 6 Plus.
I purchased an iPhone 6 Plus yesterday from local retail store. When I got the device first working, I realized the new iPhone and my old phones are totally two different things. The first thing I have to do is to transfer content and files from my old phone, such as contacts, text messages, photos, videos and music. There are almost 700+ contacts and 500+ messages on my Xperia Z3. It would be hours to do it manually to complete the transfer process. Luckily, a close friend suggested me an automated way to get the job done.
Phone Transfer is a powerful desktop tool that provides a fast and reliable way to transfer data from one smartphone to another, including iPhone, Android phone and Symbian based phones. Once the software detects your device, it will transfer the selected items automatically in background. Usually, it only takes a few minutes to finish the task with several mouse clicks, which is a huge advantage regarding the time needed for manual transfer.
Tutorial: How to Transfer Android Data to iPhone and Vice Versa
Step 1

Install and Run Phone Transfer on Computer

This program works on Windows and Mac OSX with good support for the latest version. Double-click the downloaded file to start installing the software on a computer by following the default instructions. It will be launched automatically when installation is ended.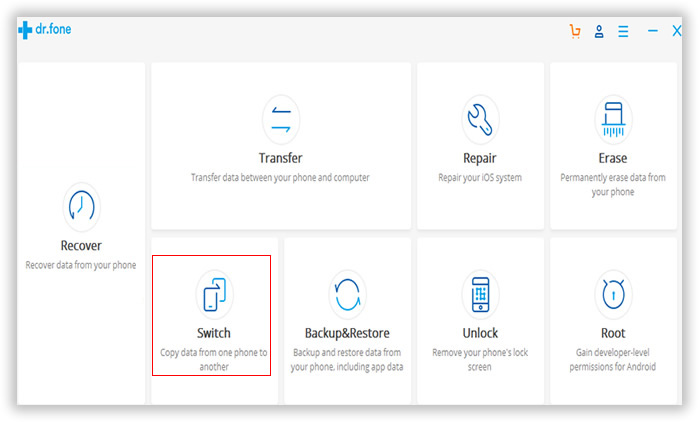 Step 2

Plug Android Phone and iPhone on the same computer

Plug both phones into the same computer with the USB cables. Make sure Android USB driver and iTunes were preinstalled. This will ensure the software detect which model the device is. When the devices are connected successfully, select a mode "Switch", then click Start to next.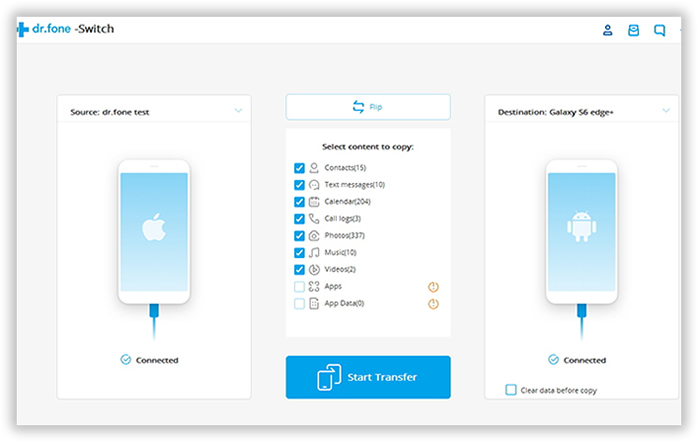 Step 3

Analyze Your Phone and Select the Items You Want to Transfer

When the two phones are recognized successfully, the program can identify the present content displayed. There are a few options available such as contacts, text messages, photos and music. Choose the proper items you'd like to transfer from one device to another.

Note: In this case, the source phone should be Android phone and destination phone should be iPhone.
Step 4

Start Transferring Data from Android to iPhone and Vice Versa

During this step the source data is analyzed that will be displayed in the middle of the program, Be sure to mark those you want to transfer to the target phone, and click Start Transfer. The process of creating and populating database tables may take some time, then they can be fully copied to your destination phone. Usually, it takes only a couple of minutes even you have a large number of files to be moved.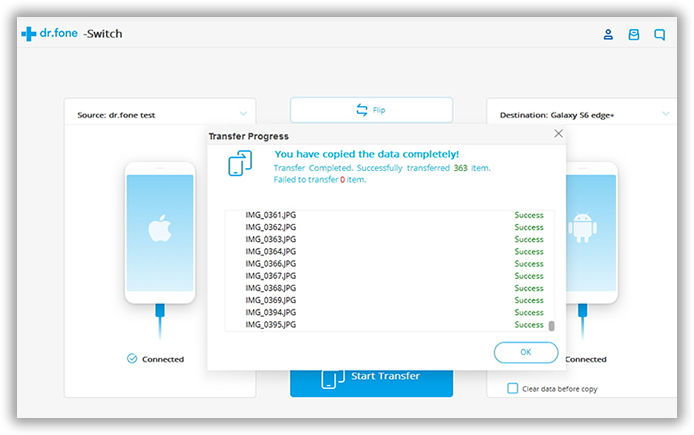 This time-saving app is really awesome from the perspective of the end user, no matter you are a newbie or geek. You don't have to read tons of technical tutorials to get started. With Phone Transfer, all you need to do is just a few mouse clicks. That's! Super easy and user friendly! Besides the nice feature of data transfer, it also has the native support to backup and restore your phone, which is also a nice function used at a high frequency in our daily life. Phone Transfer Tool is definitely worth the money and I highly recommend it to everyone who has a smartphone.
Supported iPhone: iPhone X, iPhone 8 Plus/8, iPhone SE, iPhone 7 Plus/7, iPhone 6S/5C/5
Supported Android Phone: 100+ brands and 2000+ models, including Galaxy S7/S6/S5/S4/, Galaxy Note 5/4/3, HTC One M10/M9/M8/M7, LG G2/G3, Motorola X/G/E, Xperia Z3/Z3 Compact, Nexus 4/5/6
Supported Files: Contacts, SMS, Photos, Music, Videos, Apps and other documents.