When Steve Jobs introduced the first version of iPhone in WWDC years before, it then quickly became industrial standard of modern smartphones, replacing keyboard-based cell phone to touch-based smartphone. The ex-giant like Blackberry and Nokia fell apart and gradually disappeared from the main stream. This revolutionary device grabbed almost half of the smartphone market share in years after it came out. And it was always topped the best selling smartphone among major listings. However, the things changed a little bit when Jobs passed away. Right now, Android powered smartphone has the potential to surpass iPhone on features and price. And that's the reason I switched to an Android device from iPhone.
2016 is a big year for Android smartphones as there are new fancy devices released consistently at a monthly basis, like Samsung Galaxy S9/S8/S7 HTC One M10/M9/M8, Sony Xperia XZ/Z5, LG V20/G6, Moto X/G/E, etc… And I was finally convinced by Galaxy S5 after having a first-hand experience of the device. When I got the new smartphone, one of the first thing annoyed me is that I need to transfer all of the contacts from iPhone to the new one and currently there is 300+ phone contacts stored on the old device. And I definitely don't want to type them manually on the new device. I have to figure out a more comfortable way to get the thing done.
Androidsoft Mobile Phone Transfer is an automated solution to help you copy contacts from iPhone to an Android smartphone. No additional work is involved in the transferring process, what you need to do is just a few mouse clicks. And handle the rest to the software. It only takes a few minutes to transfer all of my contacts to Galaxy S7. What's more, other items like text messages, photos and media files can also be transferred by the software. Besides, it supports all iPhone models and 3000+ Android powered smartphones.
User Guide: How to Move Contacts from iPhone to Android
Step 1

Install Androidsoft Mobile Transfer

You can download the customized version of the software through above download links. Then install the program on your computer by following the built-in wizard, just like other software installation goes. After installation, open it and the main screen shown like this.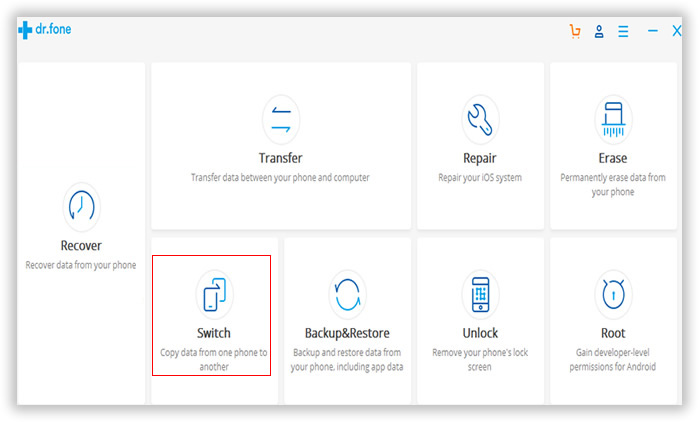 Step 2

Select A Mode You Need

As you see the primary window of this program,the program has added some new features in the last updates; just select an appropriate mode to achieve your goal. It should be noted that you need to install iTunes on your computer when moving contacts from iPhone to Android, If not, this program will remind you of installing it. In this tutorial, just selet "Switch" mode and "Next".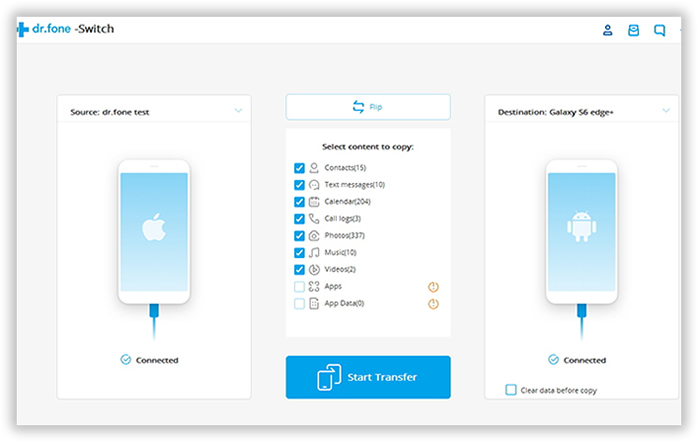 Step 3

Connect iPhone and Android Phone to the same computer

Plug iPhone and Android phone to a computer via USB cable. Please make sure USB driver is installed for both devices in order to proceed to the next step. The program will automatically detect the devices once well attached. After that, it will start the scanning process to find out data stored on both devices.

Note: In this case, the source phone should be iPhone and destination phone should be Android phone.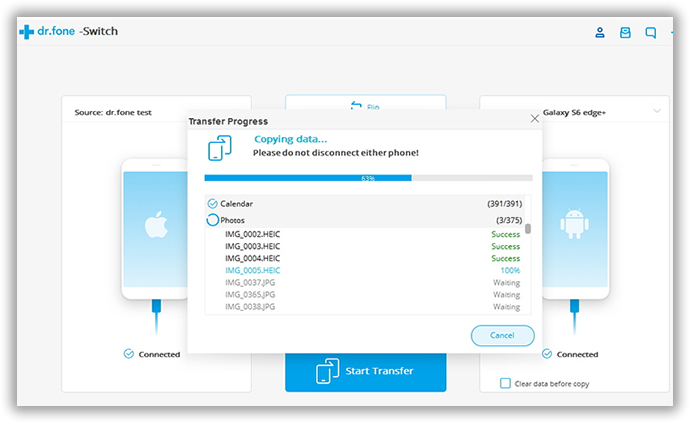 Step 4

Start Transferring Contacts from iPhone to Android

The program lists all of the data in the center of the main screen after scanning. Check Contact option and uncheck other items if you were going to transfer contacts only. Then click Start Transfer button on the bottom to begin the copying process.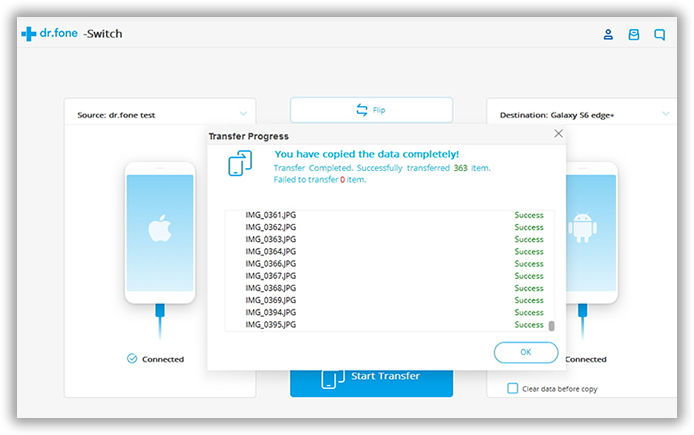 To be honest, I have tried a bunch of other alternatives for the same purpose. But this one is the best among them because of its usability and functions. Beside contacts transfer, this Phone to Phone Transfer is also capable for data backup. What's more, it's pretty easy to help you restore files from ex-backups. Personally, I think this program is a must-have for everyone who owns an smartphone, no matter it's an android phone or iPhone.