With the rapid growth and adoption of WhatsApp, text messaging has caught us eyes again since mobile phone was first invented. Unlike the previous function, text messaging goes to the next step with the help of mobile apps. You can incorporate not only text, but also voice, photos and videos in messages.
To be honest, Samsung Galaxy Note is a pretty nice device for SMS because of its large screen. However, messages management becomes a headache for me when the number goes bigger and bigger. Also, more disk space is consumed for such storage-limited devices if you chat with friends at a high frequency. That's why we need to find a way to transfer text messages to computer for backup. Below is a curated list for SMS backup on Samsung based smartphones like Galaxy S10, Galaxy Note 10.
Transfer Messages from Samsung to Computer #1: Smart Switch
Smart Switch is one of the number one recommendations when it comes to transferring data from Samsung to PC. With Smart Switch PC version, you can backup almost everything on Samsung smartphones and all it takes is just a few simple steps.
One major drawback is that the tool is wrongly detected as potential virus and malware by antivirus programs. This is a false report you can ignore, but it is pretty annoying. So, we recommend you temporarily disable your antivirus application, firewall, and other security measures on your PC.
Step 1: First off, you are going to need to download and install Smart Switch on a computer. To do this, you can head over to Samsung official website.
Step 2: Once you have the tool installed on your machine, open it and then you will be prompted to back up content on Samsung smartphone to PC.
Step 3: Connect your phone to your computer using a USB cable and then hit Allow on your phone.
Step 4: Now simply click Backup and your computer will start backing up your data from your phone. The process may take several minutes depending on how much data you are transferring to computer. Click OK when it is done.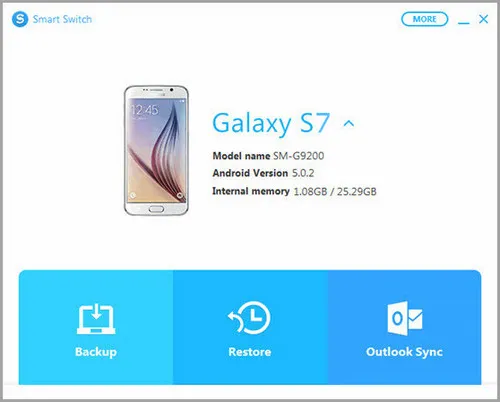 Now you have text messages as well as other selected data types backed up to computer. You can restore the files at any time. However, there is no way to open the backup file. Hence the exported messages can not be viewed on computer.
Transfer SMS from Samsung to Computer #2: Android Manager
If you want to export text messages for printing or viewing on computer, then Androidphonesoft Android Manager is the right one you are looking for. It is a simple yet powerful desktop tool designed for Android users. It can help you manage text messages more efficient at a very easy manner.
You can backup all the messages stored on Samsung device by transferring Android SMS to computer. Sending or editing SMS via PC is also supported in default. No matter how many messages on your Samsung phone, it is can be handled in a very simple way. Plus, 200+ Samsung smartphones are supported by this Android backup software.
Supported Samsung Devices: Galaxy S10/S10+, Galaxy S9/S9+, Galaxy S8/S8+, Galaxy S7/S6/S5 and Galaxy Note 10/9/8/7, Galaxy J series and A series.
Step 1

Download and Install Android Manager

Please download the installation package first, and then install the software on your computer. The program provides an easy-to-follow installation wizard to guide you through the process. Run the software when installation is completed. Now, click "Transfer" option located in the red square.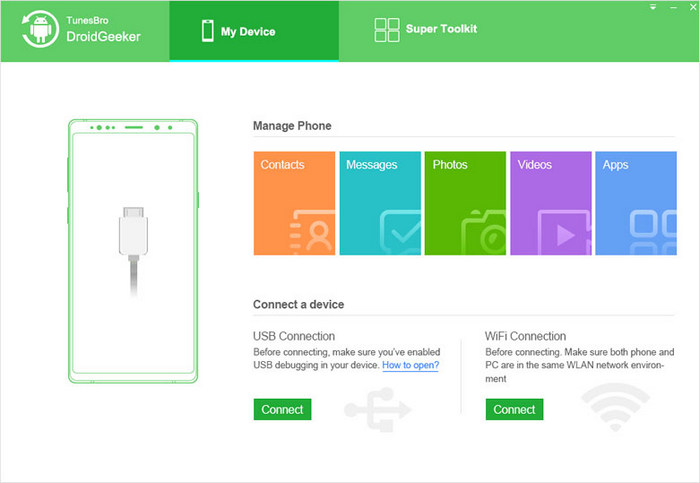 Step 2

Connect Samsung Galaxy S10/ S9/S8/S7/Note to PC

Plug your Samsung device to the computer via USB cable. Once it's well connected, the software asks you to turn on USB debugging and tap "OK" on your phone. Then the software will detect the device automatically and start analyzing text messages stored on the phone. After that, click on "Information" tab and it will list all of the text messages and other items available for export.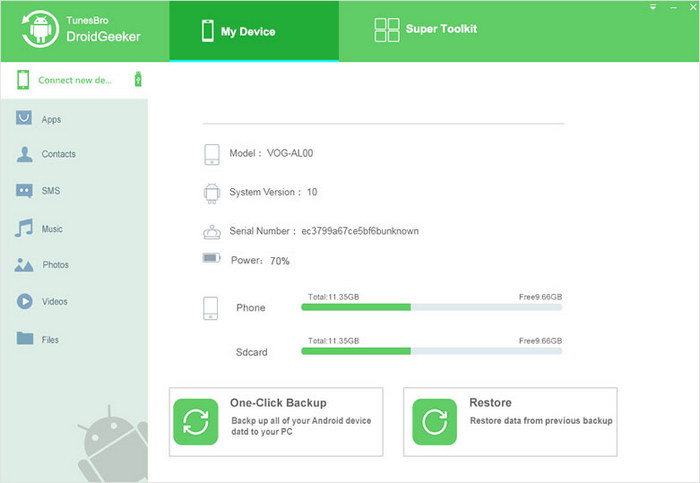 Step 3

Start Exporting Text Messages to PC

Look at the menu bar located on the left, click on the triangle icon on the left of device name, and then it will display the content it detects, such text messages, contacts, photos, etc… Select SMS -> Export to transfer text messages to computer, in the next choose a local folder to store the exported messages.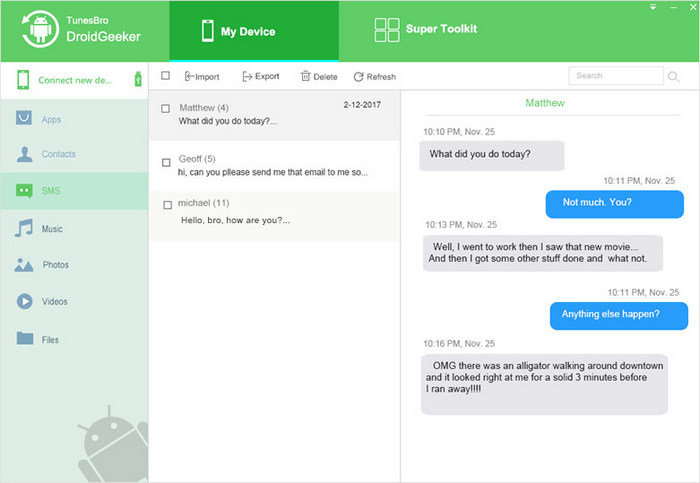 In fact, transferring messages to computer is just a fraction of the entire software capabilities. You can also backup or transfer other items to computer for later use, such as apps, contacts, photos and media files. It also has a built-in video converter to help you convert different videos to Android friendly formats. Please check out yourself for other useful widgets provided by the program.
Transfer Text Message from Samsung to Computer #3: via Email
Email is a basic tool that allows you to transfer data from your phone to PC. This comes in handy for those who don't want to install some kind of third-party tools on their device. Basically, the process involves syncing your messages to email and then downloading them on your PC.
Step 1: Open the Messages app on your Samsung phone and then select the messages you wish to transfer.
Step 2: Next up, tap the three dots icon at the top right corner and then select More.
Step 3: Tap the Share button, then select Email from the list of options and enter your email ID and password.
Step 4: When the transferring process is complete, go to your mail box on PC and download the messages you just received.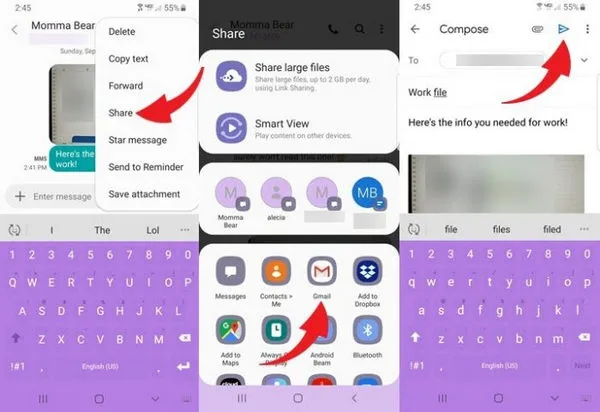 This works great for single messages. For multiple threads of conversation, it can not be done in one time. You have to do it again and again. Please keep this in mind.
Transfer SMS from Samsung to PC #4: SMS Backup App
If you are looking for a third-party solution that allows you to easily transfer text messages between multiple devices, then try SMS Backup app. In reality, this is one of the most used tools when it comes to SMS backup, as it is fast and reliable. However, one major drawback is that it only backs up text messages. If you want something advanced, then seek it elsewhere.
Step 1: Download and install the app from the Play Store.
Step 2: Open SMS Backup on your phone and then you should see all of your messages here.
Step 3: Now, select all of the messages you want back up and hit the Backup button. The tool will start backing up your data to your internal storage.
Step 4: Send your messages to Email or Google Drive and then download them onto your computer.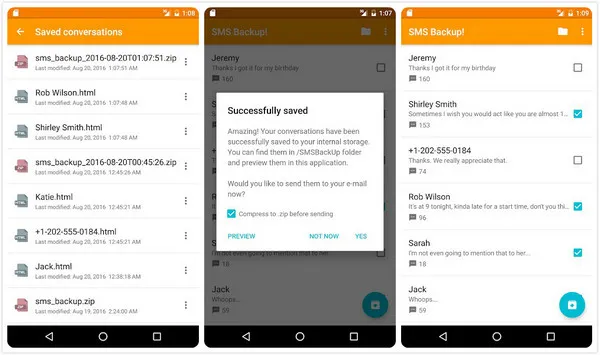 Closing Words
Before you landed on this page, you may heard using SMS backup app to transfer text messages from Android to PC. In fact, it is still a valid solution. The reason why I don't recommend this method is that I had very bad experience with this kind of apps. First, it doesn't support old devices like Galaxy S5 or the latest ones such as Galaxy S10. This problem is mainly due to the developer who didn't update the app to the latest version for good support.
Another problem is that when the phone got damaged or stolen, the backup file will be gone as well. This would be a great trouble for you and we can't afford to lost any valuable asset on the phone. So, fairly speaking, Android Manager is the preferred way to backup Samsung phone so does to other types of data backup. It is more secure and support as many devices as you could image. What is more, you can backup all kinds of data from Android to computer.