When talking about Android phones, rooting or custom ROMs are the topics that can't be avoid. Both rooting and custom ROMs make the device more functional and accessible. However, there are hidden risks if you don't operate it in a proper manner. The consequence is that all of your data will be erased once failed. So what's gonna to do to restore the lost data?
I have prior experience to handle such cases. Please don't worry about this, there are ways to get back your data. My wife bought a Samsung Galaxy S4 and got her data deleted when she failed to root the device. All of her phone contacts were gone and it was the first priority to get them back. Luckily enough, I found out a solution that works perfectly in this situation.
Android Data Recovery is a full featured data restore program, aimed to help Android users to recover lost data due to accident or wrong operations. It's capable of recovering phone contacts, text messages and media files previously deleted or formatted. I have tested it out successfully on my wife's Samsung Galaxy S4. Below is a step by step tutorial on how to achieve it.
Supported Samsung Models: Galaxy S8/S7/S7 Edge/S6 Edge/S6/S5/S4/S3, Galaxy Note 7/Note 5/Note 4/Note 3/Note2
Guide: How to Restore Lost Contacts on Samsung Galaxy S5/S6/S7
Step 1

Download and Install

Download and install Android Data Recovery on the computer. There is an easy-to-follow installation wizard to help you complete the task in minutes. After installation, the software will be launched automatically. The main screen is shown as follows: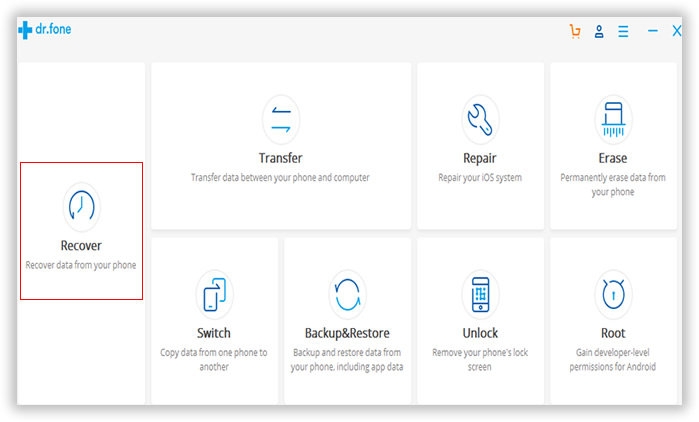 Step 2

Open Android Data Recovery and Connect Phone to PC

There are a few built-in tools for Android devices. At this time, you should click "Recover" button to open the data recovery program.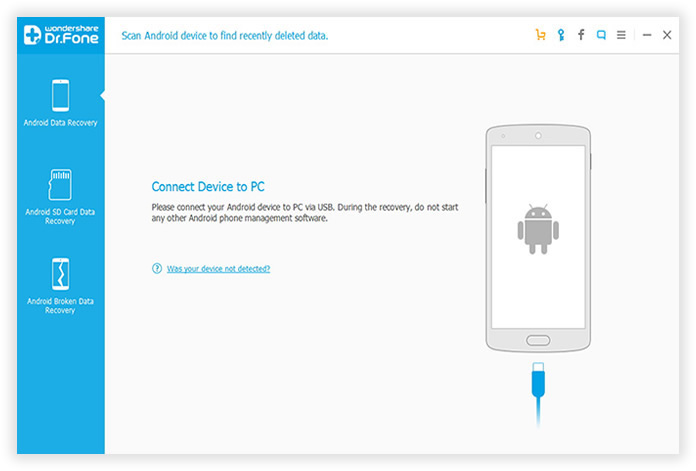 Step 3

Enable USB Debugging on Samsung Galaxy S4

USB debugging is advanced feature provided by Android system. It allows third-party programs accessing the internal of a given device. To enable USB debugging on Galaxy S4, please follow the instructions as below or from this guide.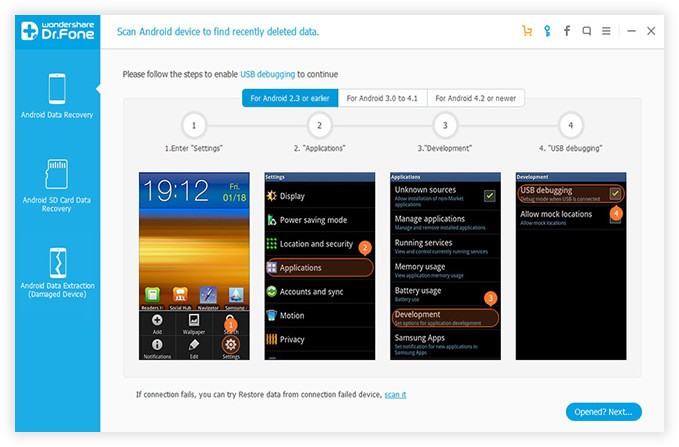 Step 4

Start to Scan and Analyze Samsung Galaxy S4

Click Start button to let the program scan Galaxy S4 to detect previously detected contacts and other items. The scanning process will take 15-30 minutes, depending on how many files stored on your device. Please make sure the battery is more than 30%, or the task will be failed due to lack of power.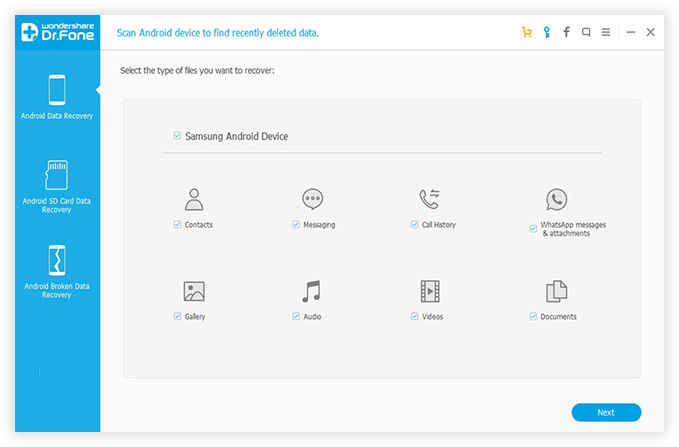 Step 5

Preview and Selectively Recover Samsung Contacts

After scanning, all of the contacts should be listed under Contact category. Select Contact options on the left menu bar, the contacts marked as red color are the ones you previously deleted, and now they are capable of being recovered by the software. Select the ones you want to recover, it takes less than 5 minutes to get back the deleted contacts.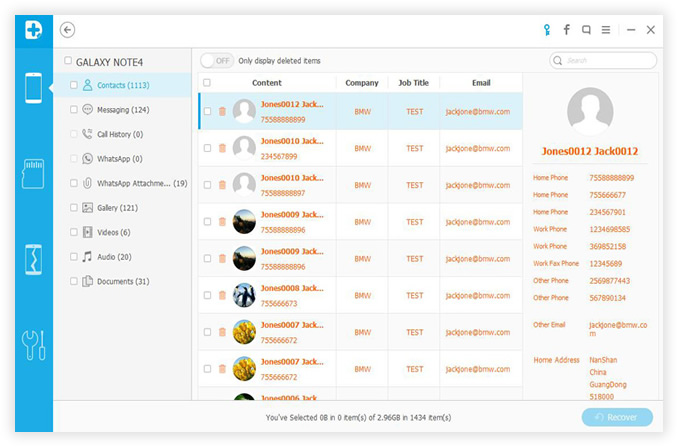 This Samsung Contacts Recovery is really a genius one that saves me from disaster. All of my lost contacts are 100% retrieved, no single lost! Moreover, contacts recovery is just one portion of the program, other items are also enable to be recovered, including SMS, WhatsApp messages, music, video, photos and documents. With this powerful utility, all of your data are kept in safe! No more worries from now!