Spotify has transformed the way we discover, listen to, and share music. With its extensive collection of songs, albums, and playlists from various genres and artists, Spotify offers a comprehensive music library accessible to millions of users worldwide. Since its launch in 2008, Spotify has gained popularity for its user-friendly interface, personalized recommendations, and seamless integration across multiple devices. Whether you enjoy pop, rock, hip-hop, or any other genre, Spotify provides a diverse music streaming experience that caters to all preferences. From creating playlists to following favorite artists and exploring new releases, Spotify has become the preferred platform for music lovers everywhere.
However, despite its numerous advantages, Spotify does come with certain limitations, such as the inability to download Spotify songs to MP3, the presence of ads in the free version, and restrictions on skipping tracks. To overcome these limitations and enhance the overall Spotify experience, users can turn to Soft Spotify Music Converter. This software enables users to download Spotify music to MP3 and enjoy them offline, providing greater flexibility and convenience. In the following sections, we will delve into the features, user guide, pricing, and pros and cons, highlighting how it enhances the Spotify music streaming experience.
UkeySoft Spotify Music Converter Detailed Review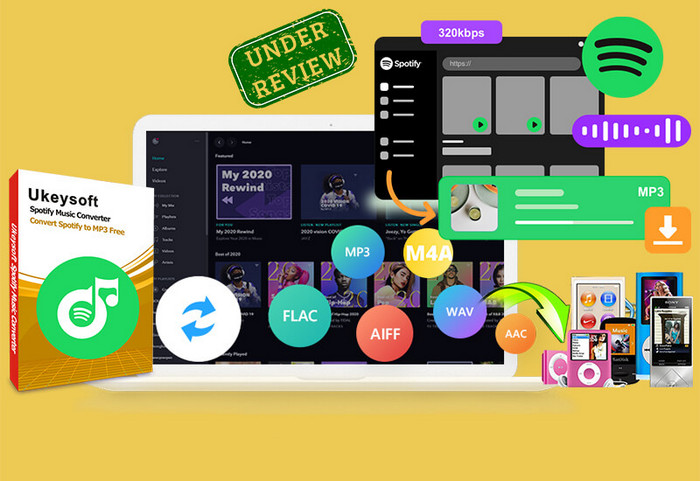 UkeySoft Spotify Music Converter is a powerful and remarkable software solution designed to overcome the limitations of Spotify to enhance the Spotify music streaming experience. It allows users to download Spotify songs, playlists, albums, audiobooks and podcasts to computer, and convert Spotify music to MP3, M4A, AAC, FLAC, WAV and AIFF, the original music quality preserved. With a user-friendly interface, batch conversion capability, and customization options, it provides a seamless and personalized offline listening experience. It supports ID3 tags and is compatible with both Windows and Mac platforms, making it a versatile solution for Spotify users seeking greater flexibility in enjoying their favorite music.
Features of UkeySoft Spotify Music Converter:
Remove DRM from Spotify Music
All Spotify music is subjected to DRM protection, preventing offline listening for Free account users. Even with a Premium account, downloaded songs remain DRM protected and restricted to playback within the Spotify App. However, UkeySoft Spotify Music Converter provides a solution by removing DRM protection from Spotify songs, tracks, albums, podcasts, and playlists, enabling users to enjoy their music offline without limitations.
Download Spotify Music to MP3
A powerful Spotify to MP3 Converter, it not only can helps you convert Spotify music to MP3, but also can save Spotify songs and playlist to M4A, AAC, FLAC, WAV and AIFF format in high-quality, ensuring excellent audio fidelity.
Batch Download Spotify Music in 16X Speed
Enable batch downloading and conversion of Spotify songs, providing a convenient and time-saving solution. With just a click of a button, users can add multiple songs and convert them all at once, thanks to its 16X faster conversion speed, so that you can download a large number of songs or entire playlists with ease.
Preserve ID3 Tags & Metadata Info
Preserve essential ID3 tags & metadata such as artist names, album titles, and track information. This ensures that users can effectively organize and manage their music library with accurate and detailed information about each song.
Retain Audio Quality
Ensure that the converted songs maintain the original audio quality, providing an immersive and enjoyable listening experience.
Embeds the Built-in Spotify web Player
Come with a built-in Spotify web player that offers a comprehensive music experience. With this feature, users can search, browse, download, convert, and play music seamlessly within the software. There's no need to install the official Spotify music app or any additional applications, as it provides a convenient all-in-one solution.
User Guide: How to Download Spotify Songs to MP3
To get started with UkeySoft Spotify Music Converter, please download the latest version of the software onto your computer from UkeySoft official website. The program works well with both Windows and macOS. Once downloaded, proceed with the installation process, and then you can follow the detailed steps provided below to start Spotify music downloading.
Step 1: After the installation of UkeySoft Spotify Music Converter on your computer, open the program and access your Spotify account by clicking on the top right corner of the interface. Whether you have a Spotify Free or Spotify Premium account, you can log in using either of them.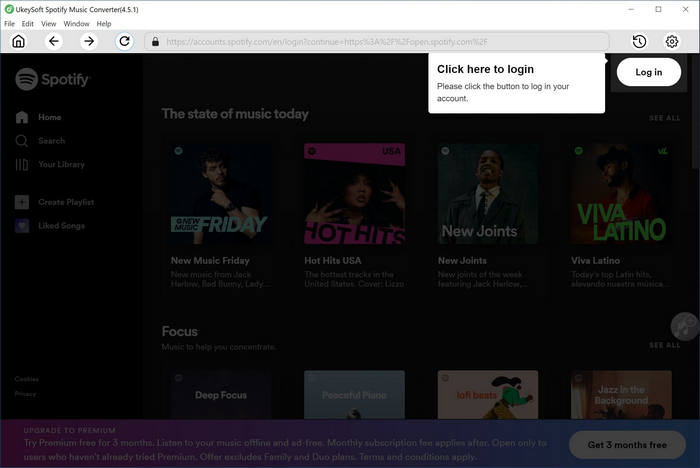 Step 2: Click the 'Gear' icon on the upper corner; the program will pup up a output setting interface. In order to converting Spotify songs to MP3 format, please select MP3 as output format. If you want to download high audio quality, please select AAC as output format and set 512 kbps output quality. If you want to save time for downloading, please choose M4A(auto). Of course, the program also supports convert Spotify music to WAV, FLAC and AIFF. In addition, you can also set up other parameters such as output quality, output name, output patch, etc.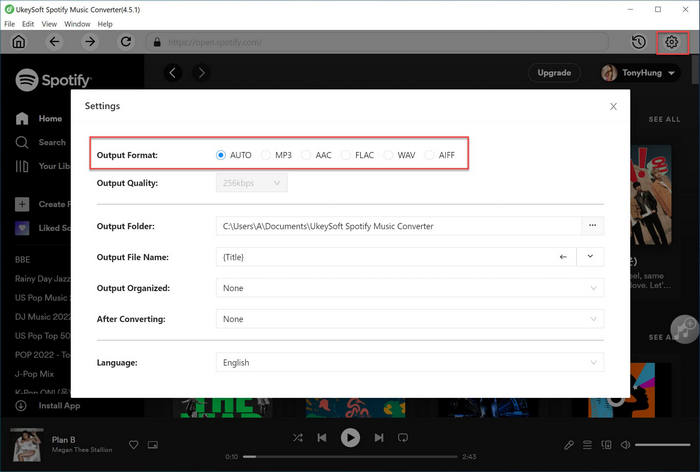 Step 3: To add Spotify Songs, select the songs, playlist, or album from Spotify that you wish to save as local files. Next, click on the "+" icon located on the right side to include all the songs in the conversion queue.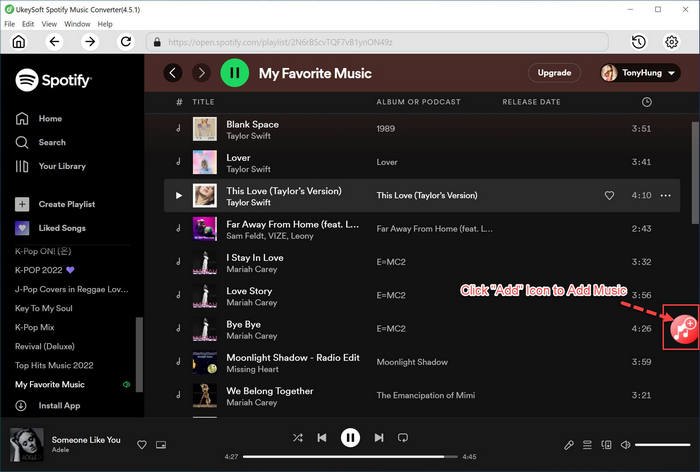 All songs are preselected by default, allowing you to deselect any specific ones that you prefer not to download.
Step 4: After completing all the necessary configurations for the output file, proceed by clicking the "Convert" button to initiate the process of downloading Spotify music as MP3 files at 10X faster speed.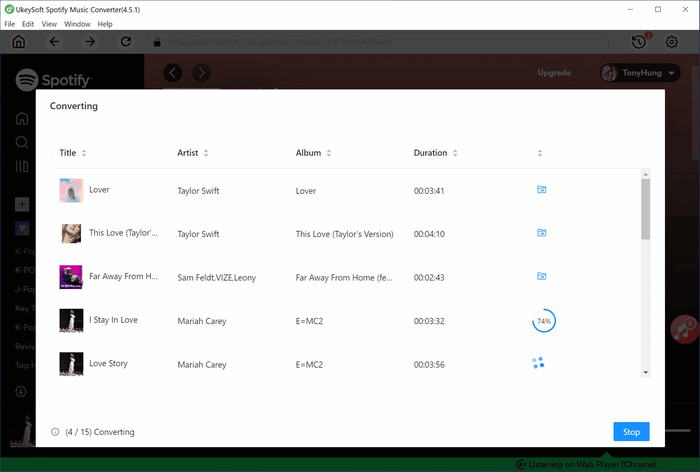 Step 5: Once the conversion process is completed, click on the blue "Output Folder" to access the designated location where the DRM-free Spotify songs in MP3 format are saved. These songs can be enjoyed offline without requiring the Spotify app. Additionally, you can transfer them to various devices such as MP3 players, iPod, PS4, Xbox, Android phones, and more.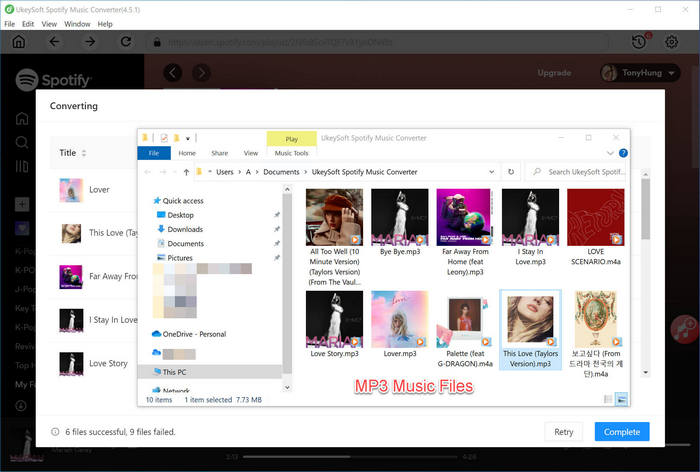 Price and Plan of UkeySoft Spotify Music Converter
UkeySoft Spotify Music Converter offers flexible pricing plans to cater to different needs. Here are the available options:
1-Month Plan: $14.95 for one month and one PC/Mac.
1-Year Plan: $59.95 for one year and one PC/Mac.
Lifetime Plan: $79.95 for a lifetime license and one PC/Mac.
Note: You can enjoy a 30-day trial period with Ukeysoft, allowing you to explore its robust features during this timeframe. The free version allows new users download the first 3 minutes of each music files. To unlock the complete functionality beyond the 30-day limit, you need to purchase the software.
Pros and Cons of UkeySoft Spotify Music Converter
Pros:
Support Spotify Free and Spotify Premium account.
Remove DRM from Spotify songs, playlist and albums.
Allows users to download Spotify songs to MP3.
Supports various formats including MP3, M4A, AAC, FLAC, WAV, AIFF.
Preserves metadata and audio quality.
Batch conversion at 10X faster speed.
Customizable output settings.
Built-in Spotify web player, no need to install any extra apps.
User-friendly interface.
Compatible with Windows & Mac.
Cons:
It's not free.
The trial version only lets you download the first 3 minutes of each song.
Available only for Windows and Mac platforms, no mobile apps.
FAQ (Frequently Asked Questions)
Q: Is UkeySoft Spotify Music Converter legal?
A: UkeySoft Spotify Music Converter is legal for personal use. You can use it to downoad and convert music within the boundaries of personal copyright laws. It enables you to download Spotify songs, playlist, albums, podcasts, etc. for offline listening.
Q: Can I transfer the converted songs to my portable devices?
A: Yes, you can transfer the downloaded songs to any mobile devices for offline listening, such as iPod nano, Sony Walkman, iOS devices, Android devices and other MP3 players.
Q: Can I use UkeySoft Spotify Music Converter with a free Spotify account?
A: Yes, with the help of UkeySoft Spotify Music Converter, either Spotify Free or Premium users can download music from Spotify, just login your Spotify account into the built-in Spotify web player of the program, you can browse, access, search, play and download Spotify music, and even converting them to plain audio format.
Conclusion
UkeySoft Spotify Music Converter offers a reliable and efficient solution to download Spotify songs to MP3 and enjoy them offline. With its impressive features, user-friendly interface, and flexible pricing plans, this software provides a seamless music experience for Spotify users. Say goodbye to Spotify's limitations and embrace the freedom of offline listening.
Related Articles