BitLocker is advanced feature available on the high version of Windows version, such as Windows 10 Pro, Windows 10 Enterprise. The main usage is to encrypte a target partition with password so that other people can not view or steal your private data even the computer fell into the wrong hands. It is impossible to crack the password because it uses 256-AES for encryption. When ecnrypting Windows partition with BitLocker, a text file, known as Recovery key, is generated automatically at the end of process. When you forgot the initial password, it is can be used to unlock the drive with this key.
If you are using a computer that is in your office or school, you can get the recovery key by asking the administrator. In case your computer is personal, but you did not backup your BitLocker recovery key initially, there are still solutions to get it back. As long as you have signed in a Microsoft account on your computer, you can still retrieve the recovery key.
We're sure many of you here have at least one time encountered this annoying problem. In such case, a recovery key is required to unlock your drive. However, the question here is how to regain the BitLocker recovery key stored on your PC. This post will show you 4 different ways to retrieve your BitLocker recovery key.
What is BitLocker Recovery Key?
It's a special key, which will be atomically created when you encrypt a specific drive on your Windows computer using "BitLocker encryption" option. The BitLocker Recovery Key comes in the form of a .BEK file that has a name like the following screen: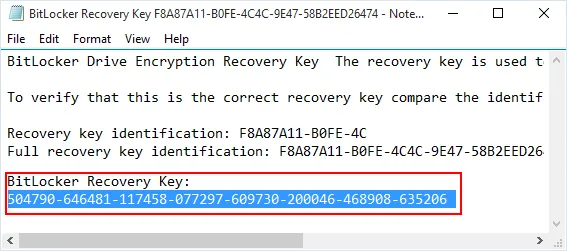 This file is generated at the end of process and you have 4 options to save or backup the recovery key in chances that you forgot the password to unlock the drive.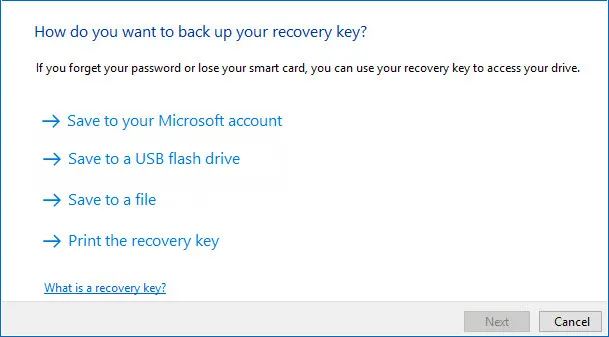 Method 1: Find BitLocker Recovery Key via Printed Out
As you can see from the above screen, a recovery key is possible to be printed out for backup. Please look up the desk or other places where you hold the important document. You might find out the Recovery key and use it to unlock the encrypted drive. Furthermore, if you have the BitLocker recovery key using Microsoft Print to PDF option, you could search for that PDF file on your computer.

Method 2: Get BitLocker Recovery Key on USB Drive
If you have already saved your BitLocker recovery key on a USB flash drive, just insert it into your computer and you can view it. If the BitLocker recovery key is saved as a text file, you will need another Windows computer so that you can read that text file.
Method 3: Find BitLocker key in your Microsoft account
Another way to find your BitLocker recovery key of your hard drive is through your Microsoft account. To retrieve your BitLocker recovery key through your Microsoft account, simply visit this link, sign in your Microsoft account, and Surprise! Your recovery key is here.

Method 4: Get BitLocker key in your Azure Active Directory
After adding your Azure Active Directory account and activating BitLocker, you can store your recovery key in your Azure account.
If you are wondering how to find your key, it's in the Details Window of the devices that you have already registered in Azure Active Directory Management. Follow these steps below to find your BitLocker recovery key in your Azure account:
Step 1: Go to this URL https://manage.windowsazure.com to open your Open Azure AD .
Step 2: Click on Users tab and then search for the account you want to find your BitLocker recovery key.
Step 3: Click on the Devices tab, and choose Devices in the View box.
Step 4: Select your device and click View Details. Your BitLocker recovery key is here.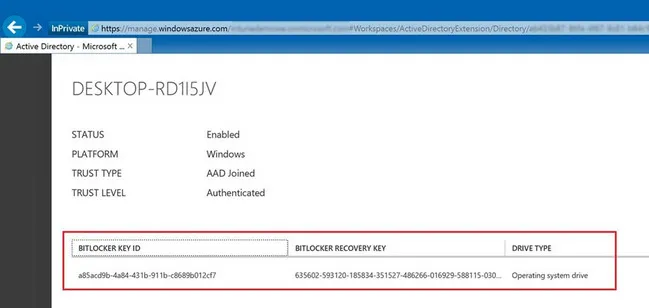 Conclusion
Above are available options to find your BitLocker recovery key. After you have found the key, then you can open BitLocker encrypted drive and should keep it in a safe place for later use. To save the key, open the Search box from the taskbar of your computer, type in BitLocker, and then choose from the resultS. In the next screen, click on Back Up your recovery key, and then follow the onscreen tutorial to choose your preferred way.