Forgetting iPhone locascreen passcode is bad enough, but what's even worse is trying the wrong password six times and finding that your iPhone is now disabled. But before you rush to restore it and end up losing all your data, why not try some other secure methods? There are several ways to avoid a restore but still get past your iPhone passcode by removing it using special tools - one of which was created by Apple, by the way!
So how to you remove an iPhone password without having to restore it? Let's first look at using one of Apple's coolest creations to bypass your passcode - Siri.
Part 1: How to Unlock iPhone Passcode without iTunes (via Siri)
There's a roundabout way in which you can use a Siri function to get into a locked iPhone. Just follow the steps below and you'll be inside your phone in no time. One thing, though. It doesn't work on iOS versions before iOS 8 and anything higher than iOS 10.1. It's basically a Siri vulnerability that Apple fixed in subsequent iterations.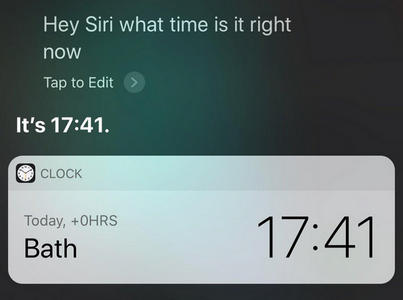 Step 1: Hold down the Home button and ask Siri to display the current time. From there, go to World Time by clicking the icon.
Step 2: Now tap on the plus sign to add a new clock. In the search box under 'Choose a City' type any text. Tap and hold the text, tap on "Select All' and then on "Share" in the popup box.
Step 3: Now select the Message icon to compose a new message. When the New Message window opens, type any text in the "To" field and tap on "Return".
Step 4: Create a new contact with that text you entered, and tap on "Add Photo", and then "Choose Photo" in the popup. You'll be taken to the photo library to pick a pic.
Step 5: This is the important part. After you enter the photo library, wait for about 5 seconds, then press the Home button. Voila! You're in your home page and no passcode required, no restore required!
As long as your iPhone is running iOS 8 to iOS 10.1, this method will work. It's a bit of work but worth it since you don't have to take your device to the service center or restore it and lose all of your precious data, not to mention any custom settings you've applied. Unfortunately, if you're on a different iOS version, you might have to use the second method.
Part 2: How to Unlock iPhone Passcode without iTunes (Unlock App)
Computer software is the ultimate solution to fix all kinds of specific problems on iOS devices. There is a new app coming out this year that can easily unlock an locked iPhone in less than 5 steps. Nothing complicated at all! It is called Androidphonesoft iPhone Passcode Unlocker. This powerful desktop utility will have you accessing your locked iPhone in no time, no matter whether it's locked with Face ID, Touch ID or a 6-digit/4-digit passcode. It even works on iPhones with damaged screens or devices that are disabled, and used iPhones in case the previous owner forgot to give you the passcode. It works with iOS 12 beta and iOS 11.4, and is recommended by respected tech sites like 9to5Mac, PCWorld and Engadget, among others.
iPhone Passcode Unlocker is easy to use, and employs a three-step process to unlock your device: Connect your device to a computer running the software, download the appropriate firmware and update your device, and quickly unlock your iPhone and get access. No technical expertise is required, and no complicated instructions to follow. Everything you need is provided by the software itself, as you will see from the process description below:
Step 1

Install iPhone Passcode Unlocker and Connect iPhone

Download and install this program on a PC or Mac. Both platforms are well supported. Run the program and connect your device to the computer using a USB lightning cable.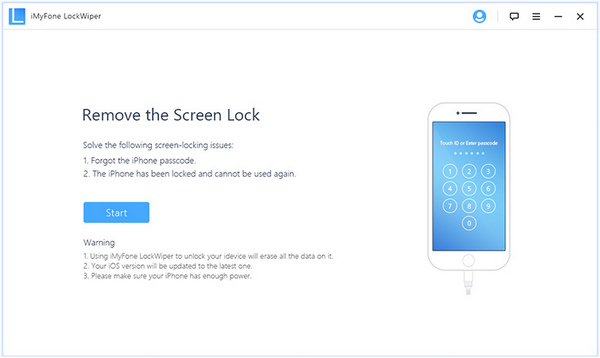 Step 2

Get iPhone into DFU Mode

Your device will be recognized, and you will be asked to put your iPhone into DFU mode, or Device Firmware Update mode. Instructions are provided on-screen for this, so click on the tab on top with your device model on it and put the phone in DFU mode.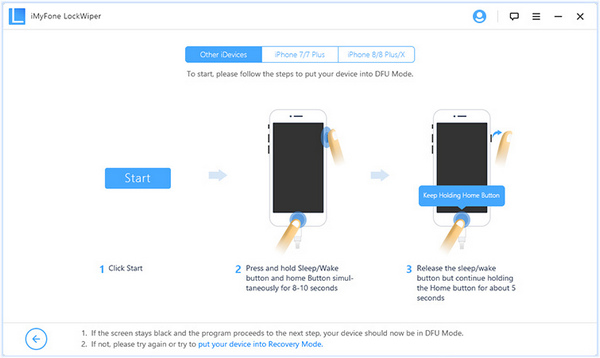 Step 3

Download iOS Firmware and Remove Password from iPhone

Check your model and firmware version (iOS version) on the next page and click on "Download" to get appropriate firmware. Click on "Start to Verify" on the next page. This is a crucial step that has been built in to make sure the firmware has been properly downloaded.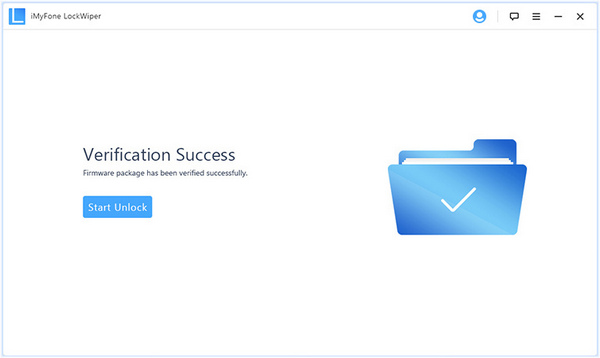 Finally, click on "Start Unlock" and confirm by entering 000000 in the field provided. You will receive a confirmation notification on the software interface once the device has been unlocked. Check if your phone can start and see if you have access without the passcode. Reset your passcode if you want to.
Part 3: Remove Passcode from iPhone without iTunes (via iCloud)
This method will work even if you don't have iCloud backups activated. As long as you know your Apple ID, you can use this method to erase your phone, which means the passcode will be erased as well. It's a quick way if you don't mind losing your data. At least, you won't have to take your iPhone to a service center and pay quite a bit of money to get your iDevice unlocked.
The biggest advantage is that you don't even need to have your phone with you in order to use this method.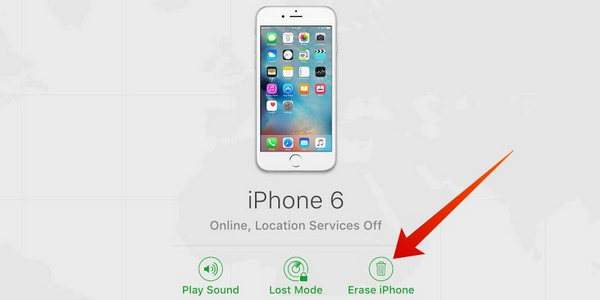 Step 1: Sign into your account on iCloud.com on a browser on a different phone or your PC. You will need to know your Apple ID credentials for this.
Step 2: At the top of the window, you'll see an option called "All Devices"; click or tap on it.
Step 3: Choose the locked device from the list shown and click on "Erase iPhone".
Your device will now be unlocked so you don't need the passcode to get in. Unfortunately, if you can't remember your Apple ID password, you won't be able to use this method. Since you have to login remotely into your iCloud account, you will definitely need this. If you depend on Keychain or Google's Smart Lock to get into your account because you don't remember the password, this option is ruled out.
Sum up
The iPhone Passcode Unlocker method is completely hassle-free and convenient for any novice user with a locked iPhone. Having a passcode is a good idea because it provides a measure of security against data theft. But if the passcode is the reason you can't get in, then forget all the other methods and software tools out there and rely on Androidphonesoft to get you past even the most complex of lock-screen security features that Apple currently has.
Related Articles