Alongside iOS 11, Apple introduced a new file format for images taken on iPhones and iPads. The HEIC format offers much better compression than traditional JPG, but it also comes with a set of problems. For example, you can't view such images on a Windows or Android device because the format has no native support on these platforms.
That means sharing such images with users of devices running other operating systems is basically useless. They need to be converted to JPG or PNG before you can view them on a different platform. Fortunately, there are online and offline tools that you can use for conversion. Here are a few of them that you can try out if you're a user of an Apple device running iOS 11 or higher.
HEICtoJPG.com: Most Popular Online HEIC to JPEG Converter
This website offers a free online conversion service for HEIC images. Powered by JPEGMini, an image size reduction platform, heictojpg.com allows users to upload, convert and download up to 50 images at a time. The service itself is very minimal, and you don't have a lot of options in terms of quality and other settings. However, the service is simple to use.
Step 1: Go to heictojpg.com and click on Choose .heic(s) to select the source images in Finder or Windows File Explorer.
Step 2: Once they're uploaded, review the available settings and convert the images.
Step 3: After conversion, download the ZIP file to your computer, and you'll see that all of them have been converted to the JPG format. You can then share them with anyone using a different operating system.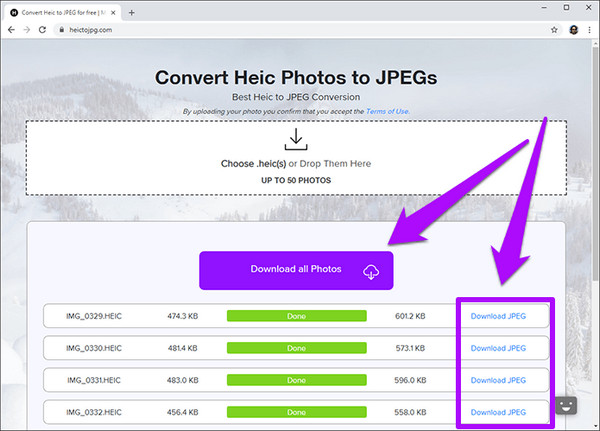 CoolUtils.com: All-in-one Online Converter
This is another online HEIC to JPG conversion site you can try. It offers a few additional features like resizing, and you can choose from a number of output formats. They do offer a downloadable version of the software, but the online version has limitations similar to the previous service outlined here. Here's how to use the service to convert your files.
Step 1: Go to CoolUtils.com and click on the + Select Files button to choose the images to be converted.
Step 2: Set the output format on the left side, and on the right side you can choose to resize and rotate the images.
Step 3: Once the conversion is done, you can click on the Download Converted Files to get your output files in whatever format you picked in Step 2.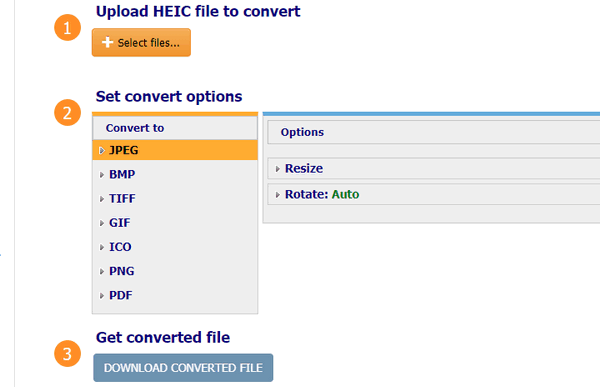 Both these services are more than adequate if you're only converting a few images at a time, but if you have hundreds of photos that you want to convert in bulk, it's not practical to use an online service. Photos can be quite large when you take them on a premium device like an iPhone.
Even in HEIC format, this can run into several gigabytes if you have large albums to convert. That means additional data charges for uploading as well as downloading. Moreover, data sent over the Internet is open to attacks by hackers. To avoid the data and security issues, it's better to use a standalone software like the one showcased in the next section.
TunesBro HEIC Converter: Convert HEIC to JPG on PC or Mac
Androidphonesoft HEIC Converter gives you the flexibility to get either JPG or PNG as your output format. Since there is no upload or download involved in the process, it's a lot more secure, as well as suitable for people with limited Internet data. There are also no restrictions on the number of photos you can convert in bulk - you can do 200 or more in a batch if you require. Moreover, there's also an option for single image conversion if that's what you're looking for.
The software also has some unique features, like being able to control the quality of the output and retaining the metadata so it can be used by other programs. That means all the original information that came with the original HEIC will also be available in the converted output JPG or PNG. What's more, the software is available for both Windows and macOS, which offers even more flexibility.
Step 1

Download

Install the software after you download the file from this website. Launch the program and select from the two options provided: Convert Single Photo and Convert in Batch. Click the Start button against the mode you want to use.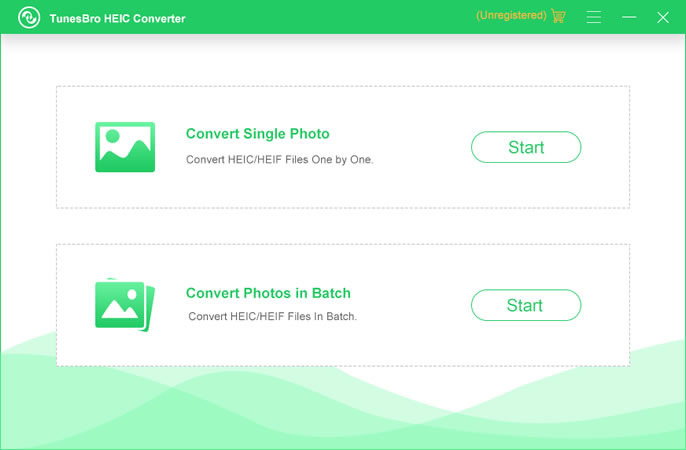 Step 2

Add HEIC Photos and Convert Them to JPG/JPEG

In Batch mode, click on Add HEIC to import the files to be converted. On the right side, you'll see various settings for output format, quality, metadata (Exif data). Define the output path and click on Convert. In Single mode, just import the photo, tweak the settings and hit Convert.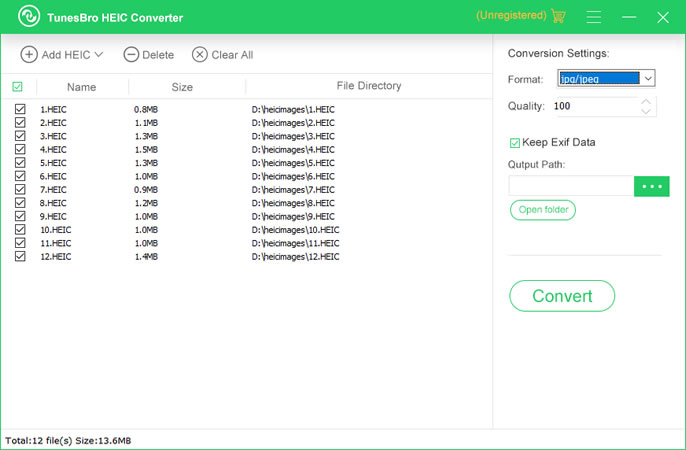 Your images will be converted in a few minutes depending on how many you imported. The output files will be found in the destination folder that you specified in the last step. There's a button within the software that allows you to open the destination folder. You can now share the converted images freely with any non-iOS device user. There's no uploading involved, so your images are secure, and there aren't any data charges because you're doing the conversion locally on your PC or Mac.
Summary
Online HEIC Converter is convenient and free. The two concern are privacy and batch convertion. That's why Androidphone HEIC Converter comes into help. You can convert hundreds of .heic images at time in less than 2 minutes and don't worry about the images being kept a copy on remote server not owned by you.
Related Articles