iTunes is a little quirky, to say the least. It often does unexpected things or doesn't do what you expect it to. You might never have set a password for iPhone backup, but when you try to restore from the backup, it asks you a password to unlock the backup first. What can you do in such a situation? Is your iTunes backup lost forever? Thankfully, there are a couple of ways in which you can still access it without the risk of losing valuable data. First, however, let's cover the basics of iTunes backup encryption first.
Part 1: FAQ about iTunes Backup Password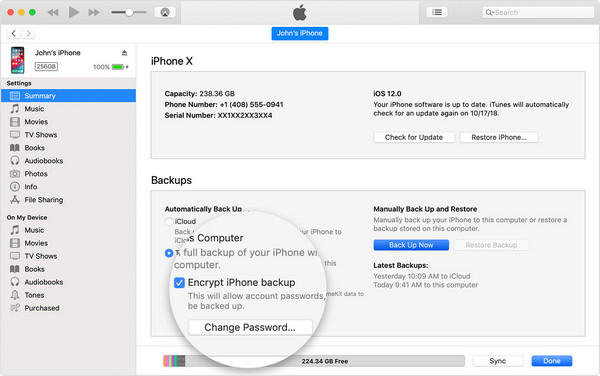 What is an iPhone Backup Password? When you take a backup of your iPhone data using iTunes, it may automatically encrypt that data depending on your settings. If the little box next to Encrypt Backup is checked, you'll end up with an encrypted backup for which you need a password when you want to restore or just view it.
How does iTunes backup encryption work? An encrypted backup is a little different from a regular backup because it contains your health data, saved passwords, Wi-Fi settings and your web history.
In iTunes, the backup files are encrypted using AES128 with a 256-bit key. Alternatively, it may use a 128 bit key in conjunction with Cipher Block Chaining, or CBC. This is somewhat similar to the technology that Microsoft uses to hash Word, Excel or PowerPoint passwords, and it also uses the same SHA-1 hashing algorithm. In the case of iTunes, the key is stored in the iPhone Keychain.
What's the default password for iTunes backup? Actually, there is no default password for iTunes backup. Either is blank or encrypted by a password the user set previously.
Why iTunes asks for a password to restore backup? When the backup file is password protected by iTunes, you have to input the correct password to unlock the file to prevent illegal access to user's private data. If the backup was not encrypted, then anyone could retrieve user information from it with third-party tools.
The password you entered to unlock your iPhone backup was incorrect? It means the password you entered didn't match the password you set initially. You have to get the correct password to unlock the backup.
Part 2: Try Commonly Used Passwords to Unlock iTunes Backup
Most users of desktop and mobile devices today tend to keep using the same passwords over and over again for different accounts and applications. This is unsafe practice because if one account is compromised, it's easy for a hacker to unlock all your accounts. Even if you use variations of a single password, it's much easier to crack than if each password is long enough and unique enough. The problem is, using such passwords leads to forgetting them.
So, if you're one of those users, you can try various combinations of passwords that you typically use. Here are some ideas to recover iTunes backup password. You can try out variations of these as well:
123456/password/abc123
Apple ID Password
Windows/Mac Login Password
Pet name
Birthday or birthday with name initials

You can try all the passwords you could think up during the process and no damage at all as there is no limitation to the false input. If you tried the best and still couldn't find the correct password to unlock the backup, then you have to use iTunes backup password unlocking software instead.
Part 3: Solution to iTunes Ask for Backup Password You Never Set
iTunes backup unlocking software is a type of special program to help you recover lost or forgotten backup password from iTunes backup file. This is the easiest way to get into an encrypted iTunes backup files, and Androidphonesoft iTunes Backup Unlocker is one of the best software application for this purpose. . The name is self-explanatory, and what it does is use two very powerful password attack types to find the actual password. In addition, it offers 40x faster password decryption with hardware acceleration with Nvidia GPU cards.
This iTunes Backup unlocker has an 85% recovery rate, which is one of the highest in the industry. It also guarantees that none of your data will be lost in the decryption process. That means you get everything back, without the fear of losing valuable documents or irreplaceable media like photos and videos.
Step 1

Download iTunes Backup Password Unlocker

Install iTunes Backup Unlocker on a PC or Mac, making sure that you download the correct version from the official website.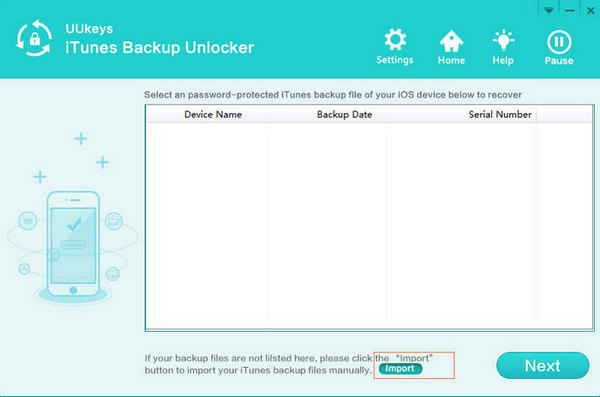 Step 2

Add iTunes Backup File

Launch the program on your desktop where you have the encrypted iTunes backup. Your encrypted backups will be automatically detected, so you can simply choose the one to unlock.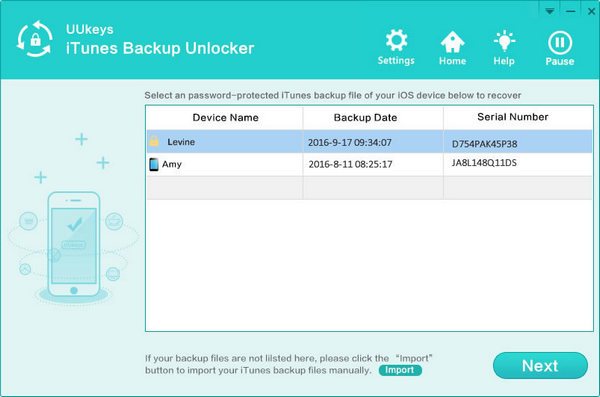 Step 3

Make Proper Settings

Define the attack type. If you know anything about the password, you can choose Brute Force with Mask and specify the parameters at this stage. This might be the length of the password, what type of characters were used, any affixes used and so on. Of course, if you never set the password in the first place, just use Brute Force instead. You can also set hardware acceleration to speed up the recovery process.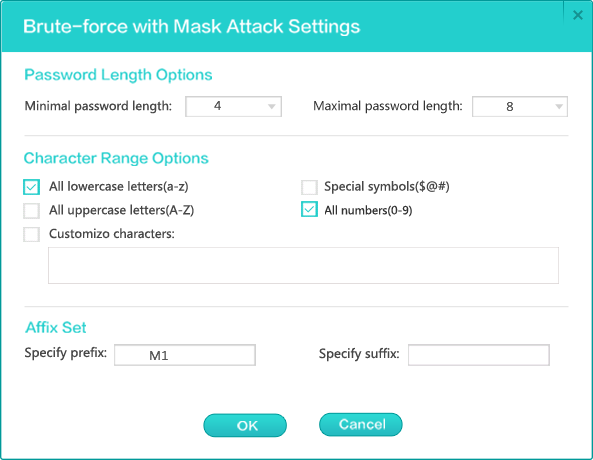 Step 4

Recover Password from iTunes Backup

Once all that is done, you can click on OK to start the recovery process. When it is recovered, the password will be displayed in a new window. Copy it and use it to unlock the ackup.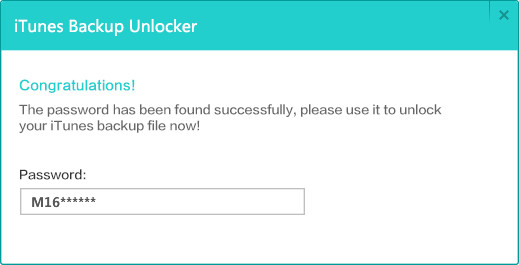 For simple password, it should be recovered in a very short time. However, for strong/long password, you have to wait for more time.
Summary
As you can see, the process is very simple, and it's 100% safe. Your data will be untouched, and depending on how complex your password is, you can regain access in very little time compared to other utilities and methods.
Related Articles