Text messaging is still one of the heavily used functions on any mobile phone, no matter it's a cell phone or smartphone. Although there are so many funny apps available on modern smartphones, such as gaming and social networking, for me, text message is my preferred way for communication between family members, business partners and co-workers, especially in cases that Internet access is out of range. There are nearly 1000 text messages stored on my Galaxy S5 since the purchase in 2014.
As a long time Android users, I already got tired of Android system after a few years usage and prepare to try another one. In addition, the screen of Galaxy S5 becomes irresponsive in recent months, which brings very bad experience when stayed with the device. After a serial of deliberative discussions with my close friends, I finally bought an iPhone 6 Plus from Apple Retail Store. Now there comes to a problem that how can I transfer text messages from old Android to iPhone X as the two are the most important assets fro me. The whole transition goes very smoothly with the help of Android to iPhone Transfer.
Part 1: Move to iOS Can't Help to Transfer SMS from Android to iOS
You probably heard or tried Move to iOS app, which is the official method suggested by Apple to transfer data from other devices to iPhone. Also, there are a lot of folks writing tutorials and reviews about the app. The truth is that you can transfer a few types of data such as contacts, photos, music , videos, ebooks. But text messages is not in that list. Here is a screenshot for supported data transfer from Apple.com. So it is totally a waste of time to try it out.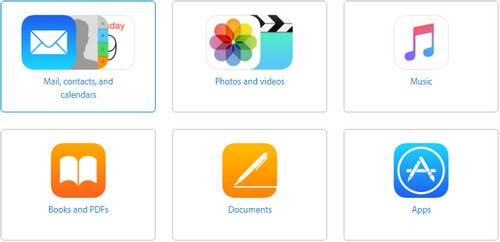 If you checked the introduction page of Move to iOS app, you will find there are many limitations on using it. The iPhone should be powered by iOS 9 or later; Wi-Fi network is a must. So for me, Androidphonesoft Phone Transfer is a more convenient way for content transfer from Android to iPhone. We will talk about the steps in next part.
Part 2: The Best Way to Transfer Messages From Android to iPhone
Phone Transfer is an amazing desktop app that aims to provide the easiest solution to help end users switch from one mobile phone to another. For the case above, it will take me days to complete the transfer manually. But with this wonderful app, the whole transfer can be done in minutes with a bunch of mouse clicks. What's more, it's capable of transferring a set of files and content between different smartphones, including sms, contacts, photos, music, videos, call logs and apps.
Supported Android Phones: Samsung Galaxy Note 8/S9/S8/S7/S6/S5/S4, HTC One M10/M9/M8/M7, Motorola X/G/E, LG G5/G4/G3/V10, Sony Xperia Z5/Z4/Z3, Huawei Mate 8/7/, ZTE, Oppo Find 7 and many more.

Supported iPhone Models: iPhone XS/XS Max/XR, iPhone X/8/8 Plus, iPhone 7 Plus/7/SE/6S Plus/6/5S
Guide: Transfer Text (SMS) from Android to iPhone XS/XR/X/8/7
Step 1

Install and Run the Program

The customized version of the software is available by clicking the above download links. This app works pretty well on both Windows and Mac OS X. Follow the built-in instructions to complete the install. After installation, the app will be launched automatically and the main screen shown like this. Then click Switch to download the built-in function.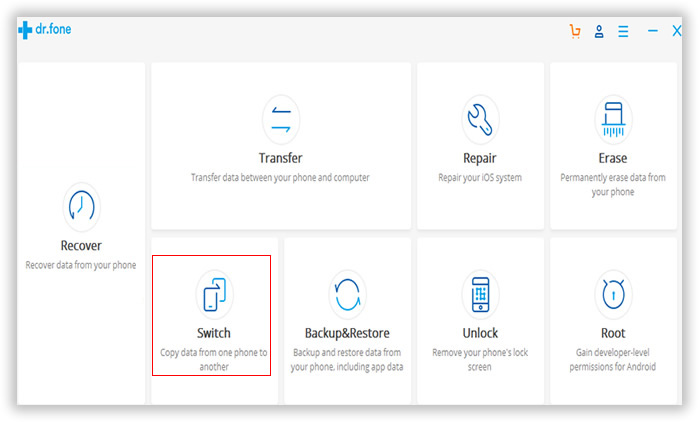 Step 2

Connect iPhone and Android Phone to the Same Computer

Plug iPhone and Android phone to a computer via USB cable. Please make sure USB driver is installed for both devices before going to the next step. The program will automatically detect the devices once attached. After that, it will start the scanning process to find out data stored on both devices.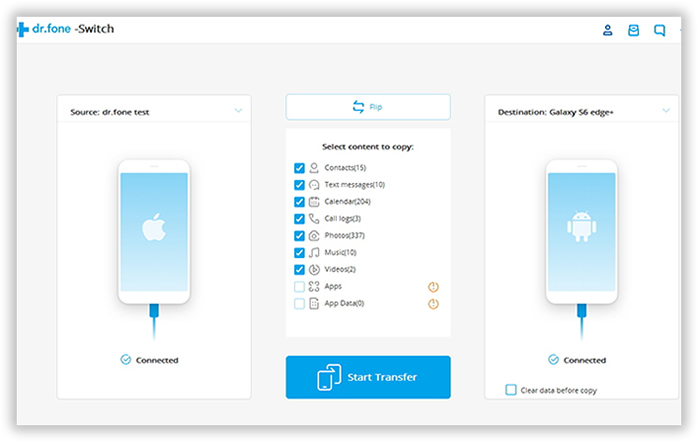 Step 3

Analysize and Load the Data in Your Android Phone

Once the recognition is successful, the program will quickly began analyze the SIM and phone's internal memory in your phones. And automatically load the data from it and then are displayed in the window below.

Note: In this case, the source phone should be your Android phone and destination phone should be iPhone. If the order is wrong, click the "Filp" button to exchange positions.
Step 4

Start Transferring SMS from Android to iPhone

The program lists all of the data in the center of the main screen after scanning. Check Text Messages option and uncheck other items if you were going to transfer text messages only. Or you can select multiple items at the same time. Then click Start Transfer button on the bottom to begin the transfer process.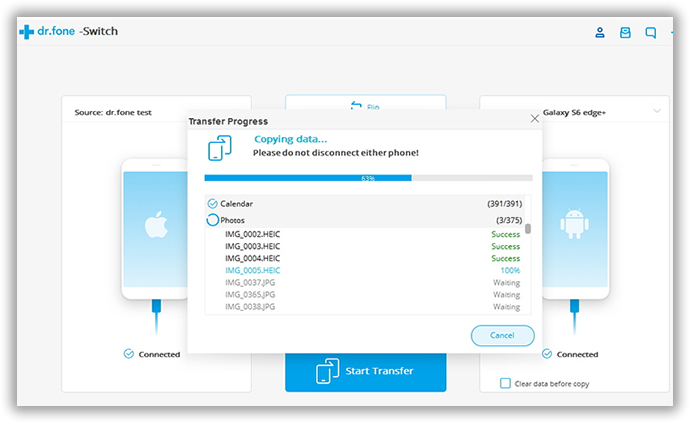 Besides content transfer, this great app is also able to back up your phone's content to computer, such as text messages, contacts, photos, music and videos, which is solid way to protect your valuable data from lost. When there is something wrong with the phone, then you can restore the data from existing backups with the same app. In one word, Android to iPhone Transfer is the best and easiest solution for file transfer and backup.