You may not know that Android is a open system while iOS is a closed system and an isolated system that has no interaction with its external environment, that means iOS system was somehow limiting what you could do on your iPhone or iPod device, on the other hand, it will bring too much inconvenience to you when you need to move contacts, messages or other data between iPhone and Android phone, (like Samsung Galaxy S9).
Here we don't debate the benefits of Android and iOS system and which mobile system is better, we just need to find a useful bridge for users to link iOS and Android system so that users can directly share the data between these two different mobile system. We assume that there are large number of text messages stored on your old phone, if you've just got a new iPhone device device or upgraded to new version, you'll be very excited to run it, but one of the most frustrated things is that you can't simply transfer messages from iPhone to Samsung Galaxy S9 or vice versa due to iOS is a closed system, it doesn't t make it particularly easy to move your SMS from iPhone to Android, there is no need to invest a lot of time and energy into the features of mobile system itself,  don't expect system itself to help you move the messages and other data.
But I'd like to move users into the other direction, you should not miss and need to pay more attention an excellent application - Phone Transfer ( Windows or Mac ), it provides users with full access permission to read the content stored on iPhone device without missing a beat, it can easily and safely penetrate a closed iOS device without iTunes and other app, then copy SMS from iPhone to Galaxy S6/S5 or vice versa due with just a few clicks, then you can get all your personal data transferring to another platform seems like a lot of hassle.
Take A Closed Look at the Key Features:
Transfer everything between multiple mobile platfroms
Easily Backup and Restore Phone Data to Local Computer.
Permanently Erase Everything from Android & iOS Phone
100+ Brands and 3000+ Mobile Devices Endorsed.
Supported Samsung Phone: Galaxy S9/S9+, Galaxy S8/S8+, Galaxy S7 Edge/S7, Galaxy S6/S5/S4/S3, Galaxy Note 8/Note 7/Note 5/Note 4/Note 3/Note2
Supported iPhone: iPhone X, iPhone 8/8 Plus, iPhone 7/7 Plus, iPhoneSE, iPhone 6S/6S Plus, iPhone 6/6 Plus, iPhone 5S/iPhone 5/iPhone 4S
Tutorial: How to Copy Text from iPhone to Samsung S9/S8/S7/Note 8
Step 1

Install and Run the Program

Download the program first and give it few seconds to install on your computer.. you just need to follow the instruction to complete the install. Then the app will be launched automatically and the main screen shown like this, then Choose "Switch".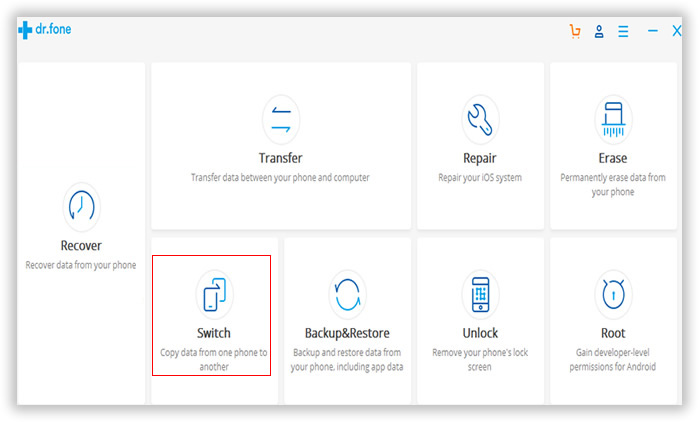 Step 2

Connect iPhone and Galaxy S6 to Your Computer

You need to plug iPhone and Samsung phone to a computer via USB cable. The program will automatically detect the devices. Please make sure the iTunes was installed on your computer.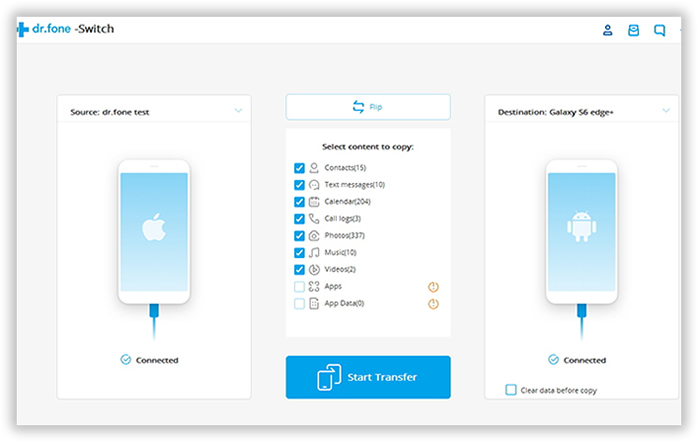 Step 3

Begin to Analysize the Content in Your iPhone Device

Once the detection is successful, you can see the iPhone is on the left and standing for source phone; while Samsung is on the right for destination phone, of course you can change the position by fipping them. Then this software will quickly analyze the content stored on your source phone.

Note: You can easily click the Filp button to exchange positions if you want to transfer SMS from Samsung phone to your iPhone device.
Step 4

Check the Text and Move SMS to Samsung S9/S8/S7/S6 or Vice Versa

As you can see, all the messages are dispalyed on the program with details, you will be asked to select content, just check the "Messages" in the option and Start Transfer button on the bottom to begin the transfer process. Don't forget that you can select multiple items at the same time.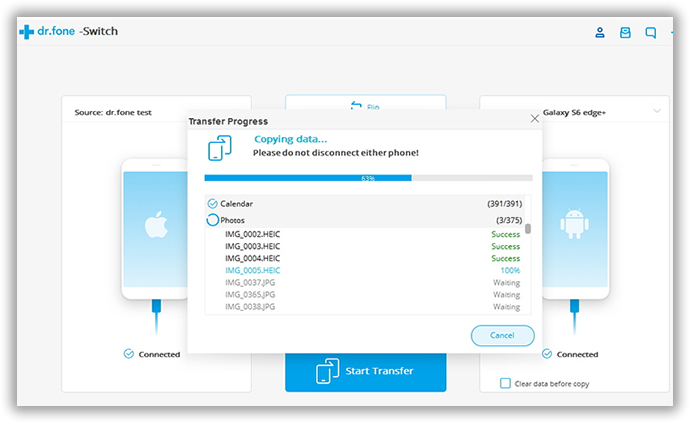 Transferring messagesa or other content from between iPhone and Samsung phone will take some time, it depends on number of files and total size of the content it process. Once finished you will see a confirm windows. just close this windows and disconnect your phone from computer then restart your phone to check the transferred messages, if you want to transfer contacts, this program also does a good job. Also you may need to check or backup your important Android messages to your personal computer, I recommend an article that talks about how to transfer SMS from Samsung to PC without any loss.
The software will let you store data from your old device to your new one in a hassle-free and speedy way. It is good for business owners because it will allow them to serve more customers and earn more income. Once you get a taste of all its wonders, you won't be able to give it up anymore. Take it step-by-step and you'll be done in no time.