One of the most common procedures among Android users is to connect PC and Android smartphone/ tablet via USB port in order to perform different tasks, such as file transfer, data backup, phone switch or data recovery. However, this task should be completely straightforward but it does not always work. Sometimes we get to meet with the reality that our PC does not recognize the Android device connected to it as a USB storage device. Undoubtedly, this It becomes a very frustrating problem.
Usually, when such a problem arises or when we see our Android device connects and disconnects constantly to our PC, we need to confirm the cable is in good state. I have checked many forum users who write consulting solutions to this problem, so I have decided to publish a list of suggestions to let the PC recognize your smartphone. The following 3 tips works for various Android devices such as Samsung Galaxy S4/5/6/7, HTC, LG, Motorola, Sony, running Adroid 6.0 M, Android 5.1/5.0 Lollipop, Android 4.4 KitKat, etc.
Tips 1

Changing USB Cable

As mentioned above, the fact is that one of the first steps we must take to this inconvenience is to check whether the USB cable is in good condition or not. It is best to change the USB cable to another to sort the problem out. It is quite easy to find a USB cable in nowardays.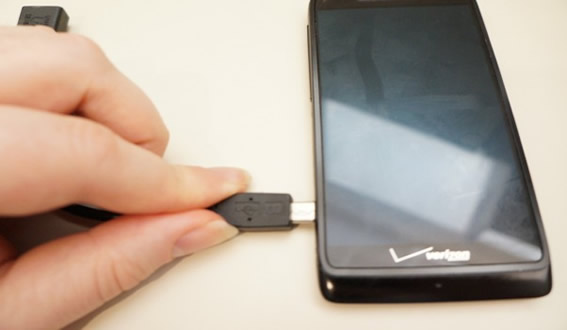 Tips 2

Enable USB Debugging Mode

First, make sure you have the option "USB debugging" enabled. You can see the state under About phone -> Developer options. If you do not have this option turned on, you have to go to "Settings"> "About phone " and press several times on "Build Number".

For different Android system, try to follow the 3 ways to enable USB debugging.
For Android 2.3 or earlier: Enter "Settings" < Click "Applications" < Click "Development" < Check "USB debugging"
For Android 3.0 to 4.1: Enter "Settings" < Click "Developer options" < Check "USB debugging".
For Android 4.2 or newer: Enter "Settings" < Click "About Phone" < Tap "Build number" for several times until getting a note "You are under developer mode" < Back to "Settings" < Click "Developer options" < Check "USB debugging"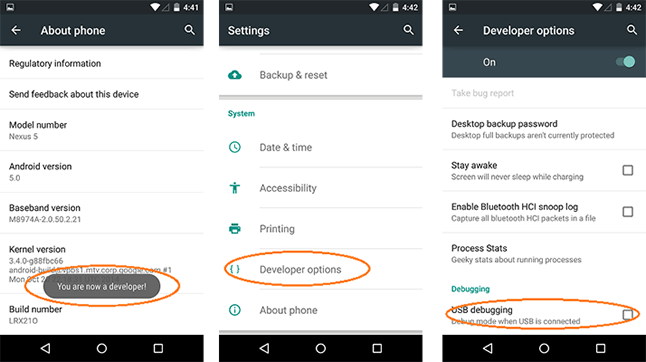 In many cases, you need to enable USB debugging on Android phone, including retrieve Data from Samsung S6, or export Android messages to PC, So you should know how to skillfully enable USB debugging on your Android device, you will be made use of these later on.
Tips 3

Check Android USB Driver on PC

Android USB driver must be installed on the computer in order to let the Android device being recognized by computer. if it was not installed or corrupted, then the computer doesn't recognize Android phone for sure. So you have to check if there was problem with Android USB driver.

How to Check Android USB Driver on PC:
On your computer go to "My Computer".
Click with the mouse right click and hit properties.
On the menu that appears, click "Hardware".
Click on "Device Manager".
When you tap out a list: Universal Serial Bus controllers . If there is no yellow mark, it means USB driver is installed correctly on the computer. Please skip to the other tips. If yes, then you have to download and install Android USB driver.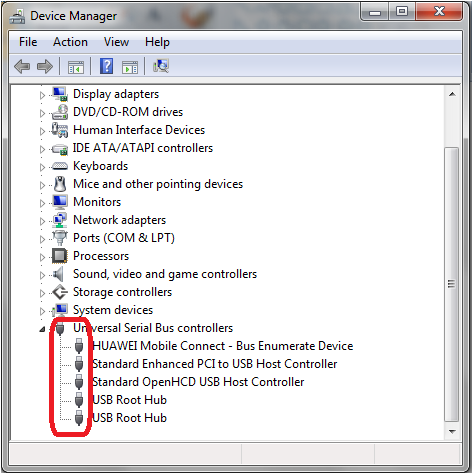 Tips 4

Reinstall Android Device Drivers

There are many Android phone being released in a year as well as the software. If the USB driver was out of dated, then it may also cause the phone not being recognized by the computer. So in this case, you have to reinstall the old driver and install the latest one from official site.

Go to "My Computer" and hit "Property"..
Hence the device does not recognize, click on it and select properties appear.
In the overview, you indicate that you have to install the device driver. If so, click where it says "change settings" and a sign that says you reinstall the driver or something similar appears.
There you click and you'll ask if you want to find the driver automatically or within the PC software. Click on the second option.
I now ask you to choose the type of device you want, you must choose the one that says, wire transfer, or maybe USB. Click there, and to read the USB device will be installed.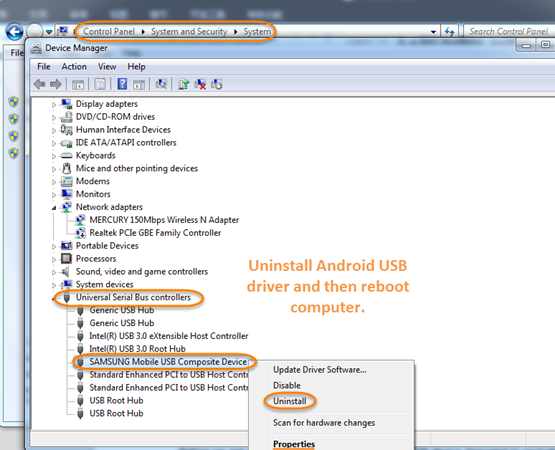 I hope that some of these solutions will help you solve the problem. So you can backup phone data to pc, root the phone or recover deleted files from it. If you know any alternative solution, do not hesitate to share with us.
Update on 2017: With the latest update of Android OS, the phone is connected as storage device in default. So if you want to recover deleted files from Android, then you should make the phone connected as MTP. You can change it on the phone once it is detected by the computer. This is brought by TunesBro software.