One of the things I like about Android over iOS is that there are new fancy devices published consistently almost at a monthly basis. Also, you can choose the preferred device from various brands, like Samsung, HTC, Motorola, Sony and LG. However, if you stick to iOS, there was only option left.
With the huge success of HTC One M10 in last year, HTC has long prepared to release its successor U11 to the market to continue the success story. According to a news report, 24% of HTC U11 buyers come from previous Samsung device owner. My friend Sarah is one of the consumer among the switch list. One of the problems she ran across when playing with the new device is how to import contacts from Samsung Galaxy S4 to new HTC U11 as she has no clue about this.
As an iPhone and Android phone owner, I had prior experience to solve the problem in an easy manner. I'd very happy to share my knowledge on how to address the problem for those people who have the same problem as my friend Sarah came across.
Method 1: Transfer Samsung Contacts to HTC Phone with Google Sync
Google sync is intended to sync contacts across different platforms and mobile devices, the only requirement to enjoy this service is a Gmail account, which will be created in first place when a new Android device is activated. Here are the steps:
1. Open a web browser on your computer and visit gmail.com.
2. Login into the account with your existing email address and passwords.
3. Click on the Gmail drop down list on the upper right corner and select Contacts to proceed.
4. From drop down list of More on the menu bar, choose Export -> All contacts-> Google CSV format and save the file on your computer.
5. Move the downloaded CSV file to the root folder of HTC One M8. Tap the phone app and touch the dotted line on the bottom, choose Import/export-> Import from storage. The app scans the files on your SD card and import the found contacts automatically.
Method 2: Transfer Contacts to HTC U11/M10/M9 with Deskop Software
It may happen commonly for Android users that encounter many difficulties when transferring all contacts from old phone to a new phone, it also will be time-consuming operation if you decide to do it manually, Androidsoft Phone to Phone Transfer program provide a common and reliable way for applications to create, transfer, and process messages without regard for the implementation details, it can copy everything between Android, iOS devices.
Step 1 Download and install Androidsoft Phone to Phone Transfer. Click Switch button when it is opened.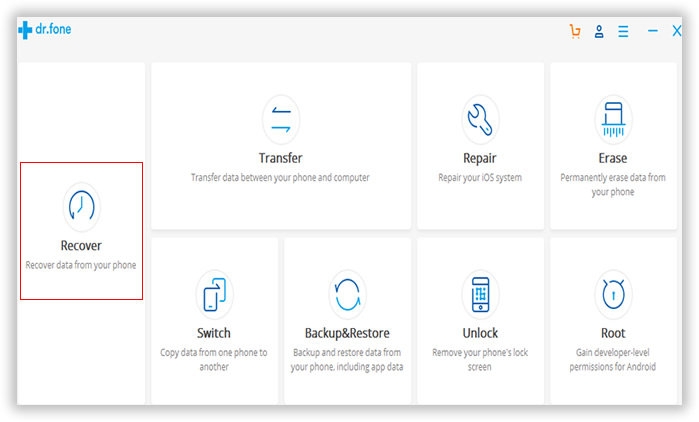 Step 2 Plug your Galaxy S4 and HTC One M8 to the computer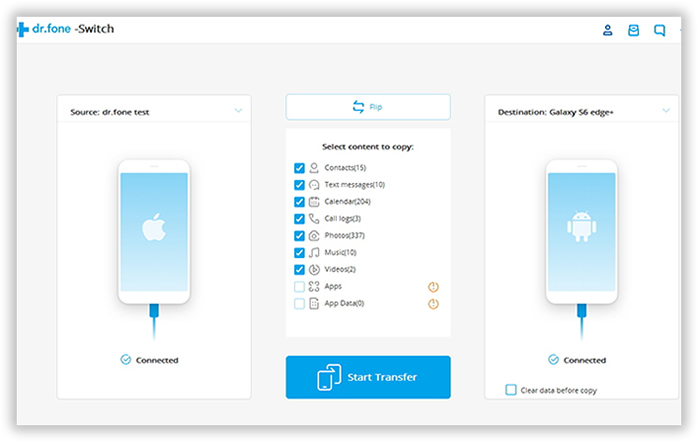 Step 3 The software will detect and scan contacts stored on Galaxy S4 when the devices are attached.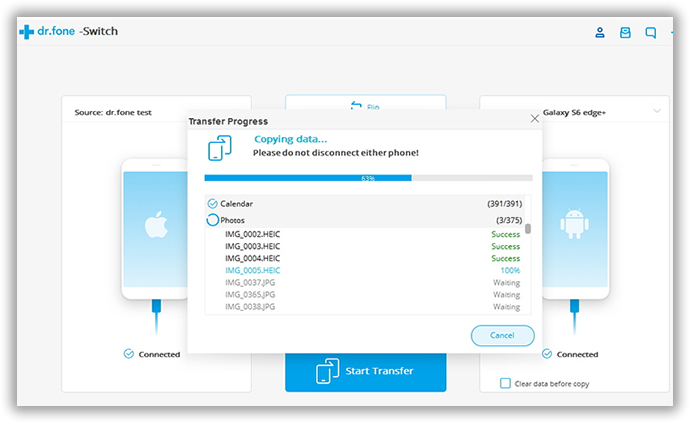 Step 4 Select Contacts option from the list and click Start Transfer to transfer all the contacts from Galaxy S4 to HTC One M8.
Supported Samsung Models :Galaxy S6 Edge/S6/S5/S4/S3, Galaxy Note 5/Note 4/Note 3/Note 2.
Supported HTC Models: One M9/M8/M7/A9/E8/Remix, Desire 626, Desire EYEsss
There used to be an Android app called HTC Transfer Tool that can easily transfer contacts, calendars and documents via Wi-Fi connections across different Android devices. Unfortunately, the app doesn't support the latest HTC One M8 yet according to user feedback from Play Store. However, the above two methods are already capable of helping you fulfill the transfer task. If you have other more suggestions, please feel free to comment below.
Comparisons:
| | | | |
| --- | --- | --- | --- |
| Features | Method 1 | Method 2 | |
| Contacts | | | |
| SMS, Apps, Photos, Songs, Videos | | | |
| Usability | | | |
| Security | | | |
| Copy Data between Different Phones | | | |
| Erase Data | | | |
| Supported Phones | iOS | Android, iOS, Nokia, BlackBerry | |