Most users after a usage time complain that their devices stop working properly. Android tablets and smartphones are slowed generate errors when running applications consume battery faster, freezes and even automatically restarts. So far, this happens for not care applications use or not properly eliminated. Eventually, neglect causes bugs (glitches).
If you want to have your Android device as when you bought it for the first time, follow these steps to do a factory reset (leave the factory default) or a hard reset it is useful when you cannot enter the system.
Note: Before you restore the factory default settings on Android device; you'd better create a backup for your personal data, so it's necessary to take a close look at this article: how to backup and backup Android.
Tutorial: Restore Factory Default Settings on Android Device
Step 1: Go to the Settings menu and select "Backup & Reset ". Once there, look for "Factory data reset".
In some devices other option to erase the SD card displayed (this option depends on the manufacturer and version of Android).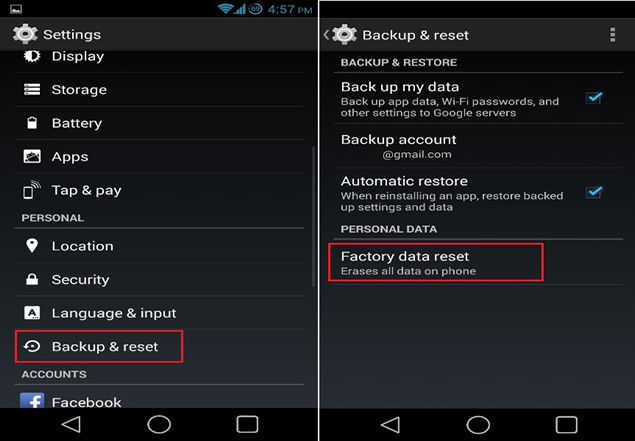 Step 2: . When you accept a reset, all the disk partitions, and cache data are deleted and the end of the process, the device automatically restarts.
Something you should not worry about is losing the data on your SD card, as this remains intact as the system folder (if you have not selected the menu the option to delete SD). So the phone will be at its factory. Another way to reset, in the case of Samsung, is using the software Kies, where you should go to the options panel and find the option "reinstall firmware". It is important to enter your password to the device to do so; otherwise you cannot make any changes. If you have assigned the key, the it will not have any restrictions.
Hard Reset In Case You Cannot Access The Device
For many users, especially those who have Smartphones Samsung, it is common to find problems during an upgrade to Android Ice cream. One of the most common is to switch to Swype keyboard is not listed, then it is not possible to type your login password as in despair try to turn the device to fix it, it does not work either.
If this is your case, I recommend this mode reset is done using the buttons on the device...
1). Turn off your device (do not give restart).
2). Make sure you are connected to power or at least have 80% battery.
3). When you turn on your device must press the power key plus the volume up key.
4). Once you do that, you will appear a menu with several options, find and select Wipe Data / Factory Reset and ready in a few minutes will begin to clear all information and leave as when you first purchased it.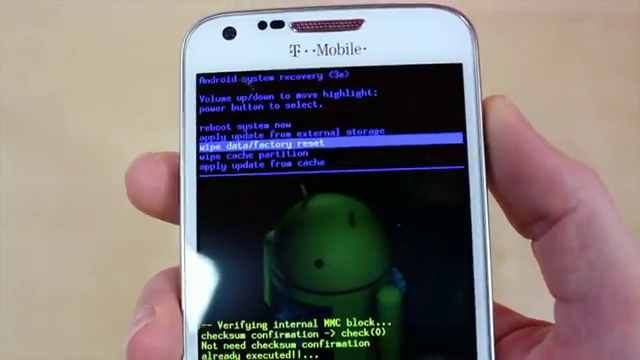 Once the process ends, the device takes to load. Wait for the logo flashes that takes a couple of minutes and once you change prompts you to enter your name and configure internet access.
When you do the steps above, do not make the mistake of other users, instead of pressing the power key and volume up key, press the down. This sends you to another menu, which can flexear device and installing another ROM with the help of Odin, which lets you update your system to ICS if you have not yet reached the update. This option is not recommended, because if you don't do well, it can harm your Android phone..