I bought a Huawei Ascend P7 a few month ago and enjoyed a great time playing with it because of the convenience it brings to me. I used it mostly for calls, text messaging and taking photos. This portable and lightweight device is small enough to fit into my pocket, ready to be used whenever the need arises. Because data are presented in an organized way, you don't need to turn pages back and forth while looking for a phone number or a name the way you do when using a memo pad, telephone directory, and other manual methods of keeping data. You can find a name among hundreds by just entering the name.
However, data that you keep in your mobile device are susceptible to loss due to broken device, computer virus, corrupted system, or accidental deletion. If any of these occurs, the loss will be absolutely detrimental, especially when you bothered to create a backup for all your files. And this is usually the case with most of the users that when some or all data cannot be opened anymore, they think that they cannot lost them forever; hence, their personal and business transactions are hampered. But nowadays, this situation can be easily remedied because of available software that can be used to recover data, such as Android Data Recovery
Android Data Recovery is the first software designed to recover deleted data for Huawei-based smartphones and tablets. As soon as you realize that some or all of your files had been deleted, stop using your device immediately to avoid old files being written by the new ones. You can't see the deleted files, but In fact, the deleted files are still from the technical view. With the help of Android Recovery, the lost files can be easily restored from your HUAWEI phone. And the process is quite simple and easy. Only need a few mouse clicks can get the job done.
Supported File Types: Contacts, Photos, Text messages, Music, Video, eBooks, Call History, Whatsapp Messages and document file
Supported HUAWEI Devices: ASCEND P8 Max/P8 Lite/P8/P7/P7 Mini/P6/G7/G6/D2, ASCEND Mate 7/2, Honor 6/4X/4C/3C, Media X2/X1/7 Vogue and many more.
Tutorial: How to Restore Deleted files from Huawei Smartphone
Step 1

Install and Run Android Data Recovery on a Computer

You need to download and install this program on your computer to make it possible to recover the lost files. The installation process is almost the same as the other software. It will be done successfully if you follow the default instructions. Double click the desktop shortcut to launch the software.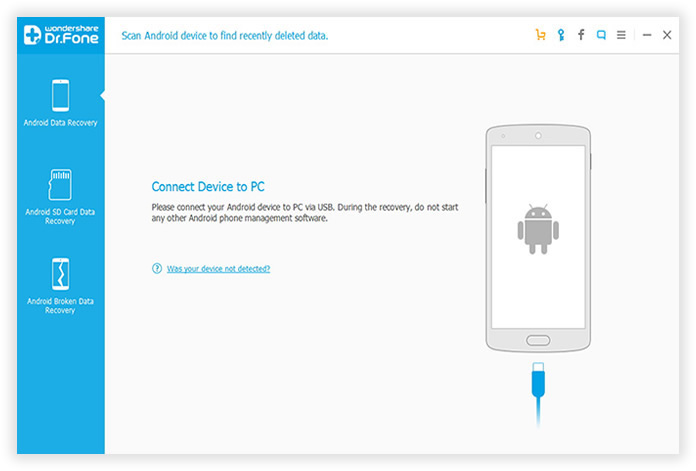 Step 2

Connect Yur Huawei Phone to the Computer via USB Cable

When the software was installed correctly, the next step is to plug your phone onto the computer. In this step, make sure the USB driver is pre-installed and USB debugging was turned on, which helps the program to find the connected phone.

1) For Android 2.3 or earlier: Enter "Settings" < Click "Applications" < Click "Development" < Check "USB debugging"
2) For Android 3.0 to 4.1: Enter "Settings" < Click "Developer options" < Check "USB debugging"
3) For Android 4.2 or newer: Enter "Settings" < Click "About Phone" < Tap "Build number" for several times until getting a note "You are under developer mode" < Back to "Settings" < Click "Developer options" < Check "USB debugging"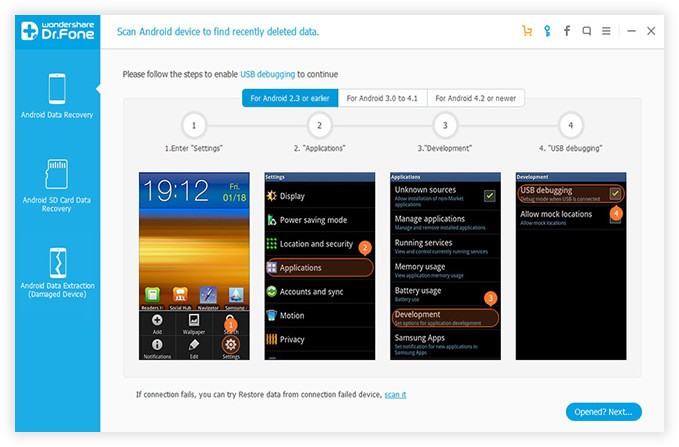 Step 3

Analyze the Attached Device

When the software scanned your phone, then it starts to analyze files stored on the internal memory and the SD card. This will take some time depending how many files on your phone. When the scanning process was done, Android Data Recover will list the found items on the main screen.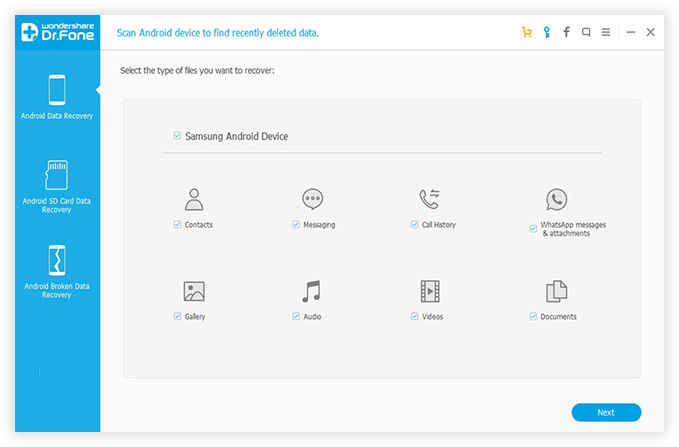 Step 4

Preview and Recover the Selected Files from Your Phone

 Check the items you'd prefer for recovery from the menu on the left sidebar. What's more, you can preview each file to see whether it's one you want. You are free to choose the files for final restore. When the files were selected, click the Recover button on the bottom and select a local folder to store the data. The less files you select, the less time it takes for the later recovery process. So it totally depends on the need of each individual.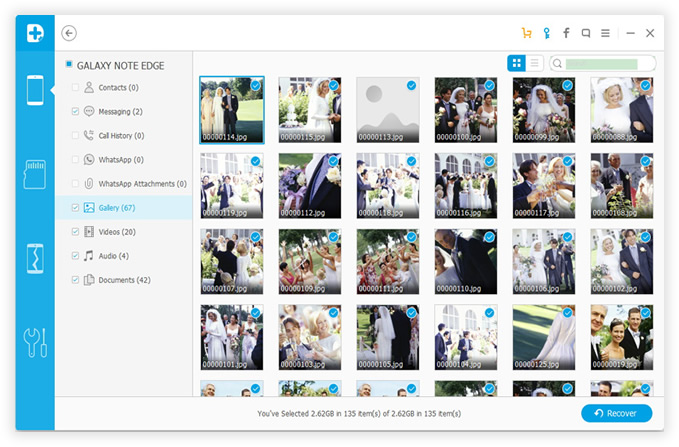 Data is much more important than the phone itself. So it's very lucky to get the lost data back thanks to the software. With the help of Android Data Recovery, you can almost restore any kind of file on your Huawei phone, no matter which model it is. Actually, this program is able to recover 100+ brands and 2000+ Android smartphones. So you are in great help if other family members or friends had the needs for data recovery. Still not convinced? Have a free trial now! Then you will find how useful this piece of software it is.