A few days ago, I heard from one of my co-workers that his new bought Smartphone got stolen. And he lost all of the important contacts like business partners and existing clients miserably because he has no clue on how to back up the phone. We all know that Samsung Galaxy phone has been equipping with Android operation system and enough inbuilt storage memory. User can also directly and conveniently extend its storage capacity by inserting external memory card. Nowadays, there is a very big chance to lose the data on your phone due to phone lost, broken or unexpected operations. It reminds me badly that data backup is a very crucial task for everyone who has important data stored on the phone, especially business contacts. And then there are even more of you who want to know how to avoid it in the first place, the simplest method is to transfer contacts from Samsung Galaxy S9 to PC right now.
In many cases that contacts data are stored in SIM card or internal memory by default, there are many reasons causing your contacts loss, such as accidentally deleted, Factory reset, damaged, rooted and failed to upgrade system or Android might be stolen, broken, or lost, and that means all of important contacts will be gone forever. However, most of the smartphone shipped don't provide backup option in default. Mostly, we have to use third party app to achieve the goal we are planning to. I had spent couple of hours on finding the proper solution to fix the problem.
Fortunately, I got the answer I want after a few tries. Android Assistant is a nice desktop app developed for Android users. The main purpose of this app is to help Android owners manage their devices more easily and efficiently. There are only a few steps to back up the data to computer including contacts, text messages, photos, music, videos and even apps. You need to go through simple steps that's mentioned below, take a quick glimpse.
Supported Samsung Smartphone: Galaxy S9/S9+, Galaxy Note 8/7/5, Galaxy S8/S8+, S7/S7 Edge,S6/S6 Edge, S5/S4/S3, Galaxy Tab/Ace/Core/Mega.

Supported Operating Systems: Windows 8/7/6/Vista/XP and Mac OS X 10.10/10.9/10.8/10.7/10.6
Part 1 : How to Export Samsung Galaxy S9/S8/S7 Contacts to Computer
Step 1

Run the Program and Connect Your Phone to PC

The Android Assistant works well on both Windows and Mac OS X. Download the corresponding file from above link and install the program on your computer after download. Launch the program when installation is completed. The main user interface is like this. Now click "Connect" icon on the main window.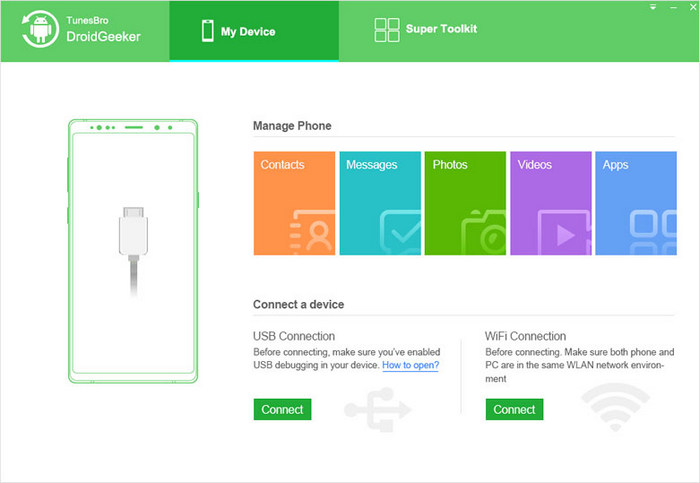 Note: Connect Your Phone to PC via USB or WiFi
Plug your Samsung mobile phone to computer via USB cable. Make sure USB driver is pre-installed to let phone being recognized by the computer and Android Assistant. Also turn on USB debugging on your device. Click OK on your phone's main screen when the program asks you to allow permission to access your phone's file system.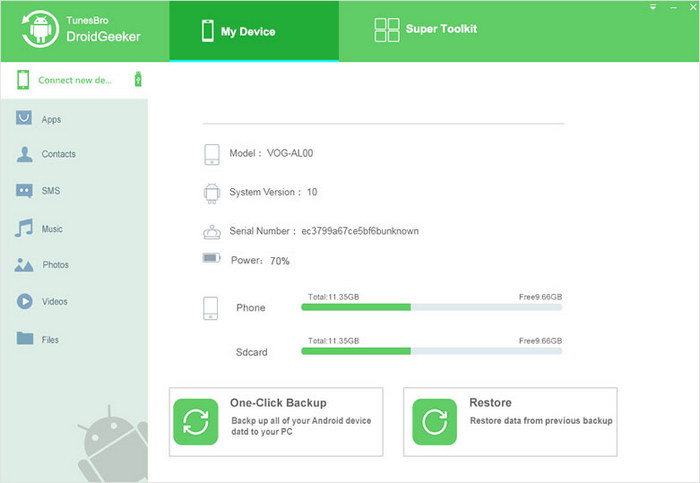 Step 3

Analyze Phone and Start to Export Contacts

When your phone was detected by the app, it then starts analyzing the whole file system to scan the contacts and other data stored on the phone. It will take a few minutes to finish the scanning process. Click Contacts tab on the top menu and choose Export at the top. Move the mouse to Export function at the upper section of the screen. Click on it and choose a file type from the drop-down list to save the contacts. Usually, CSV is preferred becasue you can re-use it at other places.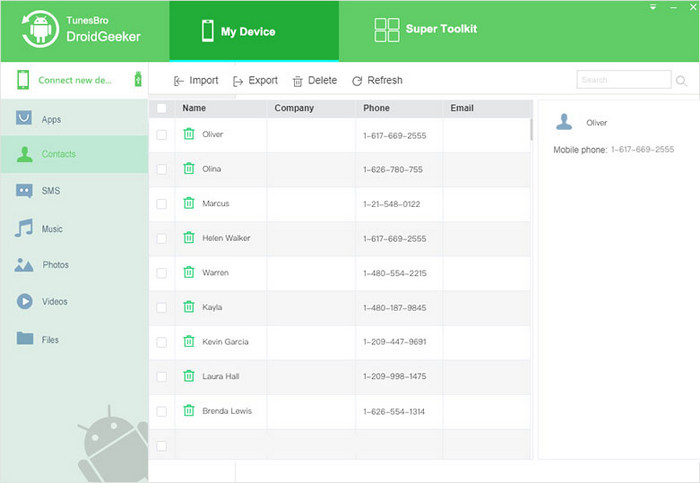 Tip 1: Directly Edit, Add Contacts Information via PC
You needn't spend any time to manually add or edit new contacts information on your phone. This program provides you multiple choices to mange your phone contacts on PC. You can click the "Import/Export" button and choose a corresponding action from the drop-down list. If you have a lot of contacts in your Gmail, Facebook or other contacts on your phone, this program can easily help sync to your phone. Save your time.
Tip 2: Fast Find and Merge Duplicate Contacts
Maybe there are many unwanted contacts info that consume lots of space in your phone's internal storage. And the duplicate contacts that may contain the save name, phone number or other info that will appear on your phone. Click on the "De-duplicate" button to find duplicate contacts and then click "Merge" to merge all the contacts or selected contacts.
Contact backup is just a small portion of the full functions provided by Android Assistant. You can also easily backup or restore your phone with this app. What's more, it also has a built-in free media converter that automatically transcode the media files to Android friendly file formats. Additionally, you are free to send text messages or contacts on the computer which is much more convenient than doing the same task on your phone. In one world, I can't live without this amazing app like its name suggested. Now, just give it a try if you're desperately need to backup contacts on Samsung Galaxy S5/S6 to PC, you won't feel down!
Part 2 : Backup Contacts From Samsung Galaxy S9/S8/S7 to Computer
When you searched in Google, you will find a couple of options you can follow to backup Galaxy contacts to computer. Before I wrote down this article, I already tried 3 different ways to transfer contacts to my computer. The first method I tried is using Gmail. The steps are not complicated.
You should have a Gmail/Google account first. Then download and install Gmail app from Play Store. Next, sign in the account and sync your contacts to Gmail. After this, all selected contacts will be synced to Gmail server. You can export the contacts or restore them when needed. You can also do this with Outlook.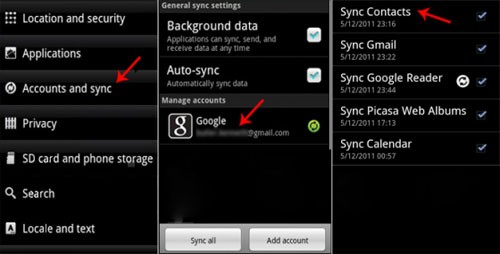 The problem with Gmail is that it would mess up your contacts list. The phone number was not the right one of contact name. And some of the contact names were messed up with unknown characters. May be it is my own case. However, I should let you know the risk first.
Related Articles
How to Save Contacts from Android to Computer