Facebook has grown immensely and dwarfed most of the social media sites that came before it. Currently, it is one of the sites where a good number of people spend their time online, either getting amused by funny posts made by other people or simply catching up with friends and family. The savvy have also discovered how to use it to market their products and grow their businesses and it is presently one site with a number of applications depending on how you want to use it. But that notwithstanding, as a social site, it is primarily used for entertainment.
And as such, it has lots of videos, audios and photos. Downloading the images and photos is easy since all you need to do is right click on it and save the image. However, this is not the case with videos. If you ever tried downloading a video or an audio clip in the past directly from Facebook, you may have been disappointed that you couldn't do it just like that. Below is a brief description of how you can download both public and private Facebook video on Android.
Before delving into the specific steps, it is worth noting that there are many of such third party websites. To find them, all you need is a simple search on Google on how to download audio and video from Facebook, and you will be presented with a multitude of results you could use. In most cases, the processes of getting the download will be nearly the same – fetching the video URL, pasting it on the third party site, and then downloading the file.
How to Download Public Videos from Facebook on Android
Our preferred third party site for downloading public videos on Facebook is Getfbstuff.com, which is simple and effective for fetching Facebook videos. Below are the steps on how to download Facebook video on Android.
Step 1: To be successful with this method, make sure the video file you want to download is hosted on Facebook servers and it is available for public access. You don't have to worry about this though because unless it is a link, the video will always reside in Facebook servers.
Step 2: Right click on the address bar and copy the video link and then head over to the Getfbstuff.com. All that you will then be required to do is simply place the video or audio URL in the section shows below and then hit the "download" button.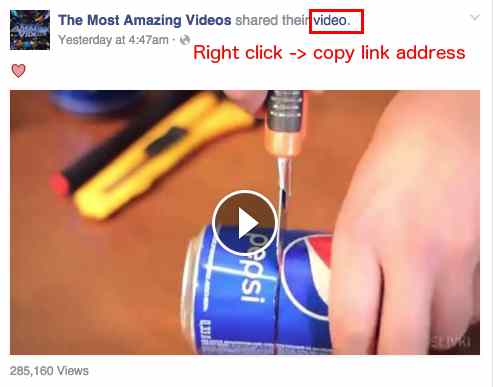 Step 3: With this third party site, when downloading videos, you can choose to download either in low resolution or high resolutions. Identify the quality in which you would like to download the video, and then right click and select, 'Save As' to choose the name as well as the location in your computer where you would like to save the video.

Kindly note that you will not be able to download some videos and audio files because the uploaders have set them as private. If that is the case, use the method described below.
How to Download Facebook Private Videos on Android
Private video can be only seen by friends on Facebook so public access is forbidden in default. How to download private video from Facebook? You can also do this via getfbstuff.com but the process is a bit harder.
Step 1 : Login Facebook account on a web browser. Then open the video in a new tab and then right click on the page and select "View Page Source." You can also do this by selecting CTRL + U in your keyboard. Once the page source opens, copy everything on that page by clicking on CTRL + C.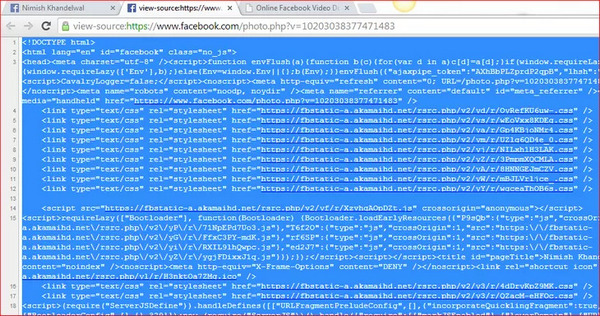 Step 2: Head over to Getfbstuff.com and click on the FB Private Video tab. You will be presented with a box where you will paste the source code you just copied of the video. Once you paste this, click the blue download button.

Step 3: Download and save the video. Once again, you will have to choose the quality in which you want the video to be downloaded, after which you will give the file a name and choose its location within your computer.
With all the third party sites available, downloading Facebook video files should not bring you any challenges. Hopefully, the methods described above works well for you.