Mate 30 is Huawei's latest flagship phone that is designed to take on Samsung Galaxy Note 10 and Apple's 2019 iPhone 11. Mate 30 is a great phone that includes all the cool features you'd expect from a premium phone. However, after getting the new Huawei device, you will find Google apps and services are not available due to the US ban. That means you won't be able to install your favorite Google apps, which is very disappointing.
Fortunately, there is a workaround to bring Google services back to Mate 30, the same for other Huawei based smartphones . However, the process is not straightforward to some folks and may put your phone at risk, so proceed with caution. To make sure everything is safe and sound, we recommend you have a backup of your device before moving ahead. In this guide, we are going to show you how to install Google apps on the Huawei Mate 30.
What is Google Service Assistant?
In the section below, we are using Google Service Assistant (Chinese name: 谷歌服务助手) to install Google apps and services on your phone. In reality, Google Service Assistant is a cool tool that allows you to run Google's apps from the Play Store on Huawei-branded phones. Basically, you can update and install all types of Google apps on your Chinese phones without any restrictions. This practice is common in China and other territories where Google services are not available.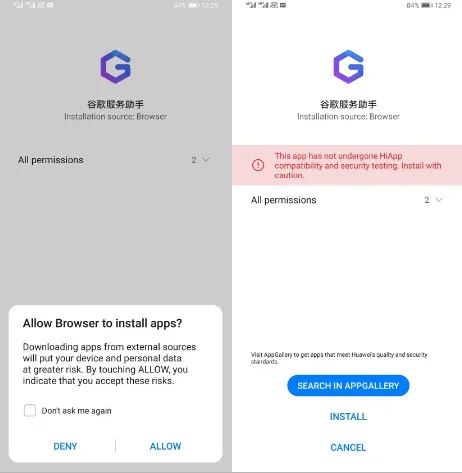 How to Get Google Service Assistant App
The app is accessible to all users out there and you can download it from this website or search the apk name on web. We recommend you stay away from any suspicious download links on the internet. Otherwise, you end up losing the use of your phone.

How to Install Google Apps and Services on Huawei Mate 30
Step 1: Once you are in the download page, hit the Download button on the screen and then follow the on-screen instructions to complete the installation. (The app requires admin access to work on your device).
Step 2: When you are done, the app will start downloading Google Mobile Services, including the Google Play Store and other Google services. Once done, hit the Blue button to proceed.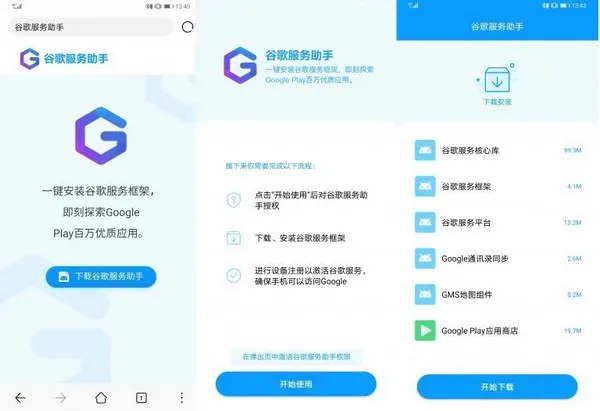 Step 3: Wait for the process to complete and then you will be able to sign in with your Google details and use Google's services.
If you want to get rid of the Google Service Assistant app, just open Settings on your phone, then tap on Security, and hit More Settings. From here, select Device Administrators and deactivate its admin permissions.
Note that you won't be able to use DRM-enabled apps on your device as the Mate 30's Play Store is not officially certified by Google. Some apps like Netflix, Instagram, or WhatsApp may not work on your device.
The Bottom Line
Huawei Mate 30 is one of the best Android phones you can buy right now. It has great design, excellent camera performance, and exciting features. However, one major drawback is that it does not support Google services. Luckily, there is a simple workaround for getting your favorite Google apps on your device.