Switching to a new phone is always a fun and exciting experience. However, it also comes with the hassle of having to cleanly transfer all data from old device to the new one. If you have been using a Motorola device or have just purchased a new Motorola phone, you are probably aware of Motorola Migrate. It is a native Motorola app that helps users seamlessly transfer data between two Moto phones or between a Motorola phone and an Android/iPhone. It works in a manner similar Samsung Switch and is a very useful app to have when one or more of your phones are Motorola.
However, if you are trying to use Motorola Migrate with an Android M (Marshmallow 6.0) phone or above, you will get an error message telling you that it is not compatible. Around four years ago, Motorola discontinued support for Android M for its Migrate app and cited redundancy as the reason. Motorola Migrate cannot be used for any of the newer versions of android since Marshmallow, a decision that has left users slightly confused.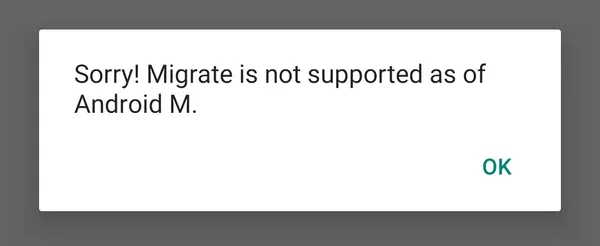 The good news is that there are a number of other apps and workarounds for you to transfer data to and from a phone running Marshmallow Android or above. Let's explore a few of them in detail.
Moto Migrate App Alternative 1: Cloud Sync Tools
The main reason Motorola discontinued support for Android M and above is redundancy. They felt that the newer versions of the OS had native options in place to help you with data transfer and hence there was no need for an app like Migrate. While this is true in essence, using Google's Sync tools can be something of a hassle. Before you begin, make sure you have Google Photos and Google Drive installed on both your phones.
Let's start with your contacts. Ensure that you are logged into your Google account in your old phone. Go to your contacts and from settings, select the 'Export' option. You will be asked to name your export file. Then, log into the same Google account on your new phone and from contacts, import the same file. You should now have all your contacts.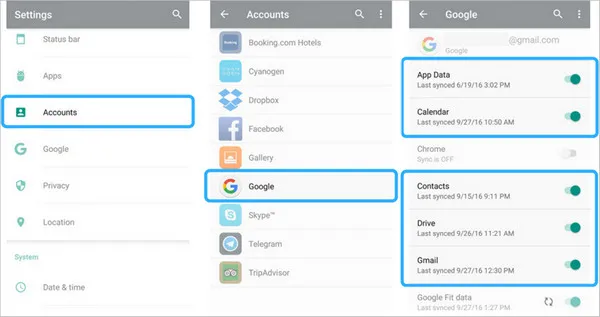 It's time to backup your photos. Launch Google Photos and go to settings. Click on 'Backup and Sync'. Once the process is complete, you simply need to launch Photos on your new android device and you will find all your photos have been transferred.
Google Drive can be used to backup and transfer all your miscellaneous files. Just copy and paste your folders from your File Manager and upload it to your drive. You can then access it from the new phone and download all the files.
Google's cloud tools are handy when it comes to backing up data and the other sync options work well for photos and contacts. However, you don't have a single point of transfer in place and need to rely on multiple apps. Added to that, you also need a stable and high-speed internet connection which can be something of a hassle.
Moto Migrate App Alternative 2: Androidphonesoft Tool
Androidphonesoft Phone to Phone Transfer is a brilliant app that is extremely useful when it comes to transferring data between phones. The best part about this app is that it has been tailor-made to help you seamlessly move your data onto a new phone. Here's how it works.
Download the tool from below link. Connect both your devices to your computer using data cables. Launch the software and select the Switch module. Use the Flip button in case the Source and Destination devices are mixed up.
Select the files you want to transfer from your old phone and just click on the 'Start Transfer' button. The transfer will complete within a few minutes. Unmount both your devices and you can start using your new device with all your transferred content!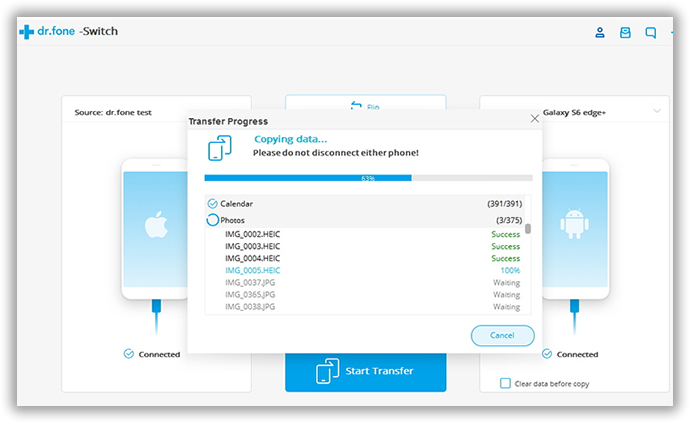 Androidphonesoft has been reported to work remarkably well with Motorola transfers bet it Android M or any other version. What's more, it works well across all iOS and Android devices and can transfer up to 15 different file types, be it messages, contacts, images, ringtones, wallpapers or any other file you might typically find on a smartphone.
Moto Migrate App Alternative 3: ShareIt
First ensure that both your devices are connected to the same WiFi network. ShareIt essentially uses a local network to transfer data. Next, download the ShareIt app on both phones and launch it. Now select the SEND button on your old phone.
Now, select all the files you wish to transfer from your phone. Hit the NEXT button. You will be taken to a radar-like screen where you can find and select your new device. As soon as you select your new device, the transfer process will initiate. Select the RECEIVE option on your new device and the transfer will take place.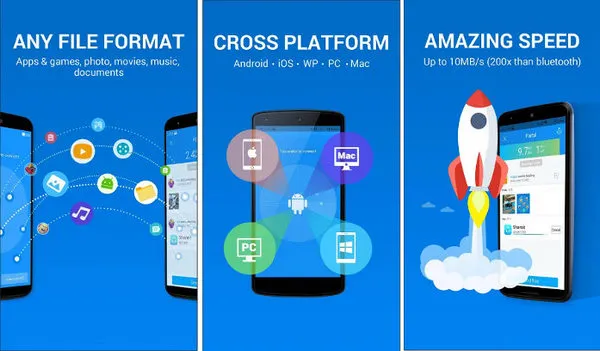 ShareIt is a fast and safe method to transfer large amounts of data between two devices. However, it only moves your data from one device to the next. It doesn't read the different kinds of files and there is no guarantee that the apps on your new device will be able to smoothly access those files. What's more, the app isn't entirely bug-free so you might want to think twice before entrusting your data with it. It can also take a very long time to transfer data and might hang when used on some low-memory devices.
Conclusion:
While Motorola Migrate is a useful app when it comes to transferring data on Motorola phones, it is not the only method. In the absence of such an app, you can utilize any of these workarounds and still get the desired results. However, only an app like Androidphonesoft will be able to give you a one-stop solution to all your transfer needs. What's more, it relies on direct transfer without having to worry about hassles like Internet speed and data loss.