People are now changing their smartphone more frequently than before. One of the problems during the transition is how to move data from one device to another. Though you can do it manually, it would take a lot of time and drive you crazy if you had a lot of items to be transferred. Simply put, contacts and photos are easily to be copied from one phone to another if you already synced them with Gmail or Outlook. But for other types of data, you have to use third-party apps or software to do that.
In this post, I will introduce the most popular phone transfer software/apps to help you out. You may have problem with one of the suggestions listed below, however, I am sure one of them will work definitely for you. So please don't be too frustrated for failure. If so, then move to another. It only takes a couple of minutes to try each out. You can choose the one that best suits to you.
Smart Switch – Best Phone Transfer App for Samsung Users
When it comes to Android, Samsung is the name that you can't ignore. Samsung already made a great app called Smart Switch, which you can use to transfer all kinds of data from other phone to Samsung devices. Smart Switch is available on Android and iOS. This is a great benefit for Samsung phones, as other brands are not providing such kind of solutions.
How to use Samsung Smart Switch: Download this app on the old and new phone. Then connect the two phones with USB connector shipped by default. Now launch the apps on the two phones and select the items to be transferred. A few minutes, all the selected data will be synced to the new phone.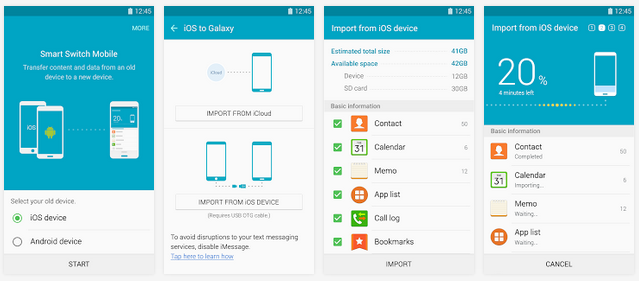 Move to iOS – Best Phone Transfer App for iPhone User
If you are switching from Android to iPhone, it is now easier than ever. Apple has created a simple procedure and based on a completely free data transfer tool. The app is called Move to iOS. It allows you to transfer all contacts, photos, calendars, notes and many other data from Android smartphone to iPhone. How to use Move to iOS
Step 1: Start the configuration wizard with the initial iPhone. When you reach the screen Applications and Data, choose the option to transfer data from Android.
Step 2: In the Android smartphone, go to Google Play Store and download Move to iOS app.
Step 3: Again on iPhone, tap Continue on Transfer from Android. Then wait until a ten-digit or six-digit code appears.
Step 4: Enter the code you see on the iPhone and Android. Then you can choose the data you want to transfer, once selected the transfer process will start and it is advisable to stop work on both devices without touching them, even when the Android device indicates that the process is complete.
The entire transfer process may take a while. Everything will depend on the amount of data you need to transfer and the speed of the Wi-Fi connection that both devices are connected. This is all, with these simple steps can spend all you have on your Android to an iPhone, start using it quickly with little complications.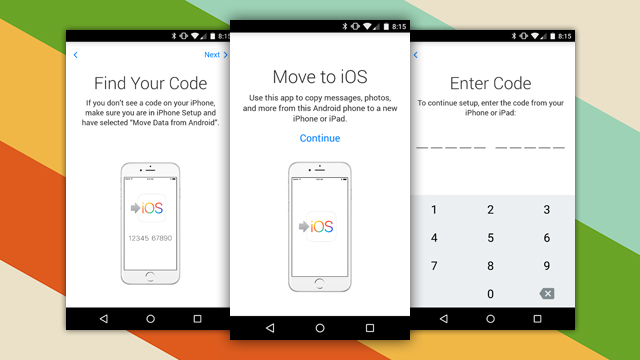 PhoneTrans – Data Transfer Software for All Smartphone Users
Unlike Smart Switch and Move to iOS, Androidphonesoft PhoneTrans is a phone to phone transfer tool that works on Windows PC and Mac. One of the biggest advantage over the above apps is that it supports a wide range of smartphones, including Android, iOS, Blackberry, Symbian and Windows Mobile. With this program at hand, you should absolutely not worry about the data transfer anymore. Besides data transfer, it can also backup phone data to computer or restore from existing iTunes/iCloud/Blackberry backups.
How to transfer data with PhoneTrans: Download the Program on a computer. Connect the two phones to the computer with USB cable. Select the data you want to transfer and click Start button to copy data from one phone to another. Below are a few simple tutorials with detailed step-by-step guide:
How to transfer data Between Android and iPhone
How to transfer data Between Android and Blackberry
How to transfer data Between Android to Windows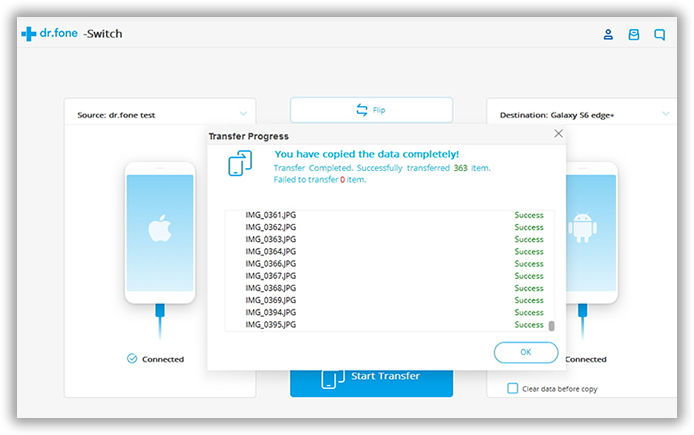 I have tested 5 different smartphones with the above software and PhoneTrans is currently the best in regards of phone support and transfer speed. Move to iOS failed to detect the phone for twice and Smart Switch failed 3 times. For new Samsung users, Smart Switch is the best way to go and for iPhone users, Move to iOS is the top 1 choice. However, if you used other brands of smartphone, PhoneTrans is the No.1 option for data transfer.