Samsung Kies is a software application used to communicate between the latest Samsung devices, and has adaptations that keep running on both Windows and Mac operating system. With this application, it is conceivable to synchronize your data with your PC. Additionally the main use of this application is you may update your device software version with your own.
Many people trends to use Kies for backup, data transfer and firmware updates, however, as iTunes, Samsung Kies is only accessible for Samsung Smartphones and tablets, which mean it, will not work with other brand of Smartphones and tablets like LG, HTC, and Motorola.
Samsung Kies Is Not A Ideal Tool for Managing Samsung Phones
In the past years, there were hundreds of Samsung users  report the situation that the Samsung kies didn't solve their problem,  I summarized the following issues that we collected from the users.
My Samsung S5 often fails to be recognized by the Kies when it is plugged into the USB port.
Kies often drop or duplicat my contacts, it won't recognize when a name has been updated.
The sync process does not complete, and sometime the original contacts disappear magically.
When you try to back your phone, Kies will suck at "device's file list is being prepared" no matter how long you wait.
More ... serach Kies review sites in Google, you will find how bad it is!
Let's Take a Look at Samsung Kies Alternative Application - Android Manager
A lot of people do not like Kies, you will find out that it really worse utilities and the company has done nothing to improve it yet. For better management, you may need to seek an alternative to Samsung Kies if your device does not support the application or encounter any issues listed above. Even worse, it tends to be slow at times. As an alternative to Samsung Kies you should try Android Manager (Windows and Mac version are now available), which is compatible with any Android device and allows you to easily manage and control your Android device via computer. This program not only do whatever Kies can do in managing Samsung and tablets, but also send massive SMS from your PC.
Backup and restore Android data to/from computer without loss, see how to backup messages and contacts.
Freely and easily manage the Android contacts on computer, such as add, delete and edit existing contacts.
Directly download and install Android App via computer.
Perfectly work across 2000+ Android phones including Samsung, LG, HTC, Sony.etc..
Directly send and receive text messages, especially group messages from computer to any other phones.
And more >>>
Let's Look at How Samsung Kies Alternative Software Works
Step.1

Install and Run the Program and Connect Your Phone to PC

free download, install and run the program on your computer, available for Windows and Mac version. Then plug your Samsung phone or other Android device to your computer, once the device was detected and recognized by the program, you will see the main windows as blow.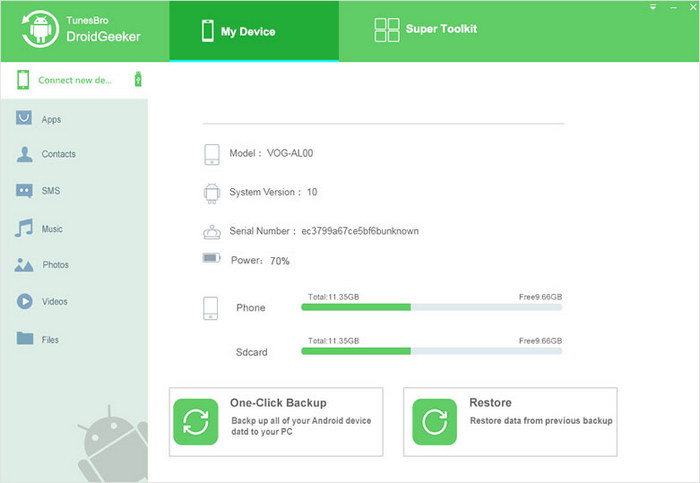 Choose the Managing Options As You Need
Navigate to the left menu of the program, you can see there are many managing options shows in categories for your choice. Including "App", "Music", "Videos", "Contacts", "SMS", "Files" and more. Here we take Contacts and SMS as example to explain how it works.
Step. 2

Manage Your Contacts Directly

Click the "contacts" tab and it will list all contacts details on the program. when you make any changes on the contacts, such as add new, delete, modify on the program, it will automatically sync to your device. Users can import contacts from other resources, including Gmail, Facebook, Outlook, and export current contacts to computer for backup. ;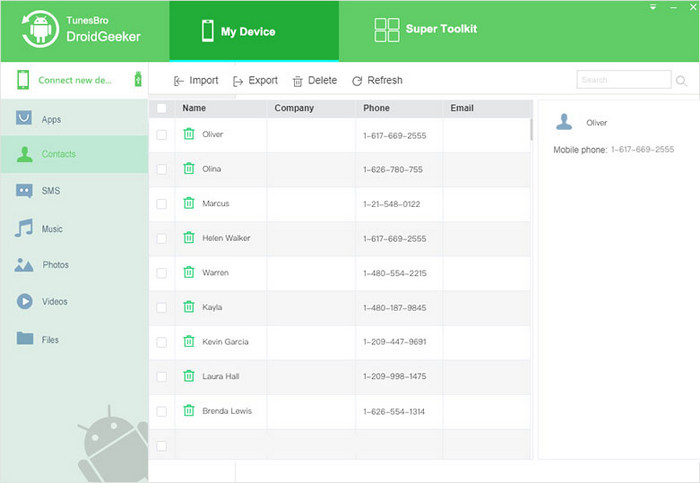 Step.3

Manage Your Text Messages Directly

After you tried the SMS features, you'll find it so powerful. Import and Export are frequently used functions for all users, it could export all messages conversation to computer, and import old SMS backup file to your phone again. "Send/Receive SMS" - Another powerful feature is the enhanced ability for users to directly send messages from PC to other phone without your own phone. A good choice for group-messaging.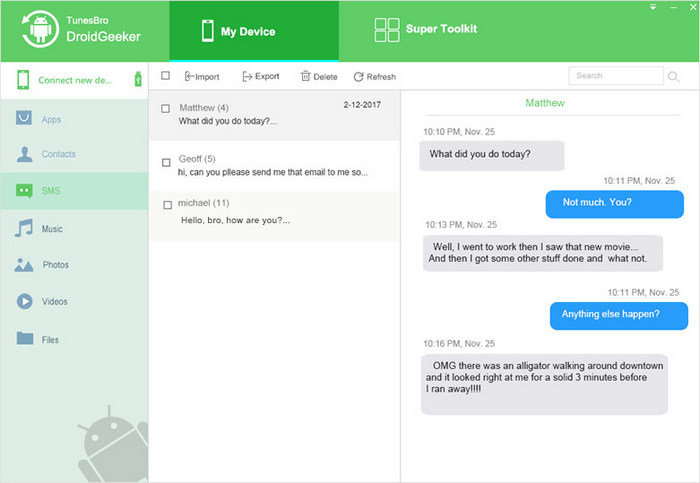 Step.4

Backup and Restore Android Data

It would be so terribly inconvenient if you loss your phone or accidentally delete your important contacts, messages, so  it is necessary for all users to back up the Android data in case it happens to you. Go to the main windows of the program, you can see "One-click Backup", click it and select a location to save the backup file. It will take a few minutes to finish the process.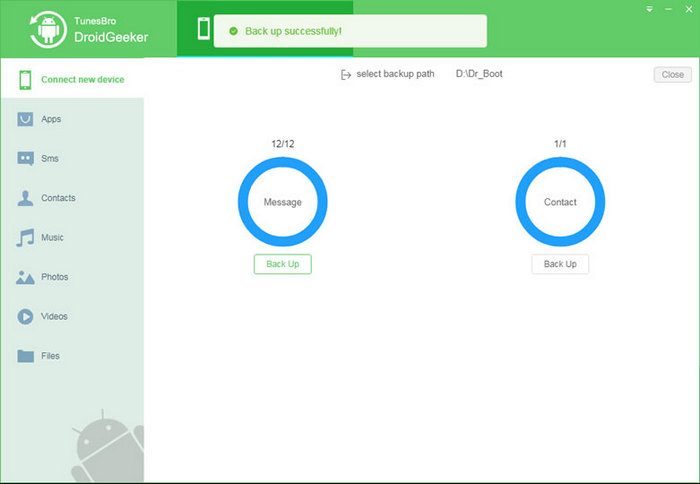 In my test, this Android assistant tool is really a great alternative software to Samsung Kies because it doesn't require you to change the way you work with your contacts and task, all it brings to users are the enhance experience and help. I would argue that Kies is not quite as seamless or pretty as such Android Manager Tool, it is getting better and better. Why not download and try this Samsung Kies alternative software?