Our lives revolve around various apps now. If you are a shopaholic, your day probably begins and ends with a look at what's on sale in that online shopping app which you have on your phone. For guys, it is mostly strategy games that take up most of the space on the phone. From children to grown-ups, everybody has those special few apps on their mobiles which they just cannot live without. So what happens when you are buying a new phone and selling off the old one? Do you have to waste your precious internet data downloading all those apps yet again? Most of us do just that when we shift from one phone to another. Not anymore!
It's time to get acquainted with the new Mobile Transfer application. This useful program allows you to transfer app from your old Android phones to any new phone whether it is Android, Nokia or even iOS. No more deleting your old app, along with the locally stored data on your phone. No more downloading everything all over again on your new phones. With the app, all that is history. This amazing app extremely easy to use, safe and totally risk-free.. It takes a back up of all that you want to save and transfer to your new phone. You do not need to worry about any loss of data or hacking of your personal information and accounts.
It will bring yourself a headache to copy files between Android phones, it's painful, slow and might even work, it's not the most reliable method. It's definitely not the easiest way to transfer files.
In our tests, we found that if use Bluetooth to transfer huge files, your phones may get disconnected or stuck several times during the transfer, it's error-prone and time consuming.
How to Copy Data from Android to Android - Mobile Transfer
In fact, compared to Bluetooth, Mobile Transfer Software is highly recommended for phone users as it makes it extremely easy to transfer everything from one Android to another without loss of quality, including text messages, contacts, photos, videos, apps and other files. The eye catching feature of this application is its ultrafast transferring speed, it also allows you to backup and restore phone data without root, and help you completely erase data on your old phone. It's an extraordinary software, which you have yet to discover. Take a close look at how it works and what it can do for you.
Step 1

Install the Program and Connect Both Android Phones to Computer

Firstly, download and install the Phone Transfer Application on your PC (Windows or Mac), then launch it to get the primary windows. Here. you should select 'Switch" option and Next. You need to connect your two phones to the same computer via USB cable.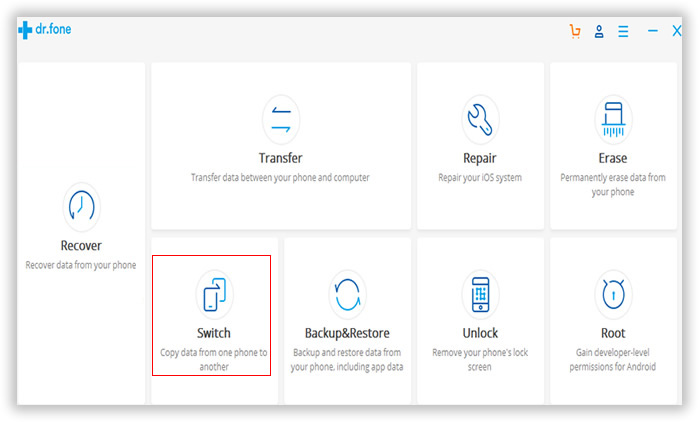 Note: As you can see, it was integrated together with many features including phone transfer, data restore, data erasing and data back.
Step 2

Detect Your Phone and Select the Data Types You Want to Transfer

When the program detects your phones successfully, it will display details and images of the Smartphone, you can select the data types you want to transfer. You will notice that two phones will be displayed as "Source" and '"Destination", you can simple click the "Flip" to change the places of your two devices,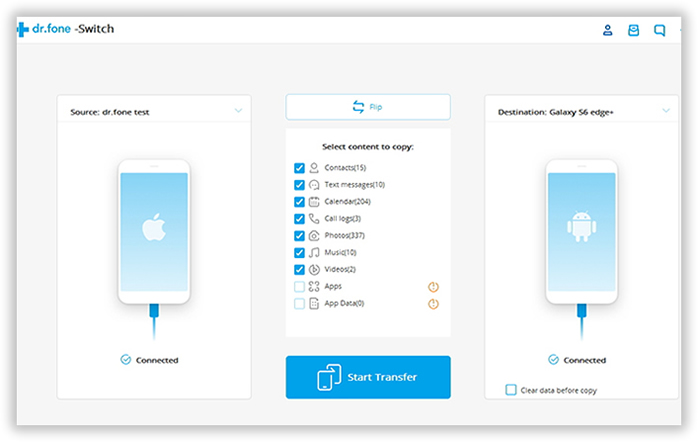 Step 3

Ready to Transfer Data from Android to Another

The program will deeply analyze the content that stored on your source phone, these data will be listed in the middle of the program with numbers, including contacts, messages, Apps, photos and more. The final step is just mark the data and click the "Start Transfer " button to get content moved to your Destination phone, after transfered, the data will be showed on your Destination phone, you can check them.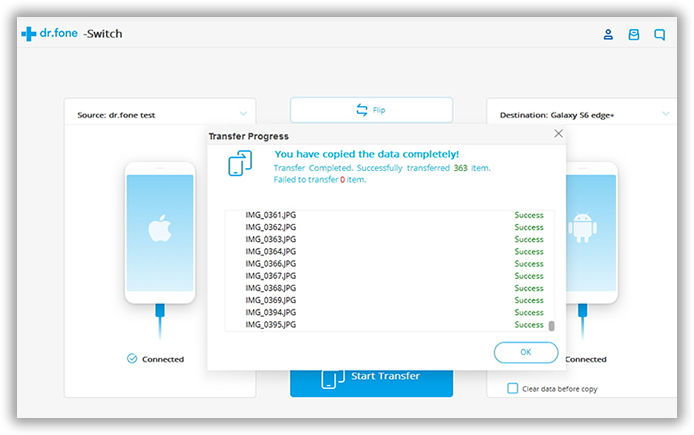 Step 4

You'd Better Erase Private Data from Old Phone Permanently

When you got a new phone, you may consider selling your old phone or give it to someone else, you must erase the important or sensitive information before selling it. Don't trust that simple deletion or restore factory reset can erase the data, it still can be recovered by professional data recovery app. However, the erasing feature has been built in the the program which help users completely smash all the files without restore.

Supported Phones: 100+ brands and 2000+ models, including, iPhone, HTC, Galaxy S4/S5/, Galaxy Note 3/4, HTC One M7/M8, LG G2/G3, Motorola X/G/E, Xperia Z3/Z3 Compact, Nexus 4/5/6
Supported Files: Contacts, SMS, Photos, Music, Videos, Apps and other documents.

The trial version gives you limited accessibility and you can only take back up of a limited number of apps to transfer. However, with the full version, you have the freedom to back up and transfer any number of apps that you wish to.