SMS is one function of mobile devices that have revolutionized the way people exchange written messages. In the past, people send letters and it would sometimes take several days for them to reach the recipient. Urgent messages are sent through telegram but with this means of communication, the message has to be very short. SMS beat all written types of communications since it sends messages instantly or make a call directly through contacts. While text messages can be deleted to make room for more incoming messages, they can be saved so that you can easily read them again.
But how safe are the text messages and contacts numbers that you keep from getting lost? Androids such as Motorola Mxto X are not immune from damage and computer virus that can cause data loss. You can just imagine how depressing it would be to find out that you cannot view all your text messages and contacts anymore or that you have accidentally deleted important messages, contacts. The feeling could be the same with accidentally throwing away a letter or greeting card that you have kept since you were a child. So how can one make sure that an important text message and contacts could be kept forever?
Android Manager is a software designed to make it easier and faster than before to transfer SMS, Contacts and other data from Moto X to PC when you want to create back up for your from your Android. With it, you can easily backup your Moto X to PC to avoid data loss. If ever you lose your phone or accidentally deleted some text messages, contacts, you can restore them from your PC.
Supported Motorola Models: Moto X, Moto G, Moto E and more..
Supported PC: Windows 10/8/7/XP and Mac
Tutorial: How to Transfer SMS, Contacts from Moto X to Computer
Step 1

Install , Run the Program and Connect Your Moto X to PC

When you download and install this program on your computer, you can easily launch it by clicking the icon on the desktop, it's now available for Windows and Mac system. Then connect your device to the PC with USB cable and open the program by clicking "Connect" button.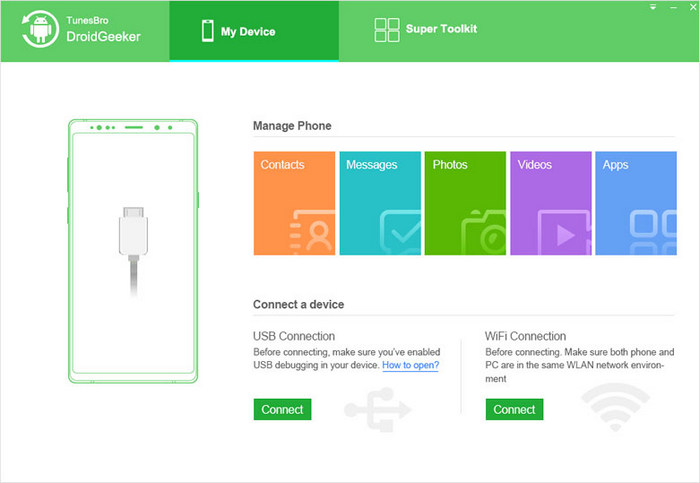 Step 2

Detect and Analyze Everything on Your Phone

After you connect device to computer via USB cable, this program will automatically detect your device and display it in home window. If the device is the first time attached to the computer, then it will automatically install USB driver on your computer. Analyzing process is very fast, then all data will be displayed with details.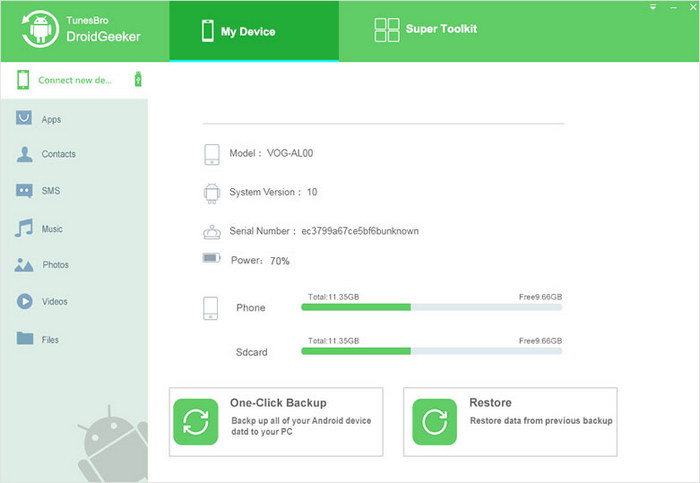 Step 3

Start to Export Contacts, SMS to Your Personal Computer

As you can see, all the data that can be transferred are listed in the left column of the interface, apps, music, videos, photos, contacts, SMS, files, included. In this case, selec Contacts only and choose the contacts you want to export. Finally, click Export on the navigation menu to save the contacts on your computer.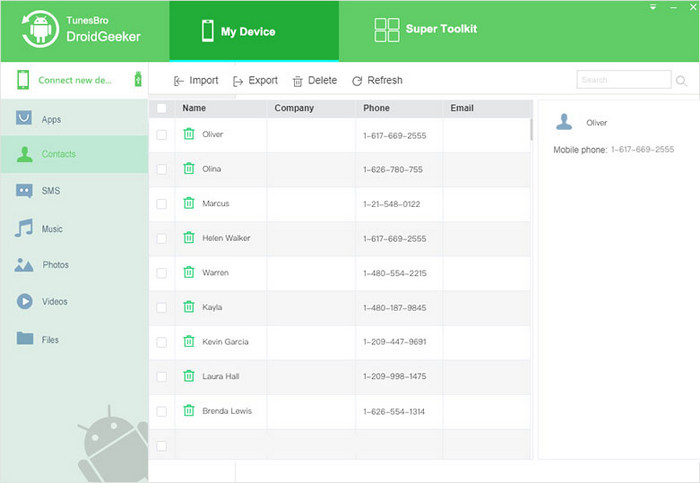 Other New Feature Designed for You: Delete Android Files via PC
This program has added many new features in the latest updates, including contacts management, group text capability, video downloading feature, etc. However, it's worth mentioning that contacts management will help you delete duplicate contacts, add new contacts, modify contacts via your PC and it will automatically sync to your phone. Save your time and make you more satisfied.
As the steps we've highlighted above suggest, all you need to do is to download and install Android File Manager on your computer, then you can easily create your back up, delete the files from your phone to free more space and to boost speed and performance of your device. It can detect apps and software that are running in the background and which can cause your device to be overheated and to lag. The software will allow you to manage your android from your personal computer especially when you want to make copies of your files for back up, restore lost data, and even send or receive text messages. Hence, it is the best tool for Android users who want to enhance their experience using their devices. It makes your android consume less power so it makes the battery of your Android last longer.
Nothing compares to the convenience and data security that Android Manager brings. You can keep important text messages forever by creating back up in your personal computer. Once you have saved the copy, you will feel comfortable and safe knowing that you will be able to recover your data in future because you have transferred it to your PC. No matter what happens to your phone or even if you lose it, you can still get recover data that you have transferred to your PC and restore them to your other device.