Among the many social media networks, there is no doubt
WhatsApp
is considered to be one of the most popular. Though it is not as exhaustive as Facebook, it certainly is extremely useful when it comes to exchanging messages, videos and pictures. However, for Android users, there is a problem for
WhatsApp message transfer
when they switch to an iPhone. WhatsApp official still doesn't provide any software or tools to solve this issue. You have to figure out by yourself.
The challenge is that WhatsApp stores messages and media in local storage. As we know, Android and iOS are much different mobile operating system, which make it hard to directly move WhatsApp messages from Android phone to iPhone. Thus, it requires using third-party tools. We will have a look at the popular one called Androidphonesoft Android iPhone WhatsApp Transfer, which gives a perfect solution to this problem. There are many reasons why it could be considered a good tool. It is customer friendly and the entire transfer can be done within a few minutes.  
Supported Android Phones: Samsung, LG, Lenovo, HTC, Sony, Huawei, ZTE, Xiaomi and more...
Supported iPhone: iPhone XS/XS Max/XR, iPhone 8/8 Plus, iPhone 7/7 Plus, iPhone 6S/6S Plus,iPhone 6/6 Plus and iPhone 5S/5/4S
How To Transfer WhatsApp Message From Android To iPhone XS/8/7
Step 1

Install Android iPhone WhatsApp Transfer on PC or Mac

The first task is to look up on Internet and find out Android iPhone WhatsApp Transfer tool. Once you are able to identify it, you must download and install the application on a PC or Mac. It should not take more than 3 minutes for doing it.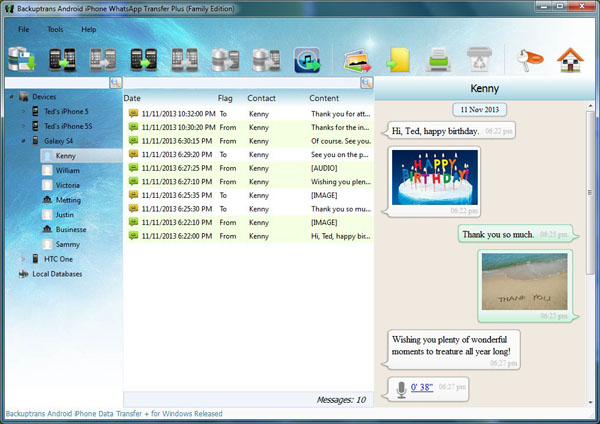 Step 2

Connect Android to Computer and Backup WhatsApp Messages

Once the application as mentioned above has been installed properly on a computer or laptop, the next task is to connect your Android smartphone to the computer. Once the program detects your Android phone, it will automatically backup all WhatsApp messages and its attachments on that phone to computer. You need to tap 'Backup my data' on Android phone and click 'OK' on computer to continue.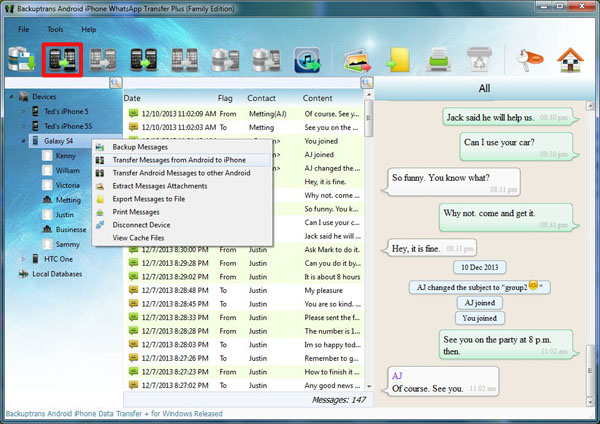 This is to ensure that all your WhatsApp message, videos and images are perfectly safe for being transferred to the iPhone. Once the backup process has been completed, you can remove the Android smart phone connection from the computer. 
Step 3

Connect iPhone And Start Transferring WhatsApp Messages from Android to iPhone

Now, plug your iPhone to computer and wait a few seconds to let the program scan your iPhone. From the device list shown on the left sidebar, click the name of Android phone and right click on it. Then there is a list of options popping up. You should choose 'Transfer WhatsApp Messages from Android to iPhone'. Now all WhatsApp messages and media will be moved to iPhone in a less than 5 minutes.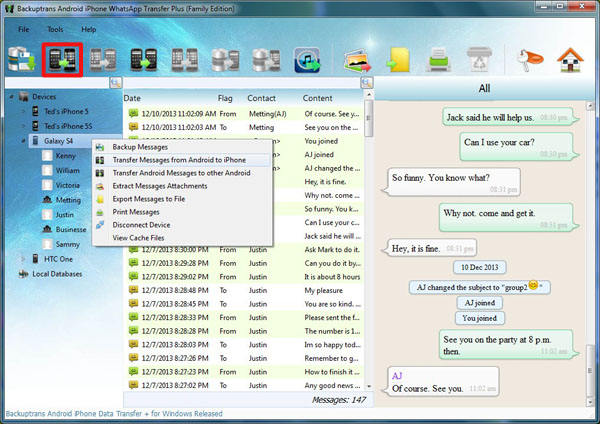 Plus, if you just want to transfer the conversion of a single contact, then right click on the contact name and choose 'Transfer WhatsApp Messages from Android to iPhone'. The selected messages of that contact will be quickly copied to iPhone.
A Few Things to Be clarified:
Tip 1

You can't restore Android backup on iPhone directly

Up to now, WhatsApp official only documented the tutorial on how to transfer WhatsApp messages from one phone to the one that runs on the same OS, such as Android to Android, iPhone to iPhone, Blackberry to Blackberry. So the tutorial listed on other websites are wrong if they suggested doing it in such a way. Please keep away from it and save more time on the method that actually works.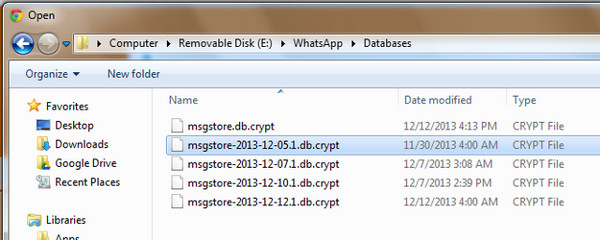 Tip 2

WhatsApp Chats in Email attachment can only be viewed

There is a setting in WhatsApp that you can email chat history to someone else. Once you tapped the option, then a whole backup of WhatsApp chats will be generated on the phone. After that, you can send this backup file directly vie Email. However, this backup file can be only viewed on other devices with WhatsApp installed. It can't be imported to WhatsApp. So this method is not valid at all.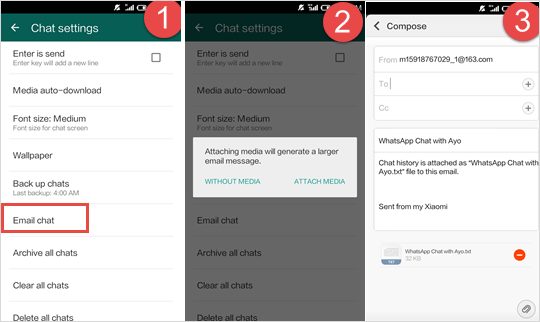 There is no doubt that it does not take much of a time for you to transfer messages across various devices whether they run on Android or iOS operating system. The above software is user-friendly and easy to operate even by those who do not have much knowledge of computers. It is dependable, tested and proven the best WhatsApp transfer software on the market.