A few years ago, even watching a video on a phone was a big deal. With the advent of smartphones, that has now become common task. The smartphones are now equipped by powerful cameras, which are a big plus for taking photos and shooting video clips. In most case, we need further editing to the photos or videos we shot on smartphone before shaing them on social media like Facebook or Instagram.
However, there is no default app being shipped on Android for video editing. In fact, even video editing has become a breeze on Android and iOS because of the sheer number of options available to smartphone users. In this article, we showcase the best 5 video editor apps for Android, but in no particular order.
NO.1

Adobe Premiere Clip - Free Android App for Basic Editing

Adobe is one of the most pouplar companies among artist and photographers because of the renowned creative suite like Photoshop for photo editing and Premiere for video editing. It created a big buzze when the company released a video editing app for Android called Premeiere Clip.

This free video editing app is great if you already had a Creative Cloud account with Adobe. However, even if you're not too keen on syncing with the cloud, this Android video editor offers an impressive list of basic and advanced features. For simple edits, there are features like cutting, filters and so on. The best part is that you can use a bunch of photos to create a video from, and you can put in music, transitions and anything else you like. All your videos will become highly customizable with this tool, whether you're using it for social media clips or for any other purpose.
Pros:
* Create video from photos and videos stored on Android library.
* Fast and simple editing on Android.
* Polish video by adding titles, photos, visual effect and adjusting lighting.
* Sync video to multiple devices seamlessly.
Cons:
* Lack advanced video editing functions.
* Crash frequently if the video file beccomes large.
* Not capable of editing video footage.
* Major issues on certain smartphones like OnePlus.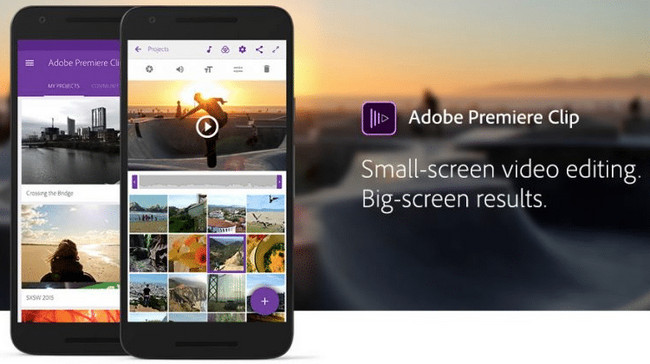 NO.2

FilmoraGo - Poweful Free Android Video Editing App without Watermark

FilemoraGo is another great Android video editing app that offers a lot of functionality with the free version. There are in-app purchases for advanced filters and such, but most mainstream users will be happy with the width of features available in the free version. The purpose of FilmoraGo is to allow users to quickly stitch together, edit or enhance their video clips for upload to social media accounts like Instagram, Facebook, YouTube, Vimeo and so on.

That means you don't get 1080p output for pro video, but the 720p final versions are good enough for any online viewing. One of the neat gimmicks this app offers is the ability to play videos in reverse, and any edits you make can be seen in real time. Other than that, you have several editing options like trimming, duplicating rotating, adding or muting audio to your video clips. If you want something quick and easy to use, yet powerful enough to do major editing, this is the one for you.
Pros:
* Poweful video editing features for free.
* A lot of visual effects and themes available in stock.
* Import media source from other social media account.
* Multiple languages support.
* Easily to share the videos to YouTube, Facebook, Instagram, etc...
Cons:
* Be freezing or lagging sometimes.
* Auto-save feature not available.
* Take too much time in saving the video.
* Not able to export video in 1080P.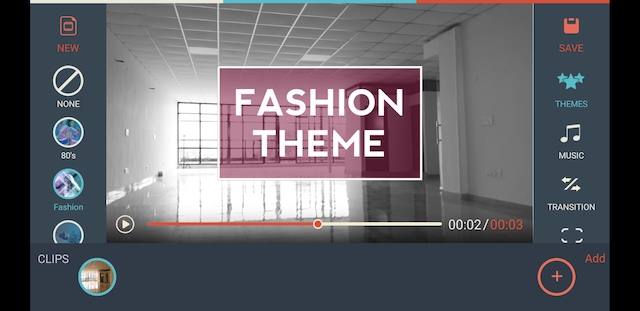 NO.3

PowerDirector Mobile - Professional Video Editor and Marker for Android

For pro editing on a mobile device, you may find PowerDirector Mobile suddenly become your favorite app. It offers several unique features like slow-motion rendering and making video collages, as well as all the basic editing tools you'll need on the go. It is visually easy to edit videos with this app, but if you want to upgrade to the premium version with all the bells and whistles, then it's better to use a larger screen like a tablet or even a Chromebook that can run Android apps.

The app has been designed for new users to get comfortable with quickly, but also for pros to leverage the impressive selection of effects, filters and so on if they choose to do that. On the whole, it's a very flexible tool no matter your level of expertise or the complexity of your video editing requirements.
Pros:
* Creative video effects with embedded photo and audio editor.
* Flawless video transitions to create engaging videos.
* Create slow motion video with built-in effect.
* Support saving video in 1080p, full HD and 4K.
Cons:
* Only work on high profile Android devices. (Snapdragon 800+ Processor)
* Has to purchase a premium license for advanced features.
* Videos might get deleted after app updates.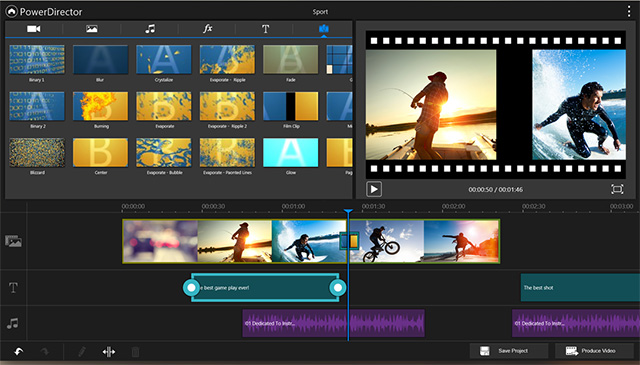 NO.4

KineMaster Video Editor Pro - Dedicated Video Editing App for Mobile Device

Unlike the above mentioned apps, which are the mobile version of the desktop app, KineMaster, the fremium video editor app for Android, is a dedicated solution to mobile device only. It offers a wide range of video editing and related features. It supports exports in 4K and is ideal for vloggers and professional video creators. Although the basic features are all free, a watermark will be applied to all content and certain advanced features are locked until you upgrade to a monthly or annual subscription plan.

The app offers something called an Asset Store, which contains a lot of extras for your videos, such as stickers, additional fonts, music and graphic clips, extra transitions and so on. The store is continually being added to on a weekly basis so the extras keep coming at a decent pace. Probably the best feature of KineMaster is that it supports up to 10 layers of videos and 8 or more audio tracks. Changes are instantly available for preview, so there's no waiting to see what your edits look like.
Pros:
* Create multiple layer of videos, including video, stickers, photos and text.
* Shipped with a lot of video effects.
* Professional tools to trim, copy or splice the video.
* Record audio during video creation.
* Speed control for time lapse and slow motion effects.
Cons:
* Add watermark to video for free version.
* Expensive as you need to pay every month for premium features.
* Hard to use for first time user.
* Get Stuck at video exporting sometimes.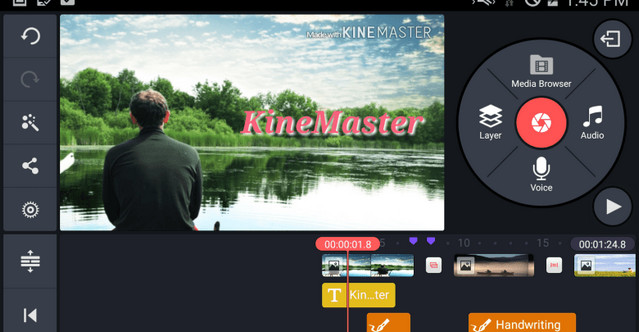 NO.5

ActionDirector - Another Android Video Editor Brought by CyberLink

ActionDirector Mobile is essentially a port from the desktop version and supports Ultra HD 4K on compatible Android devices. The mobile version of the app has all the features carried over from the PC version, but it requires a fast processor like the Snapdragon 800 series from Qualcomm, the Tegra K1 from Nvidia or an equivalent chipset. One great aspect about this software is the number of presets it offers. If you're not into granular editing but just want to apply effects to various sections of your video, you can do that in just a few seconds. Professionals can go into each type of filter or effect and tweak it to their requirements.

The app is also a video recorder, so you can create your movies on your Android smartphone or tablet and start editing them right away. Sharing is super-easy, and you can directly upload your videos to numerous social sites with just a couple of taps. In-app purchases are relatively cheap, and you can have the watermark removed just by watching ads served inside the app.
Pros:
* Easily to capture and record videos.
* Add titles, subs, texts and photos.
* Action movie effects available.
* Mix video with music.
* Produce Ultra HD 4K videos.
Cons:
* Not working well on old Android devices.
* Video trimming feature is not good enough.
* Failed to find music file on Android occasionally.
* Full screen ads on free version.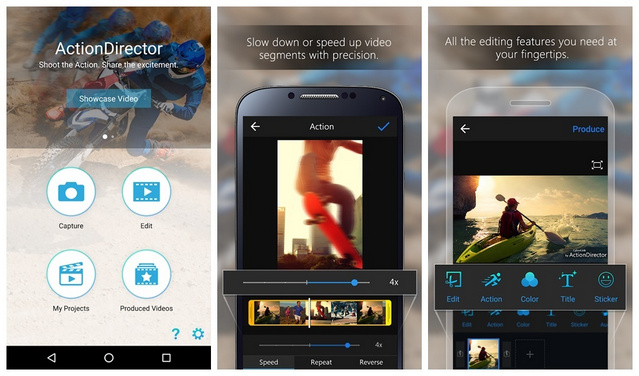 The above 5 video editing apps are the ones we tested extensively on our Android smartphones and all of them are available for download from Google Play Store (prevent virus and malware apps if downloaded from other sources). Please do give a try on all of them and pick up the best according to your own needs.
Related Articles