The Galaxy S10 series, including Galaxy S10 Plus, Galaxy S10 and Galaxy S10 E, is definitely one of the best smartphones in 2019. With the Infinity-O screen providing a generous screen to body ratio and the triple camera sensors offering much wider photos, this phone is a must-have for any photography enthusiast. But ever since it came out, there have been a number of known issues with the device. Here are some of the most common problems with Galaxy S10 and the troubleshooting guide.
Mobile Data and WiFi Issues on Galaxy S10 Plus
We have heard a lot of complaints about iPhone signal issues but we never expected it could also happen on the latest Samsung Flagship device Galaxy S10. According to user feedback (353 replies on Samsung official forum), the signal strength on Galaxy S10+ is decreased on certain carriers, like Sprint and T-Mobile. As you can see from the following screenshot, there are 2 signal slots less on the phone (at right side), which is packed out side of a box.

Suggested Fix: Disbale Band 41 and 25 on Sprint based Galaxy S10 Plus. You can do this by heading over to Data Programming menu on the device. Another solution is to update the firmware to the latest. If the problem still exists, please call the support and return the phone to be fixed.
Fingerprint Scanner No Match
When Samsung put screen protectors on the phone as a last-minute move, they didn't think it would affect the performance of the scanner. A lot of people had errors setting it up, and you had to press really hard to make it work. Even the setup was completed successfully, you would still receive "no match" error during unlocking. I always have issues for my left hand fingerprint.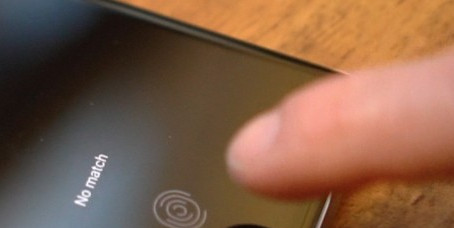 Suggested Fix: Thankfully, Samsung pushed a Day-One update to users that increased the sensitivity of the scanner and make things alright. You can get that update now if you haven't done it already. In case you didn't receive an alert, go here: Settings > Software update > Download updates manually. Wait for it to check for updates and apply it manually by clicking OK. The update will download and install automatically. You can keep your phone plugged in if it isn't fully charged.
You can also register the same finger twice for greater accuracy, and if you plan to use a case, calibrate it again after you put the phone in the case, just to make sure you get the correct angle.
Edge Apps Panel Being Activated by Accidental Touch
Since the phone has almost no bezel on the sides, just holding it in your hand might accidentally activate the Edge apps panel. This is a known problem with curved edge smartphones, and it's a little tricky to get around it.
Suggested Fix: One fix is to just disable the edge panel, but if you regularly use the Edge apps feature, you can go to Settings > Display and turn on Accidental Touch Protection. That should help, not only with accidental touches when using the phone, but also when it's in your pocket or handbag.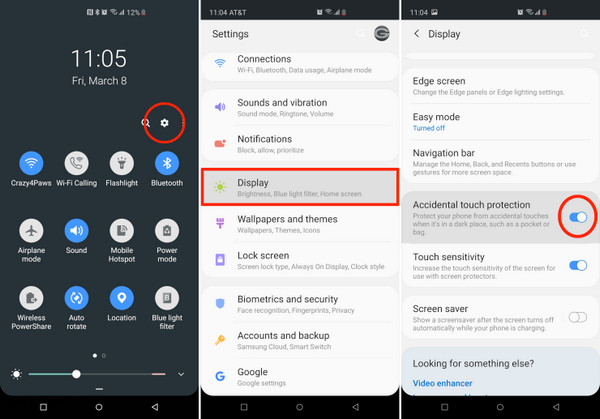 Screen Tint and Poor Viewing Angle
Some users have reported that they see a reddish tint on the screen, and others have said that the viewing angle is quite small compared to what it should be for such a screen. While this may or may not be a software issue, we're not seeing any large-scale complaints about these problems. The fix isn't here yet, but everyone is hoping that a minor update will be pushed to devices to take care of it.
Suggested Fix: So far, nothing..
Aspect Ratio Affecting Full-Screen View
Since Galaxy S10 and S10 Plus have more height, their screen ratios are a little unusual at 18.5:9. That means some apps have trouble scaling up to fit the screen, especially considering how the front camera sensor is set up. This might affect the functionality of some apps, but it shouldn't be a widespread problem. In most cases, you can fix it with a simple setting change.
Suggested Fix: If you're having trouble with a specific app, you can go to Settings > Display > Full Screen Apps, then tap on the app and choose Full Screen instead of the default Auto mode. That should make the problem go away.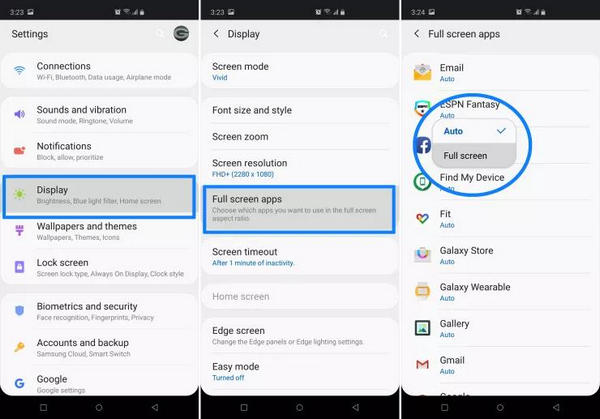 App Drawer Missing
If you upgrade from a previous S-version of the Galaxy, the first thing you'll notice is that, since the buttons are all virtual, you won't find your app drawer icon ready and waiting. You'll need to swipe up from the bottom of the screen to see it, so don't get confused. There's also another way around it.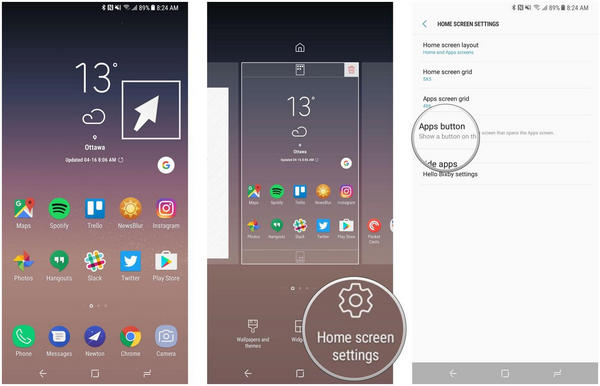 Suggested Fix: Press and hold the screen on a blank space to zoom out to the layout and edit page. Click the gear icon, tap on Apps Button and then tap on Show Apps Button. You can also tap on Home Screen Only to get everything on your home screen like on iOS devices.
Device Unresponsive or App Freezing Up
At times, your Galaxy S10 will simply freeze up and become unresponsive. Don't panic, because this is a known issue that hasn't been fixed yet. Hopefully, a software update will drop to take care of the problem, but you can try this fix for now.
Suggested Fix: Force restart the device by holding down the Volume Down and Power buttons together for about 8 seconds. This even works if your screen is completely black and frozen up. That's the best you can do until a permanent fix arrives.
Bluetooth Issue
A lot of the Bluetooth issues from previous generations of the Galaxy S series have been taken care of with the advent of Bluetooth 5.0 on the Galaxy S10. However, some complaints are still trickling in. One reason is that nearly all mobile devices are now Bluetooth-enabled, and there could be some connectivity issues with all those signals going back and forth.
Suggested Fix: There are a few ways to address this issue. One is to clear your Bluetooth cache by going to Settings > Apps > Bluetooth and clearing the cache. You can also try toggling Bluetooth Off and then On again. As a last resort, try unpairing (forget) the device and pairing it again.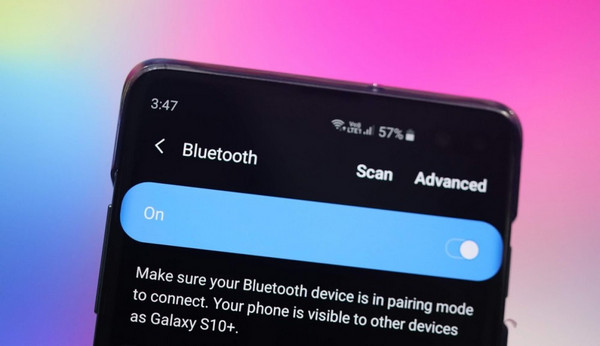 Many of the other problems are generic and can be taken care of quickly. For example, even though the battery on the S10 is much bigger (4100mAh) than previous models, it may drain out quickly. If it does, try turning on Power Saving Mode or use the App Monitor Power to stop apps from using power when you aren't using them. Samsung is expected to push quite a few fixes for the device in the coming days, so if you have a unique issue, it's likely that it will be resolved easily with an incoming update.