If you're HTC phone users, you may be very familiar with a HTC Sync Manager software that developed by HTC company, there is over 98% of installation using the version 3.1.24.5, this is a free software that HTC users can easily sync all media to and from the computer via HTC device. Once synced, you can easily manage and organize the data. In fact, HTC Sync Manager supports both Windows or Mac operating system. With it you can completely manage your Smartphone. As you can manage music, photographs, and features that are on your PC and your Smartphone. Also import iTunes and Windows Media Player playlists from your PC to the this software.
Must read: How to backup messages HTC to computer and how to retrieve photos & videos from HTC
Tips.1

HTC Sync Manager Installation

The HTC Sync program can be installed on all Windows forms are available. And for the Mac users require Mac OS 10.6 or later forms as well. If you have any problem with installation, please close all other apps and re-install. Maybe also you have to close your antivirus program as well.

• First, download the HTC Sync Manager from the official site of HTC.

• Then launch the application installer and go with directions.

• Connect your HTC phone to your PC via USB and the program opens automatically.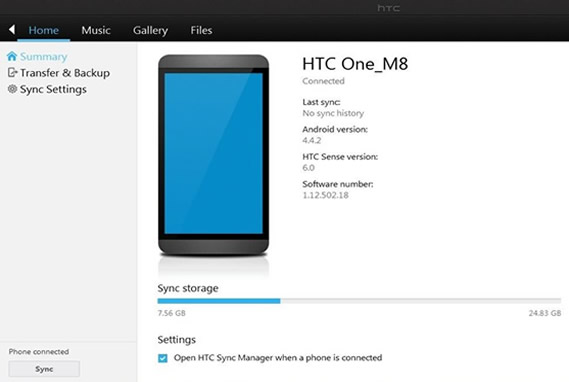 Tips. 2

Importing Media from Your PC

Before you can utilize HTC Sync Manager to view, play, and manage media that are on your PC, import them first to the library. Whether you can drag the folders, or go to the settings to include a media organizer, the entire organizer will be included as a collection which you will see in the program. New media that are added to the organizer and sub-folders will appear in the collections naturally.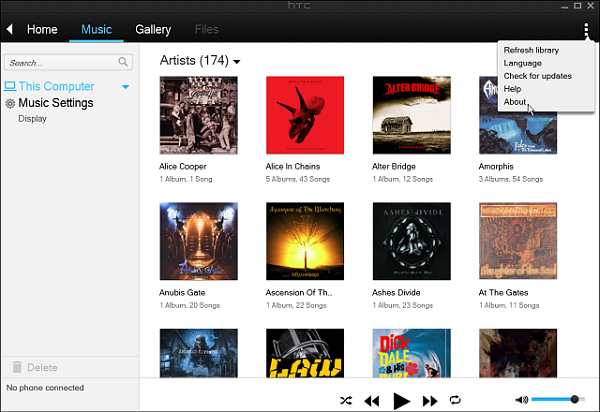 Copy or Remove Media on Your Smartphone
One approach to copy your media files from your PC to your Smartphone is to utilize your PC's Explorer. Another route is to utilize HTC Sync Manager, with it you can copy music, photographs, features, whole collections, and playlists.
Tips .3

Backup and Restore Your HTC Smartphone

Backing up data is a good habit we should cultivate, users should regularly make a copy of your important phone data so that you can simply restore them. When you do a backup of your HTC Smartphone, HTC Sync Manager names the backup files document utilizing the model of your Smartphone.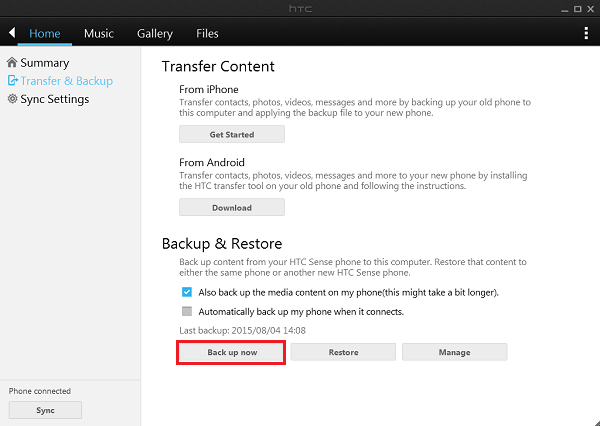 The Steps of Making A Backup:
1) Connect your Smartphone with your PC.
2) In HTC Sync Manager, press Home > Transfer & Backup.
3) Under Backup and Restore:
Choose whether to incorporate media content from your Smartphone in the backup.
Choose whether to constantly backing up your Smartphone at whatever point you connect it to your PC.
4) Now click on Backup now.
5) . In addition, if you are first time backup your Smartphone, pick whether to set a secret key for the backup files.
The Steps of Restore Backup Files to Your HTC Phone
1) Select a backup record to restore from.
2) Pick whether to supplant existing content on your Smartphone with the substance from the backup records.
3) Just click restore now, If you have any password, enter it and press okay.
4) After the backup has been restored, it is up to you whether to keep the backup or remove it from your PC.
Tips .5

Transfer Data from iPhone to Android Phone

When you switch a new device, the first thing you face is how to move larger number of files from iPhone to HTC One fast and safely, but it's not all that straightforward to transfer files from one phone to HTC in many cases, HTC Sync Manager program makes it a little hard to move data between HTC and iOS.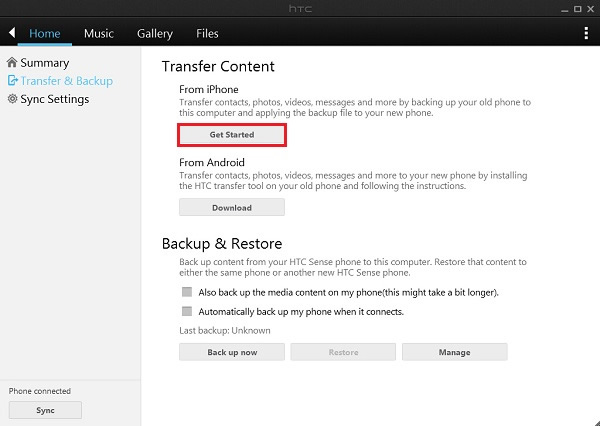 In many circumstances, users trends to use this program to move files between iOS and HTC handsets. But In our test, this software gives the poor performance in transferring data between the different mobile operating system, you might see other problems, including missing data after transferred, unable to connect, failed to identify phones, damage your original data and your device, there are many negative reviews by the users, so I think this tool may not be so useful and convenient.
In our test, we found a better alternative program - Mobile Transfer that may be the first choice when switch the phone, it did a great job in the data transfer and data backup, it's definitely worth a shot.