HTC One M8, one of the most anticipated Android Smartphone, was unveiled at last month. Like usual, it comes to the right time for rooting and flashing new ROMs as developers had released their hacking packages recently. And everyone has the chance to enjoy new things that are restricted by vendors, like customization or deleting unwanted pre-installed the apps. Although the developers have tried their best to avoid bugs and write the step by step instructions in details, there are still cases that device owners failed at rooting or flashing new ROM due to unpredictable circumstances. If you are some of the guys who have the bad luck like me, then there will be a serious consequence ahead. All of my personal data stored on my HTC One M8 were lost because of the failure, which made me head  scratched. Besides, there are also other cases that you want to restore lost files from HTC One caused by wrong deletion or mistaken operations.
Luckily, some kind developers have offered several complete data recovery solutions to help us get back the lost data without much effort. Android Data Recovery is one of the best among them. It incorporates an advanced data analyzing algorithm that is enable to detect and recover the lost or deleted data on your HTC device within minutes. I have been successfully get back my lost data with the help of this amazing software in just 3 simple steps. The straightforward interface makes the user experience really smooth. Anyone with some basic knowledge can get the job done in their first try. Have problems? The built-in tutorial will be ready for help at any time you want. What's more, it supports a wide range of HTC smarTphones powered by Android OS, from the latest HTC One M9 to the oldest HTC Desire 310.
Guide: How to Recover Deleted Files from HTC One M8/M9/M10/U11
Step 1

Download and Install Android Recovery Program

In order to get back your lost data, the first step is to download and install program on your computer. The installation process is pretty simple and straight forward, just by following the default wizard. Launch the software after installation, the main screen is shown like as this: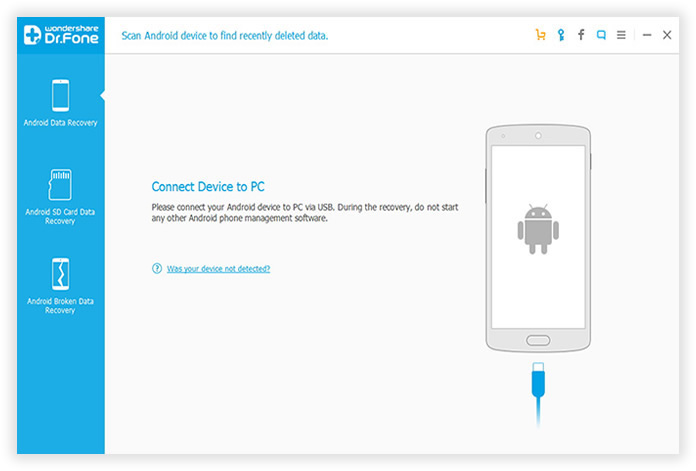 Step 2

Scan Lost and Deleted Data on HTC

Connect your HTC Smartphone onto the computer via the USB cable. The software will automatically detect the device once it's successfully plugged. Then turn on USB Debugging function on your phone and grand super user permission to HTC Data Recovery.

After that, click "Start" button to let the software scan and analysis the data lost or deleted previously. However, this step takes a bit more time, usually 15-25 minutes, depending on how many files stored on your device. Make sure the battery life is more than 40%.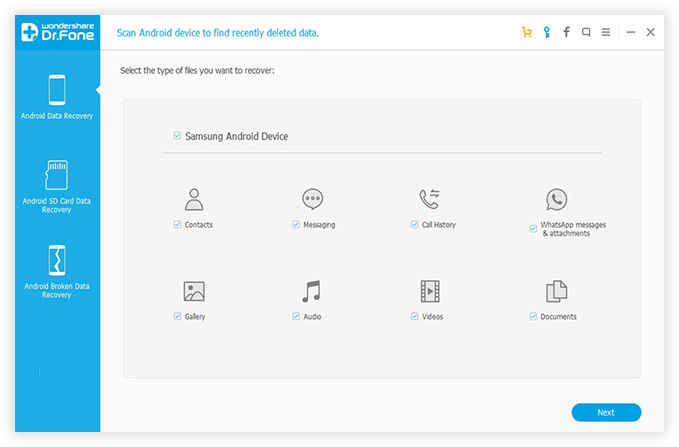 Step 3

Preview and Start Recovering Data from HTC One M8

After scanning, the software lists all data collected by itself, such as contacts, text messages, photos and media files. The items marked as red are the ones previously deleted, select the one you want to recovery and click "Recover" button to start the recovery process. It takes a few minutes to fully recover lost items.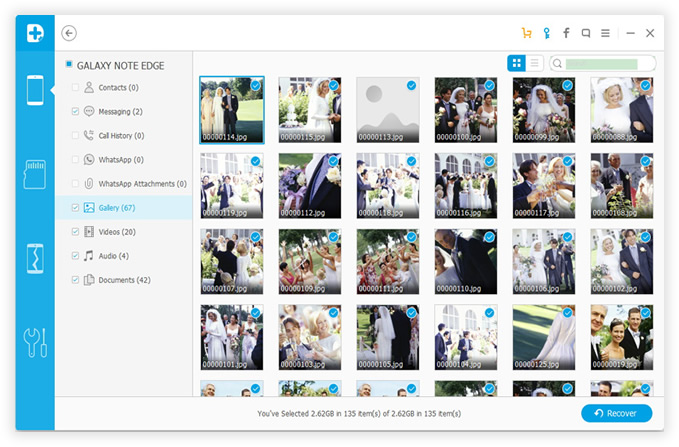 With this HT Data Recovery software, there is no need to worry about lost data on your phone, no matter what kind of damage it has been caught. And it's really easy to recover your data with its intuitive user interface designed for beginning users. Besides, it supports a wide range of Android phones, not only limited to HTC smartphones, but also applicable to Samsung, LG, Sony, or other Android powered devices. It's one of the best desktop recovery software that well worth a try..
Supported Data Type: Contacts, Text Messages, Photos, Music, Videos and Documents.
Supported HTC Devices:
HTC One Series: One M8, One M7, One Max,One X, One X+, One Mini, One V
HTC Desire Series: Desire 816, Desire 700, Desire 610, Desire 600C, Desire 600, Desire 600C, Desire 601,Desire 501, Desire 310, Desire V, Desire 600 Dual SIM
Other HTC Smartphone: Butterfly S, Butterfly and other more...