Sharing WiFi with others might make you lots of friends, but how do you do it without compromising on security? Once you share the WiFi password, you'll have to change it each time to preserve that security. While Apple has a Siri Shortcut for this and OEMs like Xiaomi have already implemented it in their MIUI, it's still not available to the general Android public. With the Android Q beta now making its developer rounds, we see that this feature has been brought in.
Of course, you'll need an eligible device like a Google Pixel smartphone, but more devices are expected to be listed soon. You will need to install the latest Android Q developer beta on both devices. Once this is done, follow the steps below:
How to Share WiFi Password via QR Code in Android Q
Step 1: In the app drawer, tap on Settings > Network & Internet.
Step 2: Choose WiFi and tap the gear icon next to the WiFi's SSID. Select Share.
Step 3: You may need to provide authentication if you've set something up. Tap on Use Alternative Method if you prefer using your password.
Step 4: Once you authenticate, a QR code will be generated. This is how you will be sharing your WiFi in a private manner.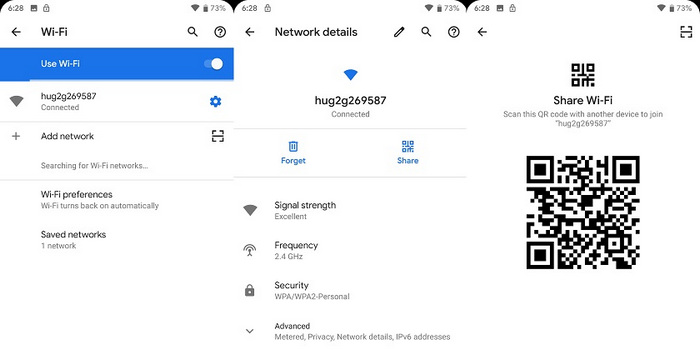 How to Connect to WiFi by Scanning QR Code on Android
The person with whom the QR code is shared must now scan and connect their own Android Q device to establish a working connection with that WiFi signal. It's simple to do and can be carried out in just a few steps.
Step 1: Under Settings, go to WiFi Settings and tap on Add Network (plus symbol.)
Step 2: Tap on the scan icon that you see next to the SSID field.
Step 3: Scan the QR code from the first user's phone. Your connection should now be established and you will be able to use that WiFi.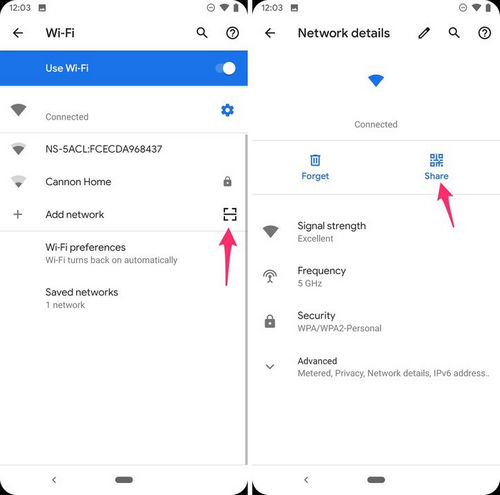 Obviously, since Android Q is still in beta, we don't know if this feature will make it to the final public release. If the feature causes WiFi drops and other issues, the Android team might scrap it altogether. Nevertheless, it is high time Android had a native way to share WiFi without having to give up the password.
At this point, it only works between Android Q devices, so it will be a while before we can test it on other OEM smartphones. Another point of consideration is whether this will be later extended into other forms of sharing, like NFC, for example. It's a lot more convenient than a QR code, but if the authentication protocols are in place, it will make a great feature for future Android versions. While we're hopeful, we don't expect to see it on Android Q for now.
One thing to be careful of is not to leave your phone unattended while the QR code is being displayed on your screen. Since anyone with a QR scanner can potentially log into your WiFi with that code, only show it to the person with whom you are sharing the WiFi connection.