I had a great time playing with my LG G3 for almost one year. I dropped the device into a cup of coffee and most part of the screen is no longer responsive even I tried my best to restore it back to normal. Luckily, the device can be recognized by my computer, so I can still manage it via Android assistant software. I just bought a used Samsung Galaxy S8 from one of my friends, which price is quite attractive and it's in good condition. As most of my important data is still stored on my old G3, I have to transfer all of them to the new S7 that's also the reason why I stay with Android smartphone. I can't do the staff manually becuase it takes too much time. The good news is that there is a nice mobile phone transfer tool that can help me out in my case.
Phone Transfer is an easy-to-use yet powerful data transfer program designed for smartphone users. It's able to move content from one smartphone to another without much effort. All of the work is done in background and you can get data on your new device in just a few minutes, which takes hour to be completed if you did it by hand. What's more, it also has built-in features to erase private data on your old device before selling or giving it to someone else. Data backup and restore are also enabled with the help of it. I dare to say it's the best tool I have used for data transfer.
Supported LG Smartphone: LG G5/V20/K10/V10/G4/G3/G2/Pro 2/Flex/ Optimus/Volt/G Vista/Lucid.
Supported Samsung Models :Samsung Galaxy S9/S9+/S8/S8+/S7/S7Edge/S6S5, Note 8/7/5/4/3 and more.
Supported Files for Transfer: Contacts, Music, Video, Text Message, eBooks and Documents.
The following tutorial only demonstrates how to transfer contacts between LG and Samsung phones. Actually, you can also transfer text messages, apps, music as well as other data. The procedure is the same.
How to Transfer Contacts between G5/G4/G3 and Galaxy S9/S8/S7
Step 1

Run the Application and Connect LG and Samsung Phone to Computer

The download and installation process is the same as normal without any exception. There has a built-in setup wizard to guide your through the install. The program runs automatically when the installation is completed. The main user interface is like this: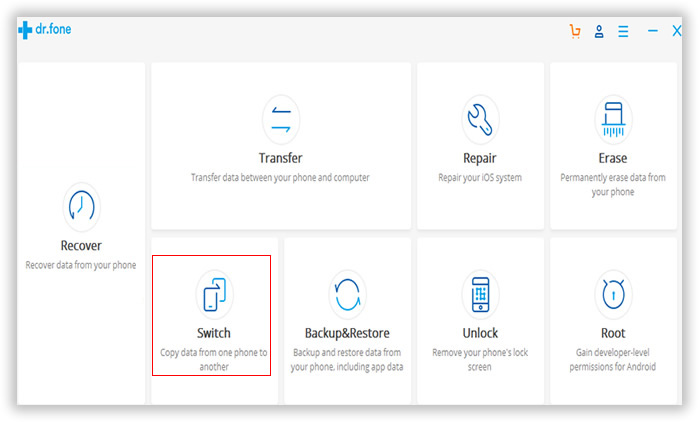 Connection: The software needs the device information on both devices to take the full analysis. You need to plug LG phone and Samsung phone on the same computer with the USB cable.

Step 2

Select "Switch" Mode

Recently the developer team has made a huge to-do about the backup and restore feature and add the "Erase" function in the latest version. The phone transfer, data backup, data recovery and data erasing functions are integrated together. Here you need to select Switch and download the program.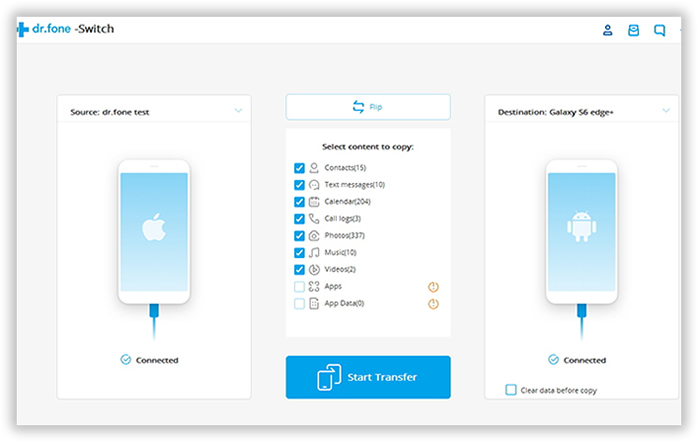 Step 3

Analyzing and Scaning Data Stored on the Phones

Analyzing the phone storage system is step one of the transferring process, once the devices are well attached, the program will detect them automatically and displays them on the corresponding area on the screen. Click "Flip" button if "Destination" phone is not Samsung Galaxy phone.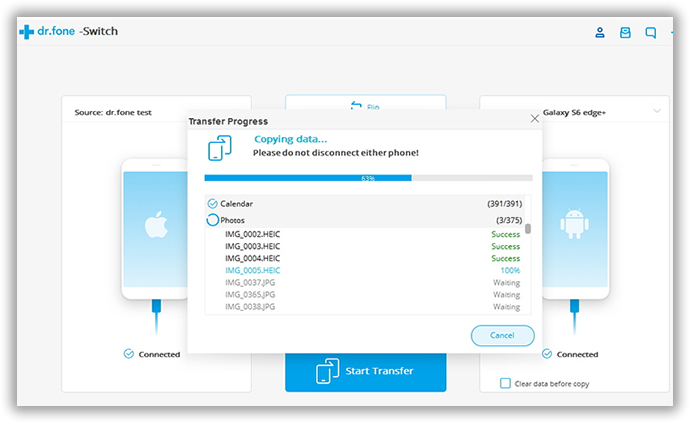 Step 3

Start Copying Contacts from LG to Samsung Galaxy Based on Android

As mentioned above, The Phone Transfer is able to move multiple content from one device to another, including contacts, text messages, call history, apps, photos, music and videos. Check the items you'd like to transfer and click Start Transfer button to start the transfer task.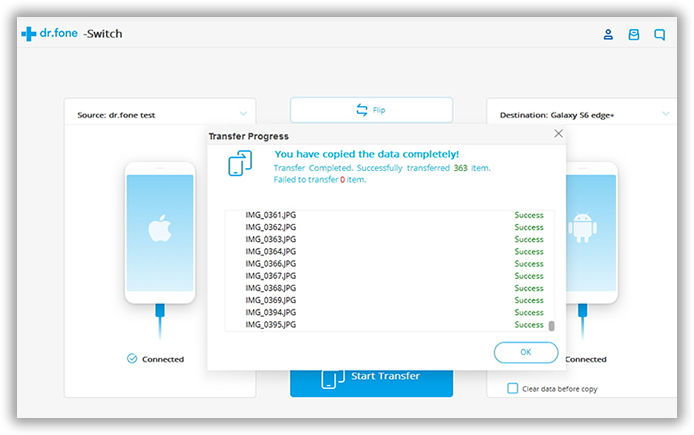 This phone transfer program has been thoroughly tested with many groups of Android devices and works great. It makes the transferring process safe and error-proof. You can fully copy the whole data stored on your old device to the new one in just a few minutes. No dirty work involved and just a few mouse clicks can get the complicated job done if you prepared to do manually. This is certainly much efficient and saves a lot of your previous time. What's more, it has other useful functions to ease your life as smartphone users, such as backup and restore, data eraser, etc. There is no reason not to try it out. Start your 30-day free trial now!