Android is now dominating the smartphone world. And most of Android users still prefer Android when preparing for a new smartphone. Usually, when we change our Android smartphone we often forgot to transfer SMS as we normally focus on transferring content like contacts, photos and videos.
SMS or text messages are equally important as they might contain valuable and important data for professional and personal usages, which will get lost forever if not transferred to new Android device. Below mentioned are three methods through which you can transfer SMS from one Android device to another.
Transfer SMS from Android to Android: Phone Transfer
When it comes to data transfer from Android to Android, Androidphonesoft Phone Transfer is one of the best solutions out there. What sets it apart from the rivals is the powerful functions and date type it supports, not to mention the portability that works natively on Windows and macOS.
Phone Transfer is amazing software with over 8 years of history that can perform SMS transfer from one Android device to another within minutes. It also supports other content types, such as contacts, photos, video, call log and apps, making it the perfect solution to transfer SMS from Android to Android.
Step 1

Install and Run

Download Phone Transfer software to a computer. Now run the .exe file to install and launch it on the same computer. Then you will see eight different options on the main interface. For data transfer between two devices, please select 'Switch' module for this case.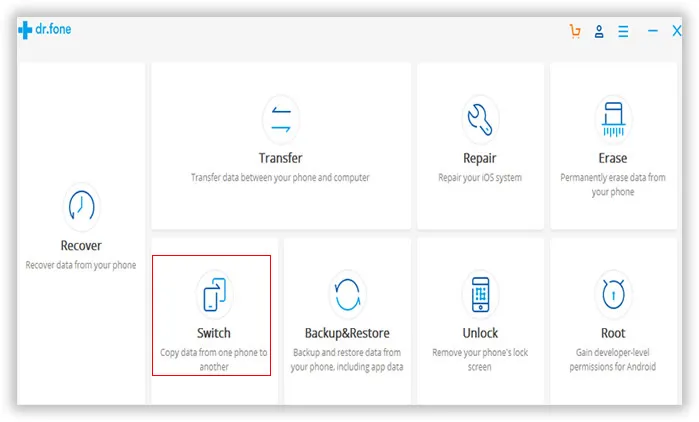 Step 2

Connect Android Phone to Computer

Now use USB cables to connect the two Android devices to your system and then click on the upper left corner. Here you can see the names of the two connected devices. The left side is for source phone and ther right side for destination phone. Make sure the position is correct.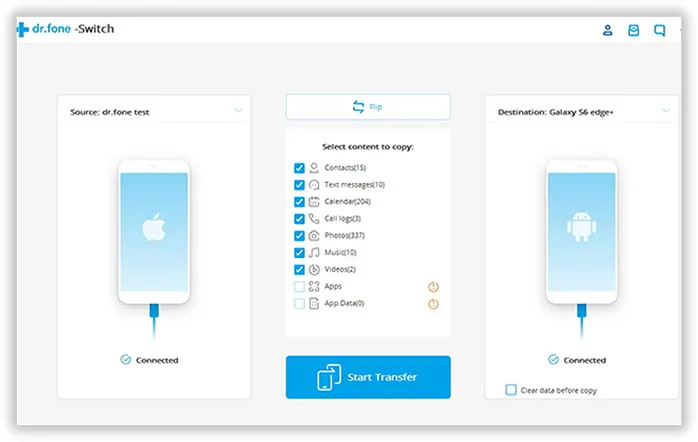 Step 3

Begin to Transfer SMS from Android to Android

All the data types Phone Transfer software supports are presented on the central. Now, select SMS or other items you want to transfer and click 'Start Transfer' button to begin the sms transfer process. This will be quick and error free.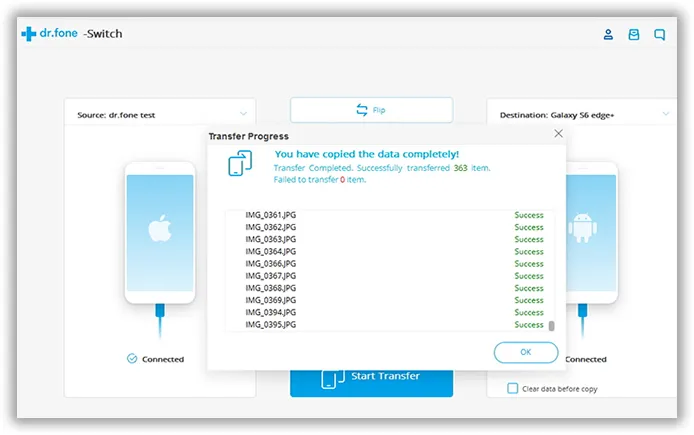 If you are looking for a reliable and steady way to transfer your important SMS then you can rely on this software. The user interface is swift and it takes just a few seconds of your precious time to transfer your text messages from one Android device to another. It gives you the freedom to choose SMS that you want to transfer rather than clogging your new device with unwanted SMS that you don't require to copy.
Transfer SMS from Android to Android: Google Account Backup
Google account plays a vital role in Android devices as a lot of Google services are built-in with Android naturally. Backing up Android SMS via Google Account Backup is another method to transfer SMS from Android to Android. However, it is more complicated than using Phone Transfer software we shared in above part this time. For this, you need to have a Gmail account, a free copy of SMS Backup + app and the android device. Follow the steps below to use this method.
Step 1: First of all you need IMAP access on your Gmail account for SMS Backup+ to function properly. To do that login to your Gmail account then go to settings followed by Forwarding and POP/IMAP. Check the "Enable IMAP" box and don't forget to save the changes by clicking on "Save changes" at the bottom.

Step 2: Now you have to install the SMS Backup + App from the play store and configure it. After installing the app launch it and tap on "Connect" to sing in with Gmail account. Now choose the account where you want to backup your SMS.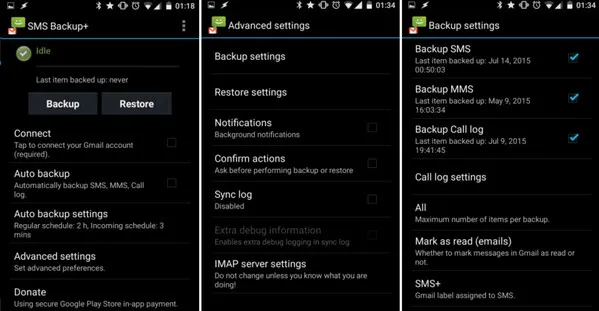 Step 3: Now grant permission to backup immediately. If you want you can also choose Skip to skip the initial backup.
Step 4: When you click on Backup, the process will start instantly and will take from a minute to half an hour to complete depending on the amount of your SMS you have on your device.
Step 5: Now log in to your Gmail account and click on the "SMS" label on the sidebar. You can see all your SMS here. Now simply access the label from your new Android device and you can now see all your SMS and select the one you want to keep on your new Android device.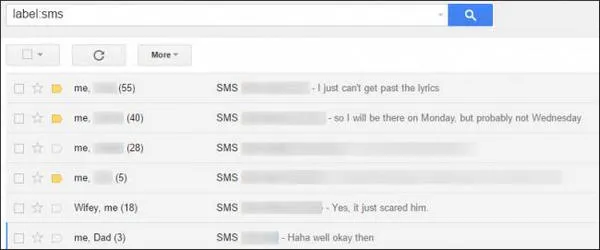 This process can consume a lot of time when you transfer SMS from Android to Android as you have to install third-party app and also if your SMS list was big then you need to have patience. Apart from that, a strong internet connection is required to use this method.
Transfer SMS from Android to Android: SMS Backup & Restore
SMS Backup & Restore is another popular app to transfer SMS from Android to Android devices effectively. As the name suggests, it can backup and restore all Android SMS along with the call logs. Besides, the backup option is more flexible than SMS Backup+ app. You can backup text messages, emoji and select target conversation as you need.
Step 1: Download the app from the Play store. Launch it and click on "Ok" to use the default backup option. You can also choose the "Custom folder" option to choose the location of your choice e.g. micro SD card. Now select the checkboxes accordingly depending on which SMS you want to backup.
Step 2: Now tap on "Backup Now" to start the backup process. By default, the xml backup file will be saved on the internal storage but if you have chosen a micro SD card then it will be saved there. You can also email it to yourself.
Step 3: After the backup is completed now it is time to restore the SMS on your new Android device. This process is very similar to the backup process. Instead of Backup, you will click on "Restore" Select the xml backup file on your email or on your micro SD card and you are done. You will see all your SMS is now transferred to your new device.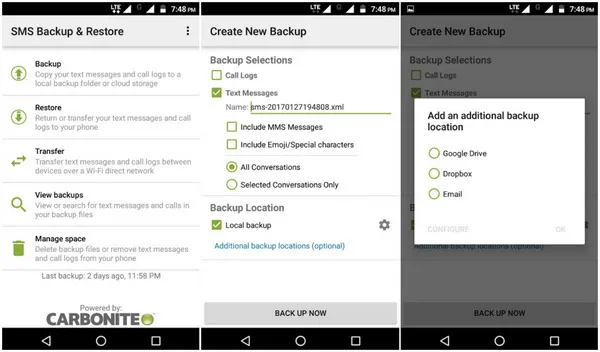 Conclusion
All the above-mentioned methods are useful but if you are looking for an error-free and fast solution to transfer SMS from Android to Android, then go for Androidphonesoft Phone Transfer. This software is very fast as compared to its competitors and doesn't require an Internet connection to do its job. The user interface is smooth and your job will be done with just a few clicks of mouse.